I'm super excited to be a part of the 2nd Annual Great Food Blogger Cookie Swap. Not only do I now have a ton of cookies in my cookie jar, but I also got to participate with hundreds of other food bloggers to support Cookies for Kid's Cancer, an organization that raises money for kids that need funding by asking folks to have bake sales. I kind of love that such a simple thing, whipping up a batch of cookies, can make such a difference.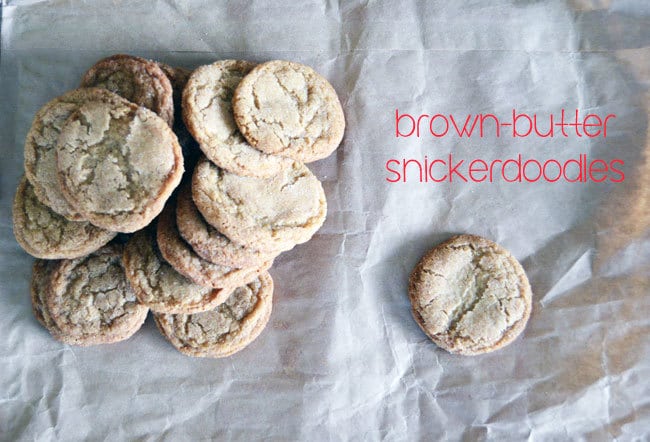 I wanted to make something a little different than the average holiday cookie for my cookie swap. Not a sugar cookie or gingerbread man. So, when I stumbled upon a recipe for brown-butter snickerdoodles on Pinterest, I decided to make it GF. Using brown-butter instead of normal butter lends a caramel-y twist to a classic cookie.  When you cream together the brown-butter and sugars, you are essentially making a beginning stage rich, caramel sauce.  It also makes these guys super moist and chewy.  Plus, they are so cute.  Aren't they just begging to be paired with a big mug of Christmas blend?
This past week, I was thrilled to receive boxes of (gluten-free) Chocolate Chip Cookies from Jenny, Toasted Coconut White Chocolate Chips from Desiree, and Girl Scout Tag-a-longs from Lesley. All three were to die for! I'm grateful to have a solid Chocolate Chip Cookie recipe in my repertoire and Tag-a-longs are Jason's favorite Girl Scout cookie. (How did Lesley know?)  Now, I can put them in his lunches all year long! And the Toasted Coconut White Chocolate Chips! They were amazing! I'll be making them again and again.  Be sure to check out these ladies' fabulous blogs. They certainly know how to make a batch of cookies.
Brown Butter Snickerdoodles (Gluten-Free)
Adapted from: The Ambitious Kitchen
Ingredients
2  ¼ cups all-purpose GF flour *
1 teaspoon xanthan gum
1 teaspoon baking soda
2 teaspoons cream of tartar
½ teaspoon cinnamon
¼ teaspoon of salt
2 sticks (1 cup) unsalted butter
1¼ cup packed dark brown sugar
½ cup granulated sugar
1 large egg plus 1 egg yolk
1 teaspoon vanilla extract
1 tablespoon plain Greek yogurt
¼ cup sugar
2 teaspoons cinnamon
Prep Time: 20 minutes
Chill Time: 3 hours
Cook time: 8-11 Minutes
Yields: 5 dozen bite-sized cookies
Method
1. Mix flour, xanthan gum, baking soda, cream of tartar, 1/2 teaspoon cinnamon, and salt together in a small bowl. Set aside.
2. Melt butter in a saucepan over medium heat. Once butter starts to foam, whisk continually until the butter develops a brownish hue and a nutty aroma. Remove from heat and set aside to cool. (You may want to transfer butter to a small bowl to prevent burning.)
3. Cream butter and sugars with an electric mixture. (Things are going to smell carmel-y.) Add eggs, vanilla, and Greek yogurt.
4. On a low speed, gradually add dry ingredients until mixture is just combined. Cover dough and refrigerate for 3 hours or until dough is firm and chilled.
5. Heat the oven to 350 degrees. Place a slipmat or parchment on a large cookie sheet. Mix remaining sugar and cinnamon in a small bowl.Take 1 tablespoon of dough and roll into a small ball. Dunk in cinnamon-sugar and place two inches apart on cookie sheet.
6. Bake the cookies 8-11 minutes or until edges of the cookies are golden brown.  Allow cookies to cool on cookie sheet for at least 4 minutes. Then, transfer to a wire rack to cool. Repeat with remaining dough.
7. Enjoy with a big mug of coffee or milk! Merry Christmas!
* I use a GF flour mixture of 6 cups superfine brown rice flour, 3 cups tapioca starch, 1 1/2 cups potato starch, 1 tablespoon salt, and 2 tablespoons xanthan gum.