I can't wait until I have a house. Actually, all I really want is a decent grill. I don't really need a house for that, but silly laws about having grills on decks in apartments prevent me from doing any real grilling. Is it so much to ask for few cuts of grilled chicken to go with the meal? Apparently it is. But I can't let these sorts of things get in the way.Even if you don't have a grill, you have science! Grilling and broiling are actually quite similar. Broiling is like the upside-down, charcoal-less version: high heat with the food close to the heat source.
As a bonus, broiling is pretty much as easy as (or easier than) grilling. You don't have to worry about cleaning up a grill or messing about with charcoal. All you need is a broiling pan. Honestly, you don't even need that–I don't have one. A wire cooling rack in sheet pan works the same way.
So now you can focus on getting the rest of the food ready. Make pasta-check. Cut tomatoes-check. Crumbled goat cheese-check. Basil, garlic, pepper-check. Mix them all together, place that chicken on top and you have a meal finished in half an hour or less.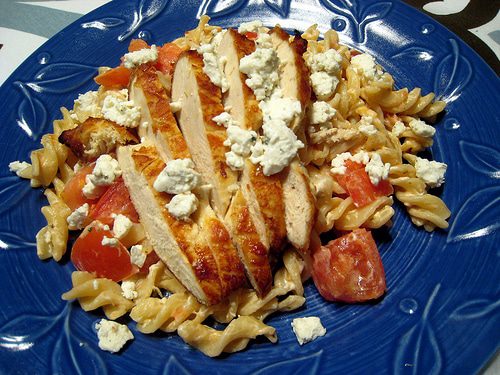 See, in nearly no time at all you can toss together a great meal. Pretty much literally. Just don't make me jealous by actually grilling yours 🙂 . Click though to see the recipe after the link.
Broiled chicken with tomato and goat cheese pasta
1 lb fusilli
3 chicken breasts, pounded or flattened if necessary
5 small tomatoes, roughly chopped (I used vine-ripened, but Roma would work well)
2 cloves garlic, minced
small bunch of basil leaves (about 1 tbsp minced)
3 tbsps olive oil, plus more for marinating
1 lemon
8oz crumbled goat cheese
salt and pepper
Directions
1. If time permits, marinate the chicken in some olive oil and the juice of a half lemon for about an hour.
2. Bring a large pot of salted water to a boil and prepare the pasta according to the instructions on the packet.
3. Meanwhile, place the chicken on a broiler pan and place about 6 inches away from your broiler. It should cook about 6-8 minutes a side. If they start to brown too much, move the chicken to a lower rack in the oven. (If you have a probe thermometer, it should read about 165F in the thickest part of the chicken breast.) When cooked, let sit for a minute, then slice into strips.
4. In a small skillet or pot, heat the 3 tablespoons of oil with the minced garlic and basil over medium heat for a 2-3 minutes.
5. When the pasta finishes cooking, drain, then return the pasta to the pot. Add the tomatoes, then drizzle the olive oil over it. Add a few good cracks of pepper to it and the juice of the other half of the lemon. Add about 2/3rds of the goat cheese and toss everything to combine. The goat cheese will melt into the oil to create a kind of sauce for the pasta.
6. Serve the pasta, then top with some sliced chicken. Sprinkle each serving with a bit of the remaining crumbled goat cheese.