I know this "salad" sounds weird but suspend belief
until you eat it.  You will thank me.  And Cooking Light.   When I saw
next week's Chicken Tacos, this salad accompanied it.  At first, I was
skeptical but the more I thought about it,
the more I thought about how we really just had to try it.  It looked
so refreshing and delicious and perfect for the summer.While I made our main meal, John was in charge of
the slicing and dicing for the salad.  What I would do without my sous
chef?  I'd be chopping a lot more, that's for sure.  I also wouldn't
have as nice pictures…what a skilled knife man
he is!

I tried to reserve judgment of this salad until I
tasted it.  I am the more adventurous eater; I dove right into this
while John was busy eating the main meal.  But my groans of ecstasy and
repeated forkfuls encouraged John to try it and
before I knew it, we were fighting over that last morsel.  A typical
ending to our meal!
Avocado-Orange Salad (adapted from here)
Serves:  4
1 tablespoon garlic, minced
1 teaspoon olive oil
1/2 teaspoon black pepper
1/4 teaspoon kosher salt
1 orange
1/4 cup red onion, thinly sliced
1 avocado, thinly sliced
In a small bowl, combine garlic, olive oil, black pepper, and kosher salt.  Peel and section the orange.  Squeeze a quarter of the membranes to extract juice into the bowl.  Whisk it all together.  In another bowl, combine remaining orange sections, red onion slices, and avocado slices.   Pour the garlic mixture over the salad and toss gently, being careful not to squish the avocados.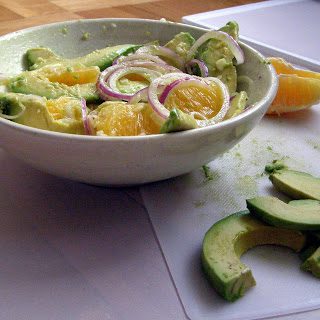 Nutrition per serving, based on 4 servings, from MyFitnessPal.com
Calories:  96
Carbohydrates:  10g
Fat:  7g
Protein: 1g
Sodium: 121mg
Sugar: 4g
Until the next time my oven is on…