Fall is here. Unofficially anyway since fall technically doesn't start for another few weeks. But it's after Labor Day, the leaves are starting to change and the night air is crisp. And as soon as my house is not ripped apart anymore, I will be decorated darn it. In the meantime, I have been celebrating my favorite season (yes, I like fall more than the Christmas season because in my mind NOW is the official kick off to the holiday season- not Thanksgiving. But that's just me.) by making my house smell amazing with fall baked goods, like these Apple Stuffed Pumpkin Pie Blondies.
These are pretty much fall in food form. They have every quintessential fall flavor: apple, pumpkin, cinnamon. It smelled like Thanksgiving (heaven!) when I baked these and tasted like it too.
Only, unlike Thanksgiving, these are skinny jeans friendly and gluten free. There is no refined sugar and these are packed with protein from the eggs and almond flour (they are low carb too!) and with vitamin A from the pumpkin. Definitely a treat to feel good about.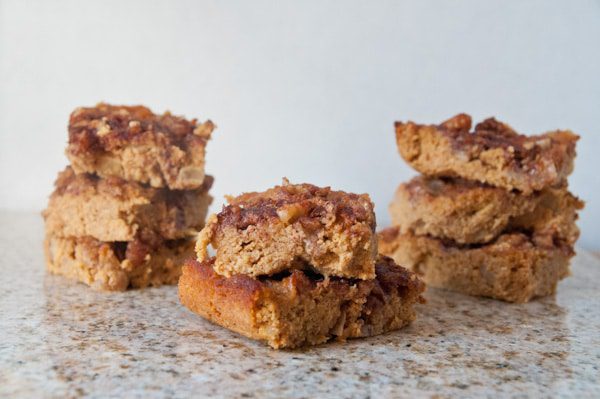 I needed one of those after these.
Apple Stuffed Pumpkin Pie Blondies
Ingredients
2 eggs
1 1/4 cup of pumpkin
1/2 cup applesauce (I used unsweetened)
1 cup almond flour
2 apples, chopped
1 heaping tablespoon of cinnamon + additional for topping
1/2 tablespoon of pumpkin pie spice + additional for topping
1/3 cup of honey or maple syrup + additional tbs for topping
1 tsp baking powder
1 cup of walnuts chopped
How to Make:
Preheat your oven to 350.
In a large bowl, combine your two eggs, applesauce, cinnamon, pumpkin pie spice, pumpkin, baking powder, almond flour, and honey or maple syrup. Whisk until thoroughly combined.
Once the ingredients are combined, fold in two diced apples.
Pour the batter into a sprayed baking dish. Top the batter with chopped walnuts and sprinkle a pinch of cinnamon and pumpkin pie spice over the walnuts. Drizzle an extra tablespoon or two of maple syrup or honey over the top.
Bake at 350 for 30-40 minutes or until the edges of the blondies begin to pull away from the dish and the center springs back to the touch.
Let cool and then cut into squares.