In this post, I will speak only of these biscuits and how delicious they are.
I'm not going to be able to stop gushing about them. I made these Sweet Corn Peppered-White Cheddar Biscuits when I got home last night from work. I had two, and I wanted many, many more.
My inspiration to make these came from some leftover sweet corn I had cut off the cob and frozen, and some leftover white cheddar cheese.
I wanted to create a biscuit similar to the Cheddar Bay Biscuits they have at Red Lobster, but with sweet corn, white cheddar, and freshly cracked pepper.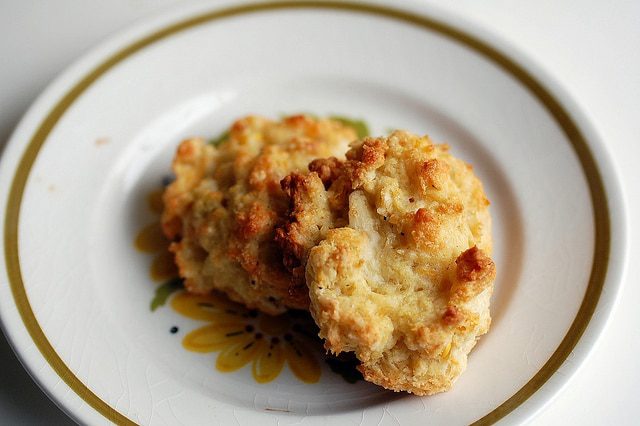 I didn't study any recipes before making these… I just went for it, hoping they would turn out well. I combined the dry ingredients, white cheddar and corn in a bowl and kneaded in butter using my fingertips until the butter was well combined.(Don't you love doing that? I do.) I didn't consider this beforehand, but using frozen corn was a good idea because it kept all of the dry ingredients and butter cold! Using cold ingredients in biscuits is a must; they'll turn out flakier and lighter.
Then I just mixed all of the corn-white cheddar mixture into a beaten egg, sour cream and milk, until everything was moistened. I used a cookie scoop to scoop out portions of dough onto cookie sheets. A little brush of egg wash on top and these babies were ready for baking.
Twenty minutes later I had the best biscuits I could possibly have asked for. Cheddar Bay Biscuits want to be these biscuits!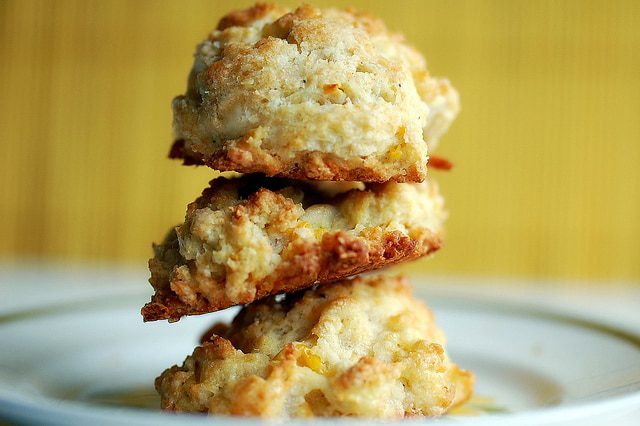 They're garlicky, cheesy, buttery and crumbly… and addicting. It's hard to stop at two. There's no way you'll eat just one.
I think my favorite part about these biscuits is the crumbly, crunchy edges. Especially if there's any crispy corn on the edges. Consider yourself lucky if you get the crispy corn.
I will be making these again and again and again.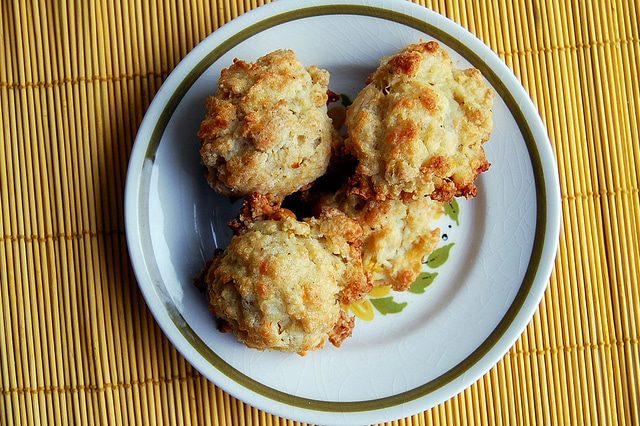 Ingredients:
2 1/2 cups all purpose flour
1 tablespoon sugar
2 teaspoons baking powder
3/4 teaspoon baking soda
3/4 teaspoon salt
1/2 teaspoon freshly ground black pepper
1/4 teaspoon garlic powder
1 1/4 cups grated white cheddar cheese
3/4 cup fresh supersweet corn (frozen if possible)
6 tablespoons cold unsalted butter, cut into small pieces
2 large eggs, divided use
1/2 cup sour cream
1/4 cup milk
Instructions:
Heat oven to 400 degrees F. Coat cookie sheets with nonstick cooking spray.
In a large mixing bowl, whisk together flour, sugar, baking powder, baking soda, salt, pepper and garlic powder until well combined; whisk in white cheddar and corn until combined. Knead in butter using fingertips or a fork, until well incorporated and mixture starts to form pea sized lumps and clump together.
In an additional large mixing bowl, whisk together 1 egg, sour cream and milk until well combined. Add flour mixture and stir until just combined and dough is moistened (do not overmix). Using a cookie scoop, place heaping tablespoons of dough onto cookie sheets, spacing about an inch apart. In a small bowl, whisk together remaining egg and a teaspoon of water until combined; evenly brush over the tops of dough.
Bake 16-18 minutes or until golden brown. Cool on wire racks.
Makes about 18 biscuits