There are several sweet and sour dishes we love preparing at home, whether it is simple sweet and tangy vegetable with prawn, or chicken in sweet and sour sauce with pineapple, the combination of sweet and sour always give a our table a bright central attraction.
This simple stir fry dish includes variety of our favourite colorful vegetables cut into small sizes. We love to mix up different colors of bell peppers, carrots, beans, etc. to make the dish more colorful and healthier.
My kid absolutely loves the rich red sweet and sour sauce over slightly crunchy vegetable which otherwise he wouldn't care for. Now that beautiful greens and fresh ingredients sprouted everywhere in the markets, the quick sauté vegetable with meat seems to find the permanent spot on our table.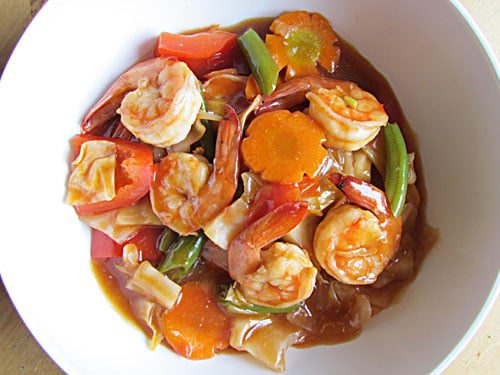 Sweet and Sour Vegetable with Prawn is a very simple dish so easy to prepare. Tomato sauce gives the dish a thick glossy red while different kinds of vegetable compose a sparingly crunchy texture.
Sweet and Sour Vegetable with Prawn

Ingredients: (4 servings)

300 gm prawn- peeled and deveined

3 cloves garlic- roughly bruised

1/2 onion- sliced

1/2 cucumber- sliced

1 medium size carrot- sliced

1 large tomato- deseeded and cut into 8

1/4 bell peppers- cut into small pieces

1 cup- sliced cabbage

1 tbsp soy sauce

1/2 tsp salt or to taste

2 tbsp tomato sauce

1 tsp sugar

1 tsp vinegar

1 cup water

2 tbsp corn flour dissolved in little water

1 tbsp oil

Preparation

Heat oil in the large pan over the medium- high heat.
Add garlic and sauté until slightly yellow.
Add prawns and stir for few minutes.
Add all vegetables at once and give them a quick stir.
Add soy sauce, salt, sugar, tomato sauce, vinegar, and sugar. Stir further for 1 minute. Add a cup of water and bring to boiling for 1 minute.
Add corn flour mixture and cook further until the sauce becomes thicken.
Check the seasoning and serve hot with some rice.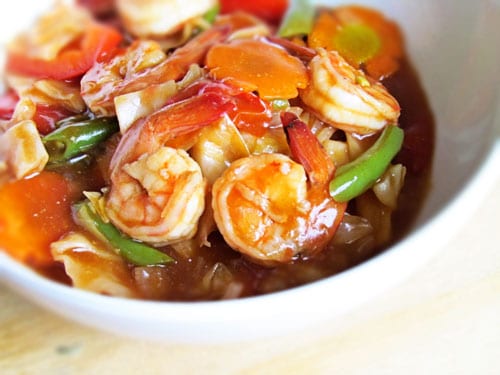 The sweet and sour vegetable with prawn was well balanced and very flavourful. The sticky red sauce melted into hot rice releasing tangy fresh flavour. The prawns were juicy and the vegetable were still crunchy and sweet. I love that it was filled with so many vegetables which made it very healthy and nutritious.
Have a wonderful day,