My mother's side of the family is Polish and whenever my Grandmother (my mom's mother) would come to visit she would always make pierogies for my family. It was something I always looked forward to growing up, and I always knew when she was coming for a visit by the cottage cheese draining in the fridge a few days beforehand.
For mother's day my sister and I normally head up to my mom's house and we just hang out. This year I thought it would be nice to continue on the tradition of making pierogies, so I asked my mom and sister if they wouldn't mind taking on the challenge of making them and being a part of the blog, and thankfully they agreed. I love this recipe and being able to spend quality time with my mom and sister made it even better.
So here is the amazing recipe for my grandma's homemade pierogies, make them, and enjoy them!
Filling:
-3 24 oz containers of dry cottage cheese OR 4% large curd cottage cheese (regular)
-1 egg
-1/2 sweet onion chopped up, softened in pan with some butter (not much, maybe a Tbs)
-salt and pepper to taste
-1/2 cup potato flakes (may need up to a cup depending on how wet your mixture is)
The whole idea of the filling is to make it as "dry" as possible. By dry I mean that it is not running and is thick, see the picture below. To get this you need to start by draining your cottage cheese, if you are using dry cottage cheese (the preferred method) you'll need to put your cheese in a strainer in the fridge for a day or two, mixing it up occasionally to allow the liquid to strain out. If you don't have dry cottage cheese in your area (like me) you can use regular large curd cottage cheese, just drain it for about four days prior to making this. Again, stir it occasionally to strain out the liquid. It may not be 100% strained at this point, its not a big deal we will take care of that later.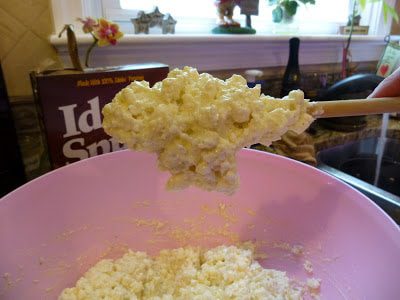 You want your mixture thick enough that it hangs on to the spoon like this.
When you are ready to make your pierogies, mix the cottage cheese, egg, softened 1/2 onion and salt and pepper all together. If your mixture is still a bit loose, then add in the potato flakes (the picture above was using regular large curd cottage cheese and adding in the flakes) 1/2 cup at a time. Once this is all mixed up and you are at the desired consistency, set the mixture aside for now.
Dough:
-4 cups flour
-4 eggs
-pinch salt
-1/2 cup warm water (up to 1 cup), it doesn't have to be a certain temp, just make sure it's warm!
-flour for kneading and working with the dough
Mix the first four ingredients together, you want it to look like this: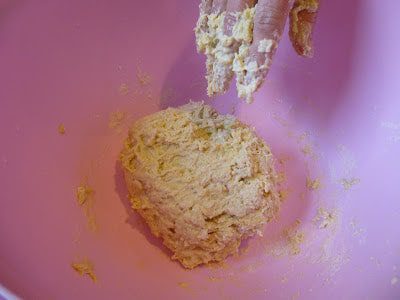 If it doesn't add up to another 1/2 cup water, a little at a time. Once it looks like the picture above, place the dough on a clean counter that is sprinkled with a bit of flour (so it doesn't stick to the counter) and knead and play with the dough until it looks like this: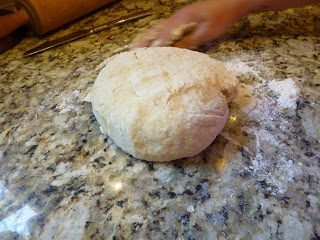 Ok now for the actual pierogi part, how you choose to roll the dough out is up to you, we started by rolling out the entire dough to 1 inch then and then tried cutting the dough using the top of the cup, it didn't work out as well as we'd hoped, so we started cutting off a chunk from the dough ball and rolling each individual pierogi out.
Either way, flatten out a piece of dough, however big you want, to about an inch thick and place a bit of the filling on one half of the dough. Fold it over and pinch around the half moon to seal it all together.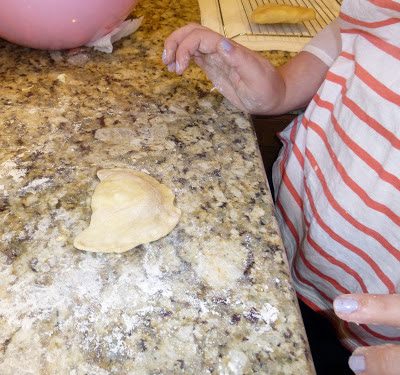 Once you have your half moon, drop it in a pot of boiling water to seal it up. It doesn't need to stay in long, once the pierogi starts rolling in the water take it out and place it on a wire rack to dry. You don't want to crowd the pot, so drop them in as you make them and take them out as you put new ones in. Try not to have more than three or four in the pot at one time.
To store the pierogies, layer them in a tupperware or pyrex container with wax paper between each layer. You can store them in the fridge this way. You can also freeze them, but store them in one layer in the freezer with no wax paper.
The best way to prepare the pierogies when you are ready to eat them is pan frying them with a little bit of butter, but you can also boil them again too. Top with sour cream and enjoy!