You guys. This taco salad is a GAME CHANGER!!! It is equal parts nutritious and indulgent and is the perfect late-Summer lunch or dinner. It's loaded with your favorite flavors like guacamole, cilantro, and vegan taco meat, but feels light and vibrant on a bed of mixed spinach and lettuce. The spicy tahini crema finishes it with the heat and creaminess you really want from a Mexi-inspired dish. You'll want to make this salad again and again… and again! #SummerofSalads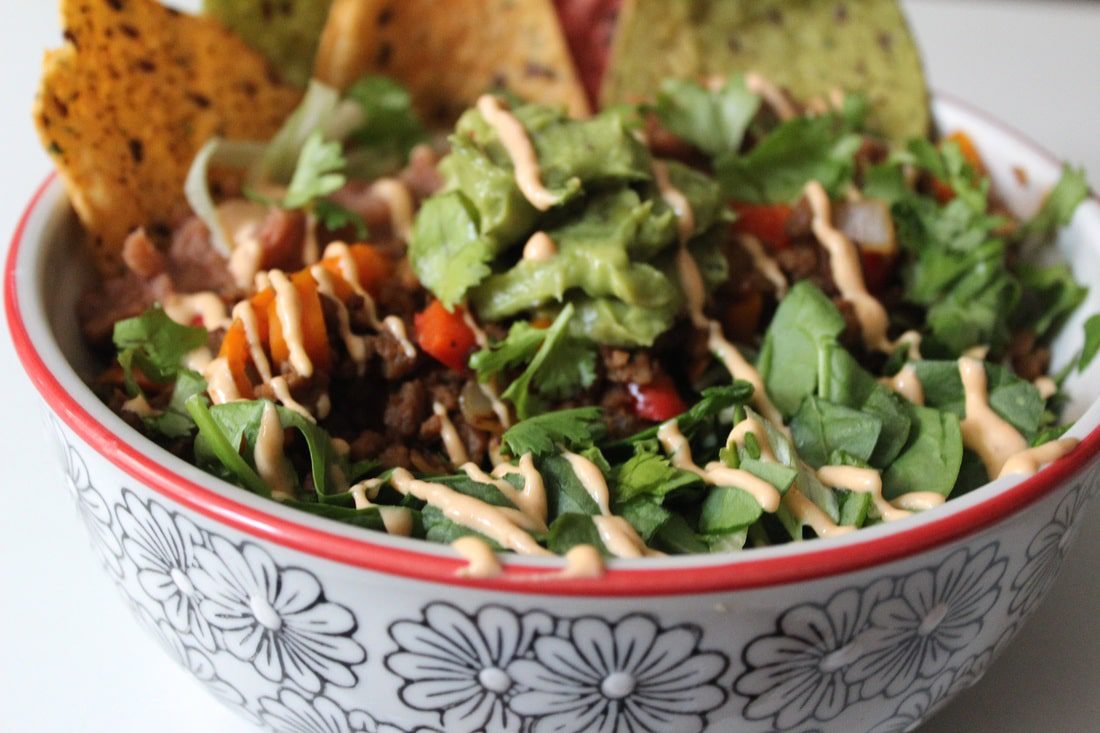 Loaded Taco Salad
PREP TIME: 10 minutes
COOK TIME: 5 minutes
TOTAL TIME: 15 minutes
YIELD: 1 large salad (I had leftovers both times I made this salad!)
​
INGREDIENTS:
1.5 cups fresh chopped spinach
1.5 cups fresh chopped lettuce (romaine, iceberg, etc.)
1/2 cup vegan taco meat
1 tbsp taco seasoning or salsa
1/4 chopped onion
2-3 sweet baby bell peppers chopped
1/2 cup vegan refried beans (or use whole black/pinto beans)
1-2 tbsp fresh guacamole (make ahead)
1 tbsp tahini
1 tsp Sriracha
1 tsp Mexican hot sauce
fresh chopped cilantro for garnish
olive oil for sautéing
DIRECTIONS:
1. Wash and chop spinach, lettuce, onion, and baby bell peppers.
2. Heat olive oil in a medium pan and add onion and baby bell peppers.
3. After a few minutes, add vegan taco meat and taco seasoning or salsa.
4. While vegan taco meat and veggies cook, combine tahini, Sriracha, and hot sauce in a small bowl. Stir to combine. Adjust heat as necessary.
5. Fill a bowl with the spinach and lettuce. Top with taco meat and veggie mixture, refried beans, guacamole, and cilantro. Drizzle on tahini dressing or serve on the side.
6. Enjoy with taco chips, tortillas, or on its own.