There is something about citrusy fruits that invigorates your senses. This moist, fragrant, zesty cake is sure to perk you up. I had a soft, crumbly slice paired with a cup of Earl Grey tea, and it was jolly good. What a refreshing dessert to end a meal! BTW, it was MY birthday cake 😉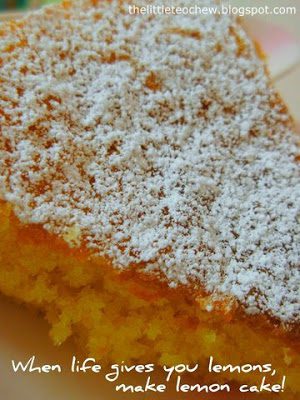 Lemon Cake
– 113g butter
– 170g caster sugar
– 170g self-raising flour
– 1 level teaspoon baking powder
– 2 large eggs
– Grated rind of 1 lemon
– 5 tbsp fresh milk or evaporated milk
1. Pre-heat oven to 180 degree celsius. Grease and line a 6-inch pan.
2. Place all ingredients in a bowl and mix using an electric mixer.
3. Pour into prepared pan and bake for about 40 minutes, until a skewer comes out clean.
4. Remove cake from oven and let it cool. Sift icing sugar on top.