As of this writing, I have exactly 100 recipes bookmarked. Whoops, just typed "cookmarked" by accident — though that's more accurate, anyway. Do people bookmark things other than recipes? With me, it's either recipes or food photography tutorials. Are there even other things in existence to bookmark? Not sure.
Anyway, the problem with having that many dishes on my to-do list is that so many of them just sit there. They're never quite forgotten, because I skim through the links all the time, but most of them never quite make it to my kitchen, either.
The oldest item is the recipe for these tea cookies. The day I came across them, I loved the simple ingredient list, I had almonds in the house, and I figured that as soon as I picked up a bag of demerara sugar, I'd be ready to go. What happened? The almonds went in another dish, the sugar became my go-to when I needed just a touch in a cup of tea, and I never made those cookies. One day! …Really.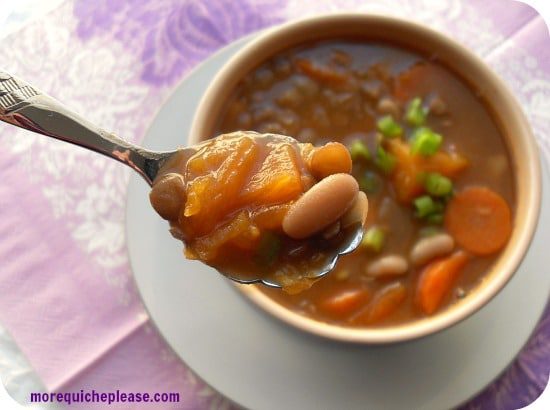 At least I only let this soup recipe languish for something like six months. The day I found the original soup, I remember being intrigued by the combination of pumpkin and white beans, since you so often see pumpkin and black bean recipes. I was also curious about the addition of lentils, and wondered whether the soup would be too bulky with both beans and lentils.
So what's the verdict? Delicious (which you already knew, since I wouldn't be posting this if it weren't). Not too bulky, satisfying without stuffing you, and a great combination of fall flavors that tastes wholesome and comforting. We found that the flavors were more pronounced the first day, so for best results, serve right away.
And then go tackle something in your own bookmark list.
Pumpkin, white bean & lentil soup
Slightly adapted from Heather Christo Cooks
Yield: About 8 servings
Ingredients
1½ Tbsp olive oil
1 onion, diced
1 tsp dried thyme
4 carrots, peeled and sliced
1 (19-oz.) can white beans* (or 2 cups cooked, from 2/3 cup dried beans)
6 cups water
2 Tbsp soup mix
1¼ cups green/brown lentils
freshly ground black pepper, to taste
3 cups cubed pumpkin (= two chunks of the fresh pumpkin sold in plastic wrap in many Israeli groceries)
thinly sliced scallions, to garnish**
* The white beans I buy come in tomato juice. If yours don't, add 2-3 Tbsp tomato paste.
** This soup will be great as it is, but if you decide to go with the scallion garnish, use just a sprinkling in each bowl so it doesn't overwhelm the other flavors.
Directions
1. Heat olive oil in a large soup pot and add onion and thyme. Saute over low heat for 5 minutes, or until soft and translucent. Add carrots and saute 3 minutes longer.
2. Add beans, bean liquid, water, soup mix, lentils, and black pepper. Turn the flame to high and bring soup to a boil, then reduce heat to low and simmer for 25 minutes.
3. Add pumpkin and let the soup cook another 20 minutes, or until the lentils are cooked through and the pumpkin cubes are tender. Serve hot.