I'm always on the lookout for ways that we can have delicious "splurge" meals without the extra calories and this one is the perfect case in point.  If we go out for Chinese food, Sesame Chicken, is NOT first on my list.  But, when I saw it in the Food Network Magazine, I cut it out immediately.
Ellie Krieger took a reader's favorite dish and turned it into something healthier – if not exactly healthy, then something you could at least eat on a monthly basis and not feel bad about yourself afterwards.  It stared me down for a few months until I finally pulled it out for a quick weeknight dinner.  John called it "better than the best Chinese food"; which for anyone, but especially my boyfriend, is a big compliment.  I practically glowed but in reality, I didn't do much.
The secret here is cooking the chicken first.  When I took my amateur class at the French Culinary Institute, our chef said that people are always so quick to keep things from burning, but in reality, everything you cook needs time to chill out.  So, I let the chicken hang out and it got really nice and brown, a perfect resemblance of the restaurant fried version.  You can serve it over brown rice, but I just served it with a large side of snow peas (steamed).  It really doesn't surprise me that this on the menu this week as well!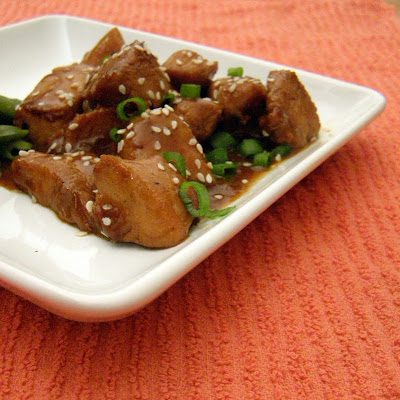 Sesame Chicken 
Serves: 4
5 tablespoons low-sodium soy sauce
4 teaspoons toasted sesame oil
2 teaspoons honey
1 pound chicken breasts, diced into chunks
3 teaspoons canola oil
3 scallions, thinly sliced, divided
1 teaspoon powdered ginger
3 cloves garlic, minced
1 cup low-sodium, fat-free chicken broth
1 tablespoon sugar
3 tablespoons flour
1 tablespoon rice vinegar
2 teaspoons chili paste
4 cups snow peas, steamed
2 tablespoons sesame seeds, lightly toasted
In a large bowl, whisk together 3 tablespoons soy sauce, 2 teaspoons sesame oil, and all the honey.  Add chicken and toss.  Marinade for about 20 minutes.    Heat 3 teaspoons of canola oil in a large skillet over medium-high heat.  Remove the chicken from the marinade, and discard.  Cook the chicken in the skillet for 3-5 minutes, until fully browned.  Add half of the scallions, ginger, and garlic, and cook for about 1 minutes.  Add in broth, sugar, flour, vinegar, chili paste, and remaining soy sauce.  Stir so the mixture is well combined and cook until thickened (about 5 minutes).  Stir in the remaining sesame oil.  Serve the chicken with steamed snow peas (and brown rice, if you prefer).  Top with sesame seeds and reserved scallion slices.
Nutrition Information per serving, based on 4 servings, from FoodNetwork.com:
Calories:  390
Fat:  17g
Saturated Fat:  3g
Cholesterol:  90mg
Sodium:  700mg
Carbohydrates:  23g
Fiber:  3g
Protein: 35g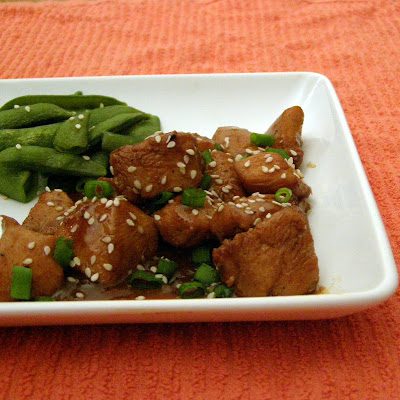 Until the next time my oven is on…