Superfood muffins come to a very good use
when you go clubbing on a Monday night and miss your last train to Hogwarts or
when the cursed and blessed open road that people call life makes you
emotionally unstable and incapable of deciding whether you want to spend the
rest of your life in a Scottish mansion with a view or in a studio flat in Peckham
that very closely resembles a bunker from the Great War. In fact, they are so
good you can munch on them without really worrying about TV cables or
overworked Chinese project managers or falling asleep on your keyboard at work
or work in general or dressing appropriately or again being overqualified for
relationships. There's the wonders of quinoa carob muffins for you.
QUINOA CAROB MUFFINS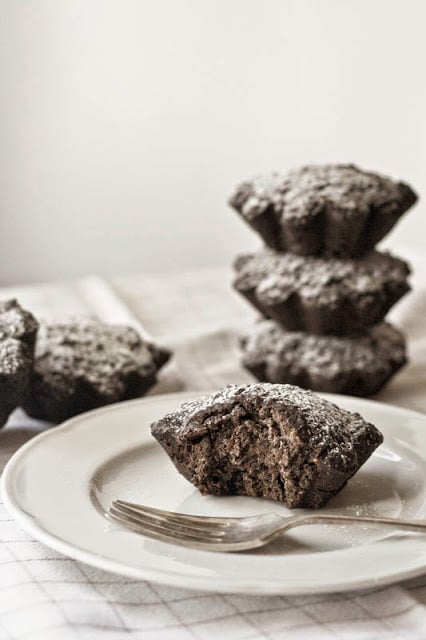 80g (1/2 cup) uncooked quinoa
240ml (1 cup) apple juice
250g (2 cups) wholemeal flour
150g (3/4 cup) unrefined golden caster
sugar
30g (1/4 cup) carob powder
1 tablespoon cream of tartar
180ml (3/4 cup) vanilla flavoured soya milk
or other non-dairy milk
50g (3 tablespoons) carob chips or chopped
carob flakes
Place the quinoa and apple juice in a small
pan over medium heat, cover and cook until all the juice is absorbed and the
quinoa is tender, about 20 minutes. Leave aside to cool. Preheat the oven to
180°C (360°F) and lightly grease or line with cases two muffin trays/brioche
tins. In a bowl mix together flour, sugar, carob powder and cream of tartar.
Pour in the milk and mix until just combined, then add the carob chips and
quinoa and mix until incorporated. Spoon the batter into the prepared
trays/tins and bake for 15 minutes or until a toothpick inserted into the
centre of the muffins comes out clean. Leave on a rack to cool then let the
superfood do its magic.