So I've had "Vegan Brunch" for about 2 months now, at least, and I finally got around to making something out of it this morning! I woke up STARVING and gosh darnit, I had the day off of work and I had the time to make some waffles. There were no excuses. So that is what I did. Not just any kind of waffles, PEANUT BUTTER waffles. Oh yes.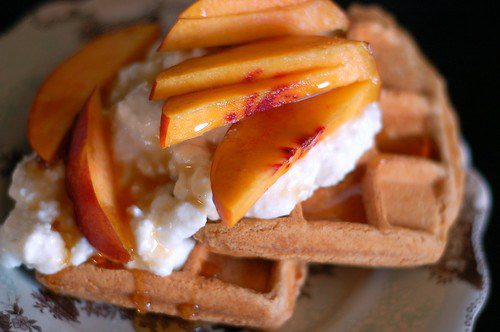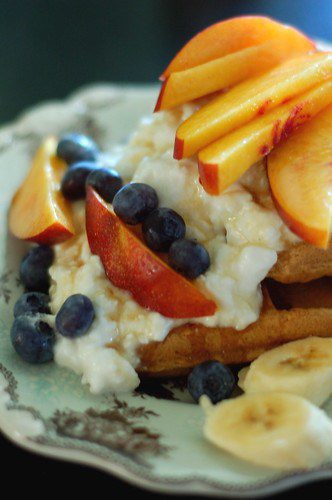 Pretty much bomb, if you know what I mean…
This was my first time making waffles on my own. I'm usually a pancake girl. The last time I'd had a homemade from-scratch waffle was probably when I was about age 5, at my grandma's house. Mind you, this is her waffle maker. My family has never owned a waffle maker so I finally got to snag hers. I looked at thrift stores and on eBay for a few weeks to buy my own but not much luck for my price range. Anyway, it all worked out, and I finally made some delicious vegan peanut butter waffles! Super easy. All said and done probably in less than 25 minutes. Make these if you love peanut butter as much I do…
Vegan Peanut Butter Waffles from "Vegan Brunch", Homestyle Recipes Worth Waking Up For
3/4 cup chunky natural peanut butter
3 tablespoons pure maple syrup
3 tablespoons canola oil
2 cups soy milk
1 tablespoon cornstarch
1 teaspoon pure vanilla extract
2 1/4 cups white whole wheat flour (all purpose or WW pastry flour works also)
1 tablespoon baking powder
3/4 teaspoon salt
1/4 teaspoon ground nutmeg
cooking spray
1. Preheat your waffle iron.
2. In a large mixing bowl, mix together peanut butter, maple syrup, and canola oil until well combined.
3. Separately, mix together the milk and cornstarch in another bowl or measuring cup and add to the batter along with the vanilla.
4. Add flour, baking powder, salt, and nutmeg and mix until the batter is relatively smooth.
5. Spray the waffle iron with cooking spray and cook until you can smell the lovely peanut buttery aroma traveling throughout your kitchen. You'll be able to tell when it's done.
A few notes: – Always spray the waffle iron with oil every time you make a new waffle! – Measure out the batter so it's "even". I used approximately 1/2 cup for each waffle. Just experiment.