Hi there!  I think it was just about a week ago I was professing my love for cereal.  The folks at General Mills heard my cries and decided to send me a box of their new Peanut Butter Multi Grain Cheerios.  I've already told you how much I like the Peanut Butter Cheerios; it's my new favorite cereal.  I hope it's here to stay.  If you like Peanut Butter Crunch, well, you'll love the PB Cheerios.  It's a healthier-tasting Peanut Butter Crunch.  Healthy tasting in a good way.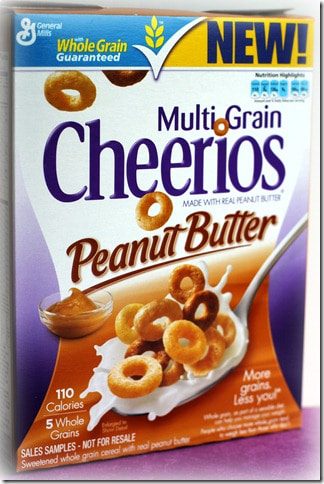 I sound like an advertisement.  So, sorry, so sorry.  I'm not getting paid!
I've been eating the multi grain Cheerios every morning on top of my peanut butter-banana oatmeal.  Yup, carb on carb.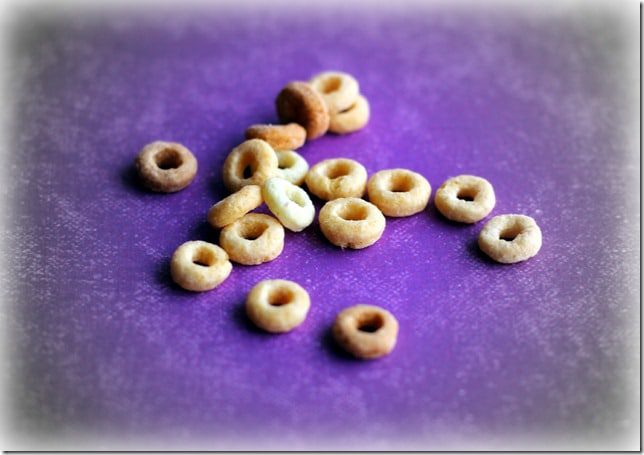 Anyway, I thought I'd create a healthier cookie using the cereal.  Inspired by my breakfast, I made a cookie with natural peanut butter, mashed banana, oatmeal, brown sugar, butter (just a little!), Peanut Butter Cheerios, and chocolate chips.  These are healthier than my normal cookies, and they're just as good!  They're crisp out of the oven, but they soften up the next day and are a little cakey.  I froze the cookies I didn't eat and they hold up well.  Frozen cookie snack=the perfect springtime treat.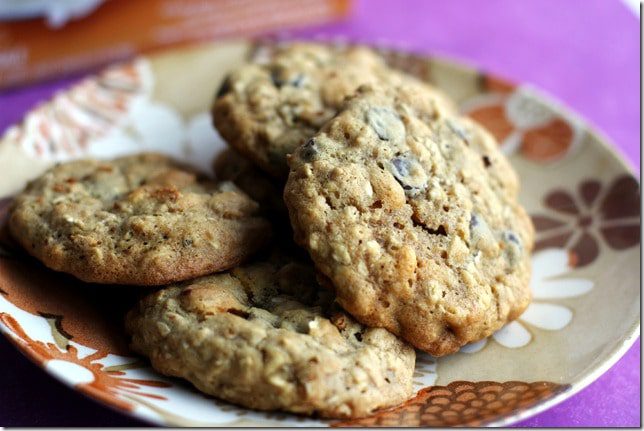 Was there a cereal only offered for a limited time that you loved?  Or a cereal you wish was available year-round?  I looked for Cupcake Pebbles the other day, but sadly it was gone.
1/4 cup natural peanut butter
1/3 cup mashed ripe banana
2 tablespoons unsalted butter, softened
1/2 cup brown sugar
1/4 cup granulated sugar
1 large egg
1 teaspoon vanilla extract
3/4 teaspoon baking soda
1/2 teaspoon baking powder
1/4 teaspoon salt
1 cup all purpose flour
3/4 cup old fashioned oats
1 1/4 cups Peanut Butter Cheerios
3/4 cup semi-sweet chocolate chips
Heat oven to 350 degrees F.  Coat cookie sheets with cooking spray.
In a large mixing bowl, using a mixer on medium speed, beat together peanut butter, banana, butter, brown sugar and granulated sugar until creamy – about 1 minute.  Beat in egg, vanilla, baking soda, baking powder and salt until well combined.  Reduce mixer speed to low and beat in flour and oats until combined.  Beat in Cheerios and chocolate chips until combined.
Drop rounded tablespoons of dough onto cookie sheets, spacing about 1-inch apart.  Bake 10-12 minutes or until golden brown.  Cool 1 minute before transferring cookies to wire racks to cool.
Makes about 18 cookies