A recent expedition through past issues of Bon Appetit magazine resulted in a gold mine of recipes including one for a rhubarb and raspberry crostata (aka a rustic fruit pie) from award-winning pastry chef Karen DeMasco of Locanda Verde (which is seriously one of the best restos in NYC). Of course, rhubarbs aren't in season right now, but no matter. With summer still hanging on, I had plenty of fruits to choose from as a replacement for said rhubarb. I settled on peaches and threw in a smattering of blackberries as well. Here's how it went down.
The recipe:
CRUST
1 cup unbleached all-purpose flour
1/2 cup whole wheat flour
1 1/2 tablespoon sugar
1/2 teaspoon kosher salt (regular works just fine)
3/4 cup (1 1/2 sticks) chilled unsalted butter, cubed
1 large egg
1 tablespoon whole milk
PEACH AND RASPBERRY FILLING
1/4 cup cornstarch
4 cups 1/2″-thick slices rhubarb—about 1-1 1/4 pounds (4 cups of peaches, peeled and thinly sliced plus a handful of blackberries worked just as well)
1 6-ounce container fresh raspberries
2/3 cup sugar
topping: 1 large egg, beaten
topping: raw sugar (I left this off my crust)
According to Karen, "This dough, with its addition of whole wheat flour for a nutty taste and tender texture, is a must in your baking repertoire." I agree. I'm picturing apple and pear pies for the fall, not to mention savory crostatas using maybe a tad less sugar in the crust.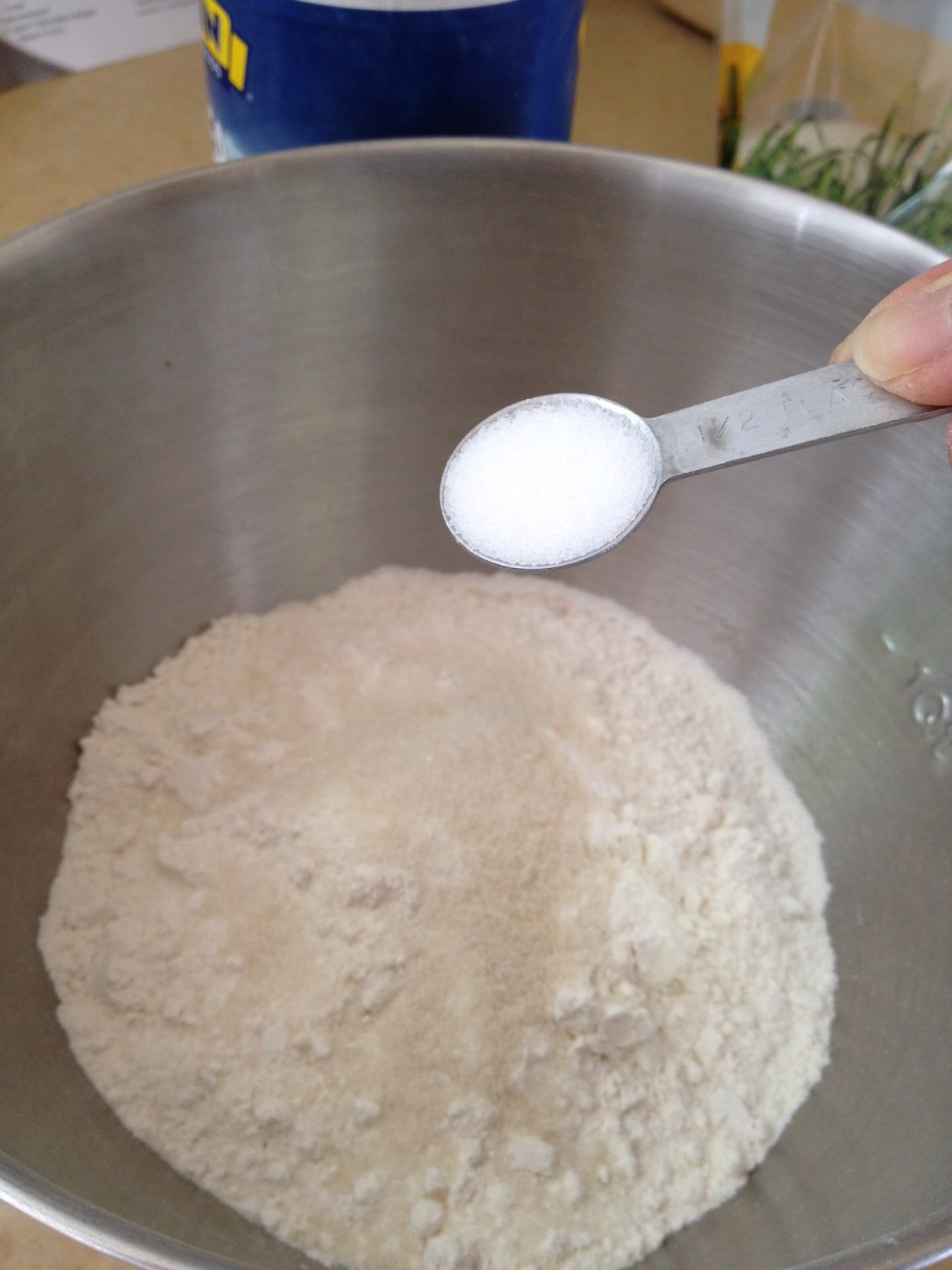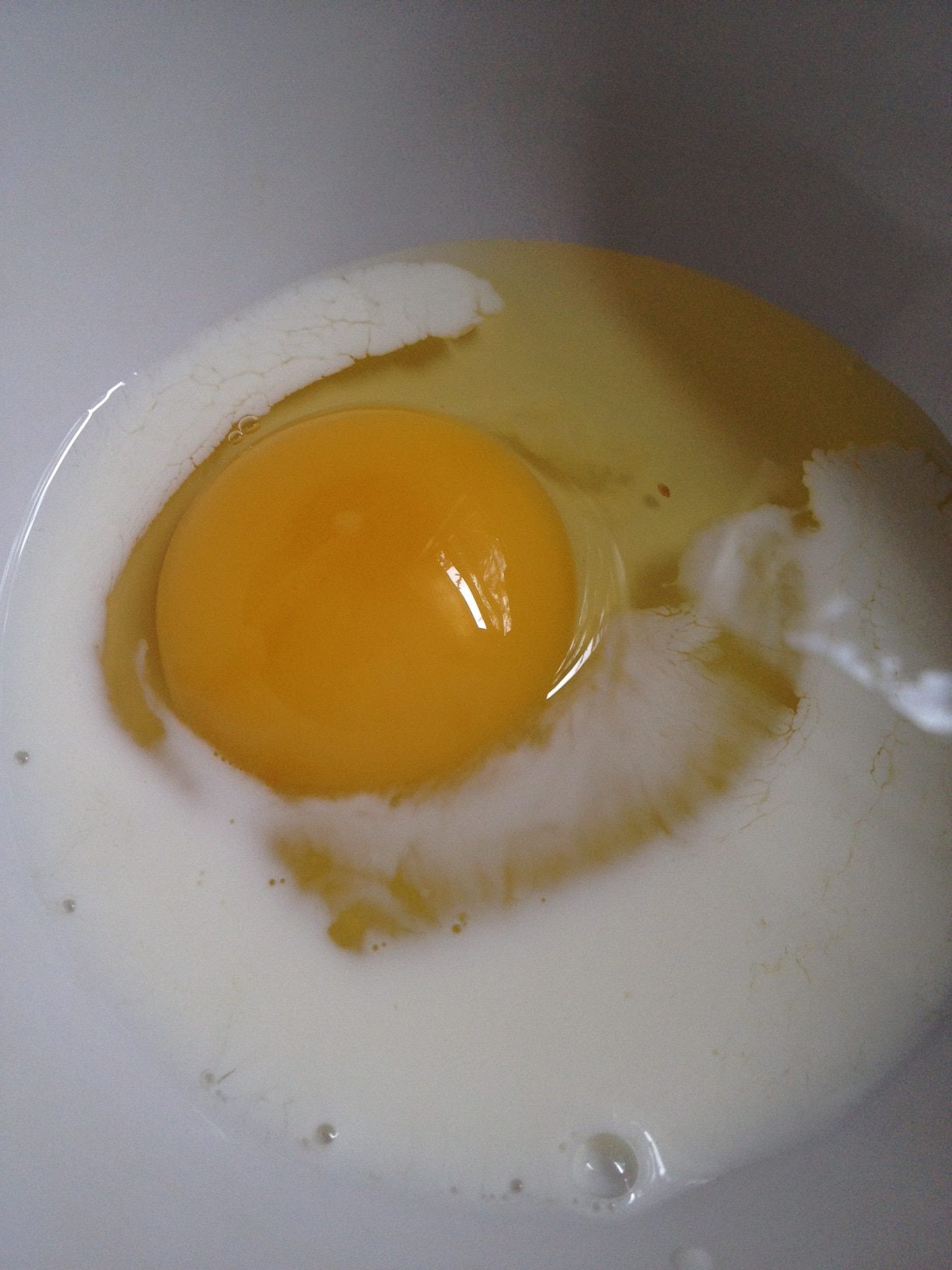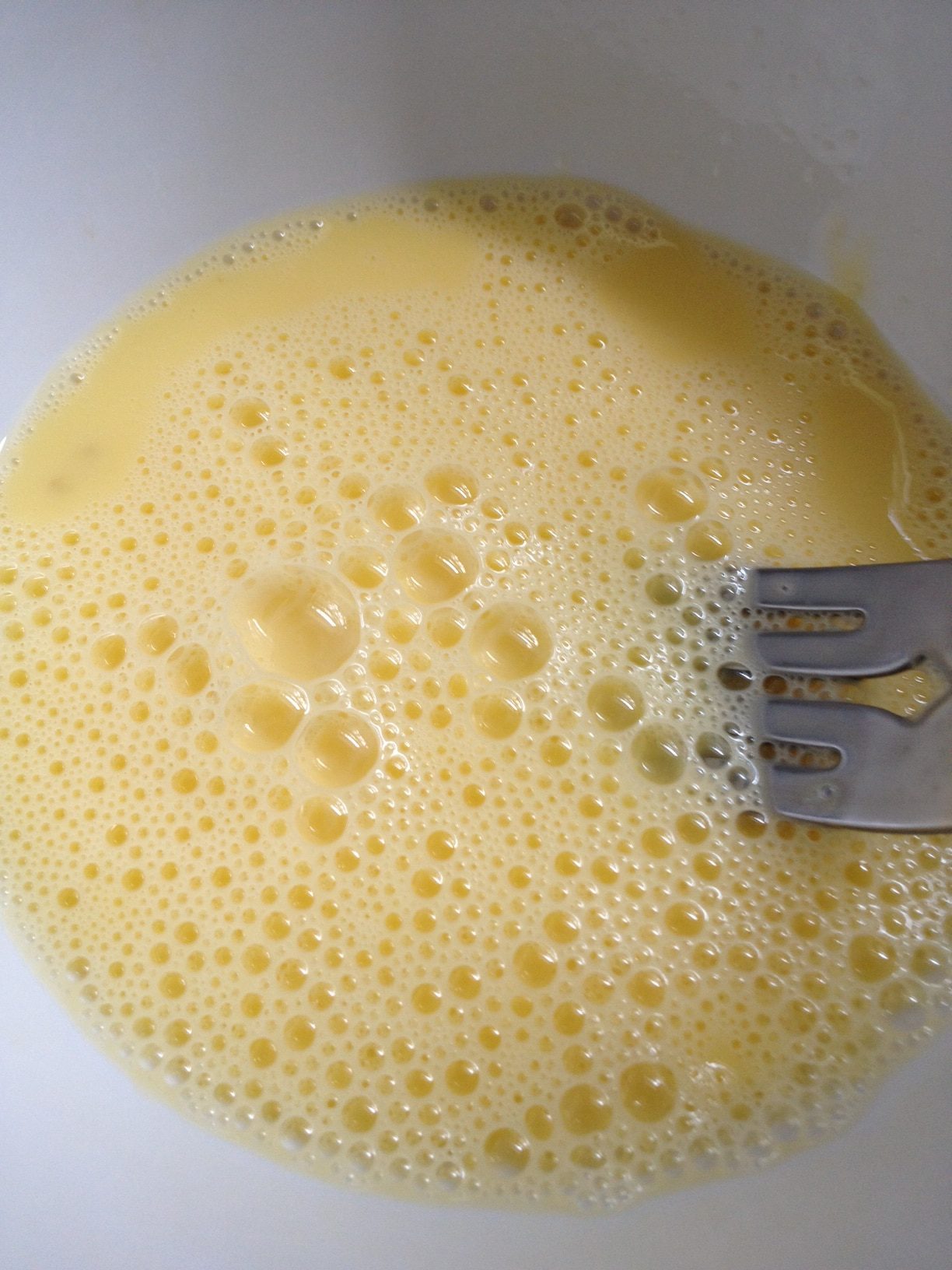 I started by whisking together the all-purpose and wheat flours with the sugar and salt. In a separate bowl, I beat a large egg into a bit of milk.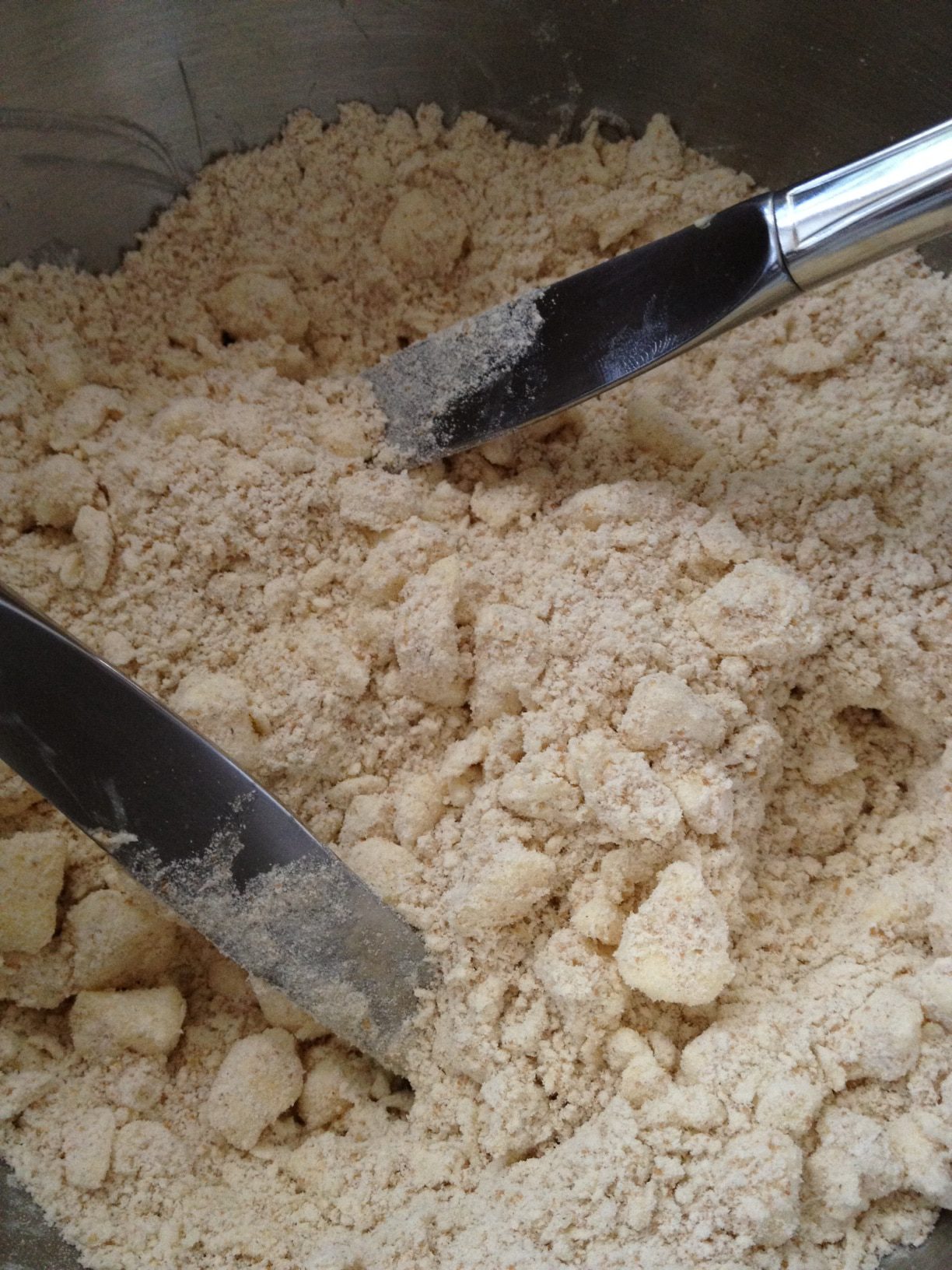 I then added the cold cubed butter into the dry ingredients and started cutting them together using two knives until pea-sized pieces had formed. In went the egg-and-milk mix. Using a spatula, I worked the liquid in until the dough was moist and clumpy.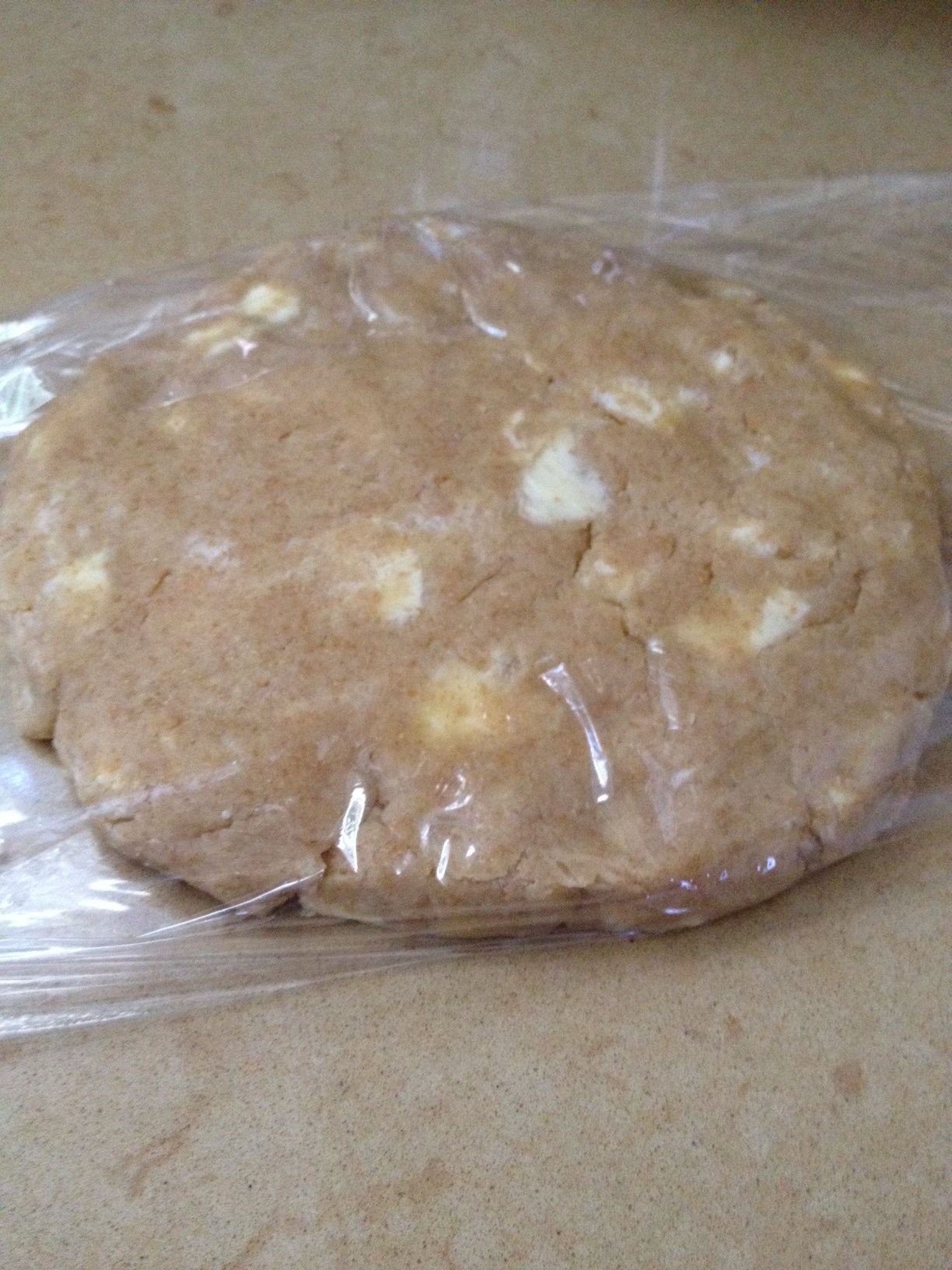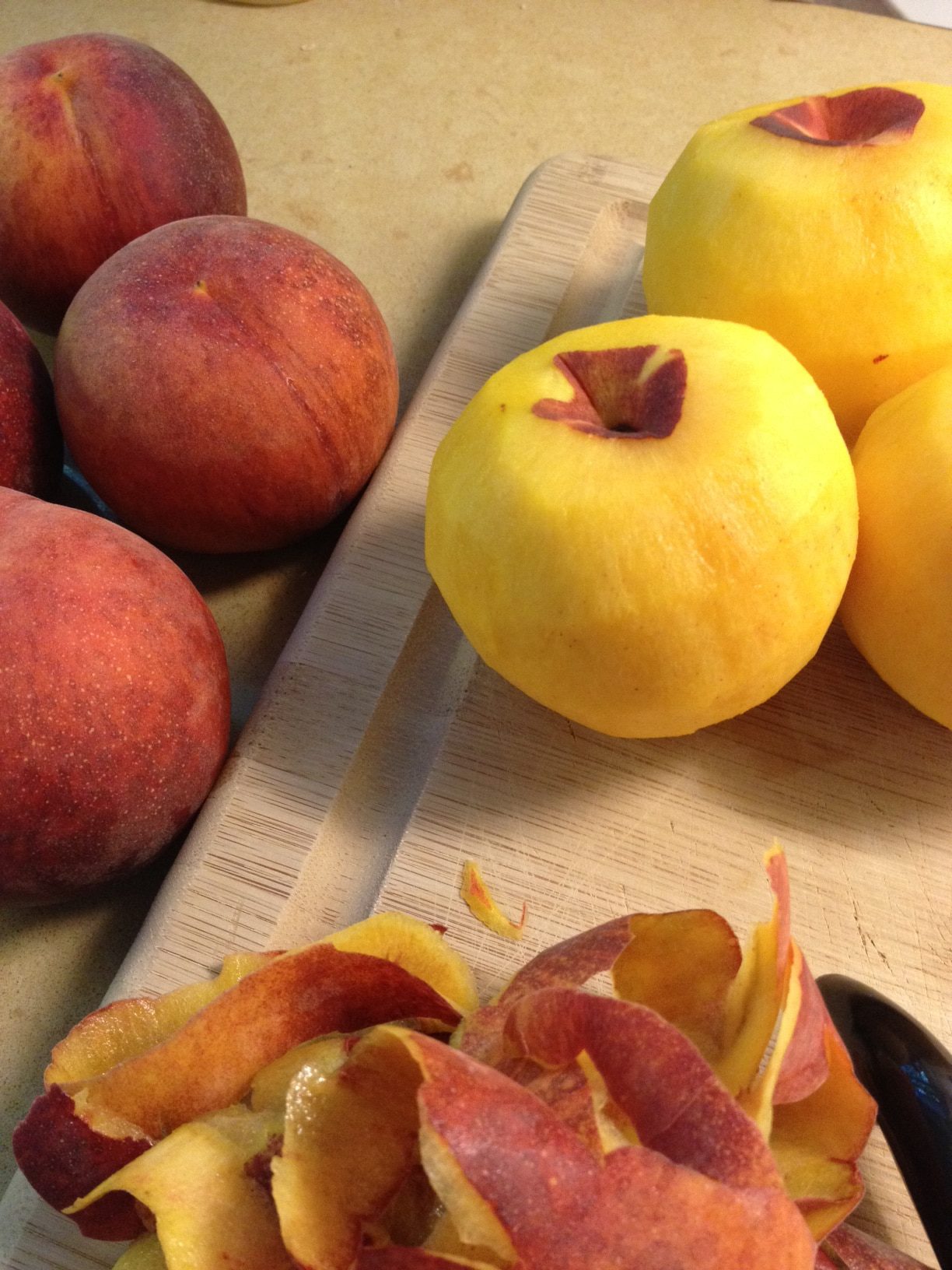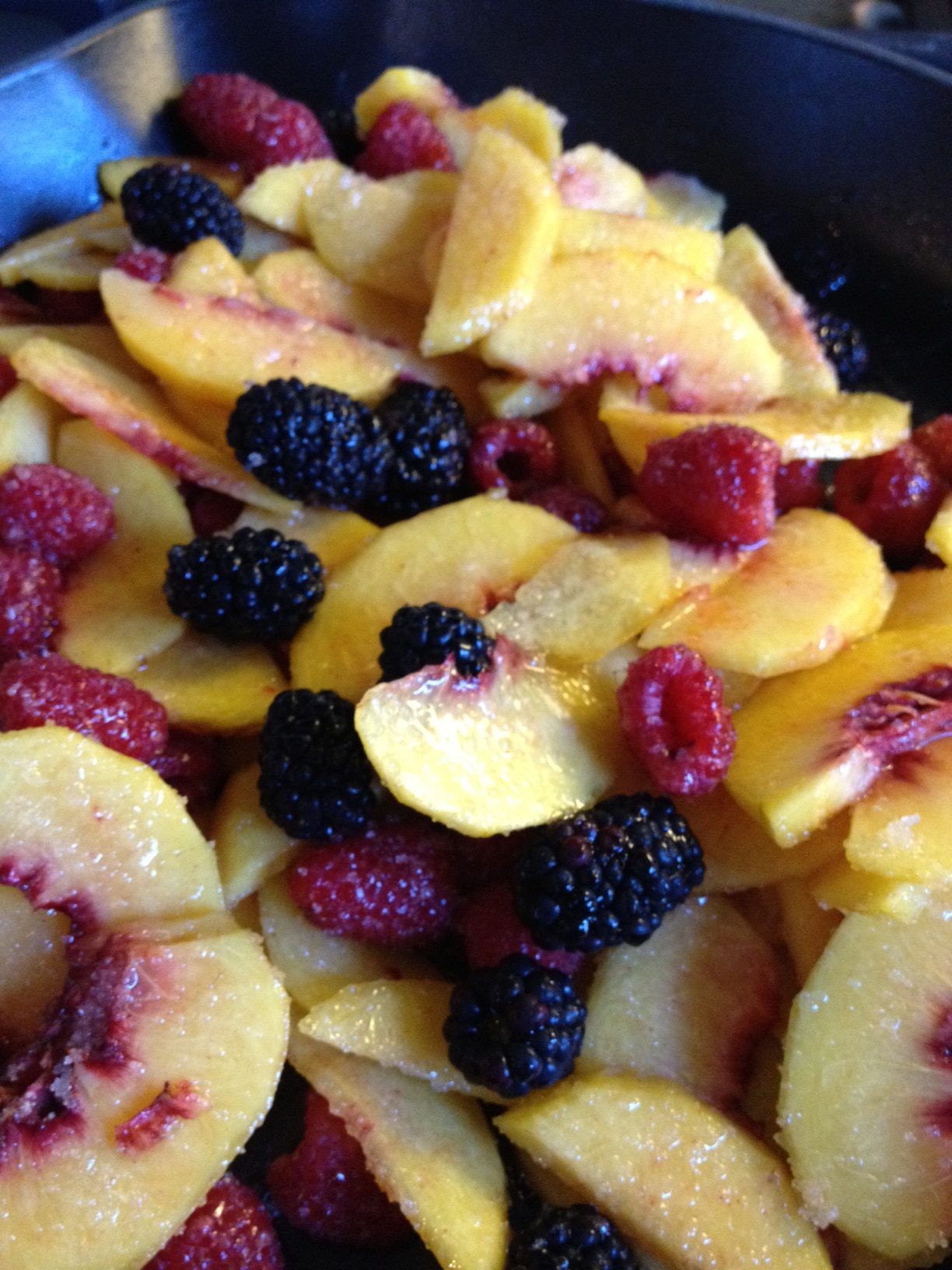 I scraped the dough together to form a ball which I then flattened into a disk and rolled in plastic wrap to throw in the fridge for an hour and a half. While the dough was chilling, I washed, peeled, pitted and sliced the peaches. In a separate bowl, I dissolved the cornstarch in water. I stirred the peaches, raspberries and blackberries with sugar in a sauce pan over medium heat until the juices started oozing and the sugar had dissolved.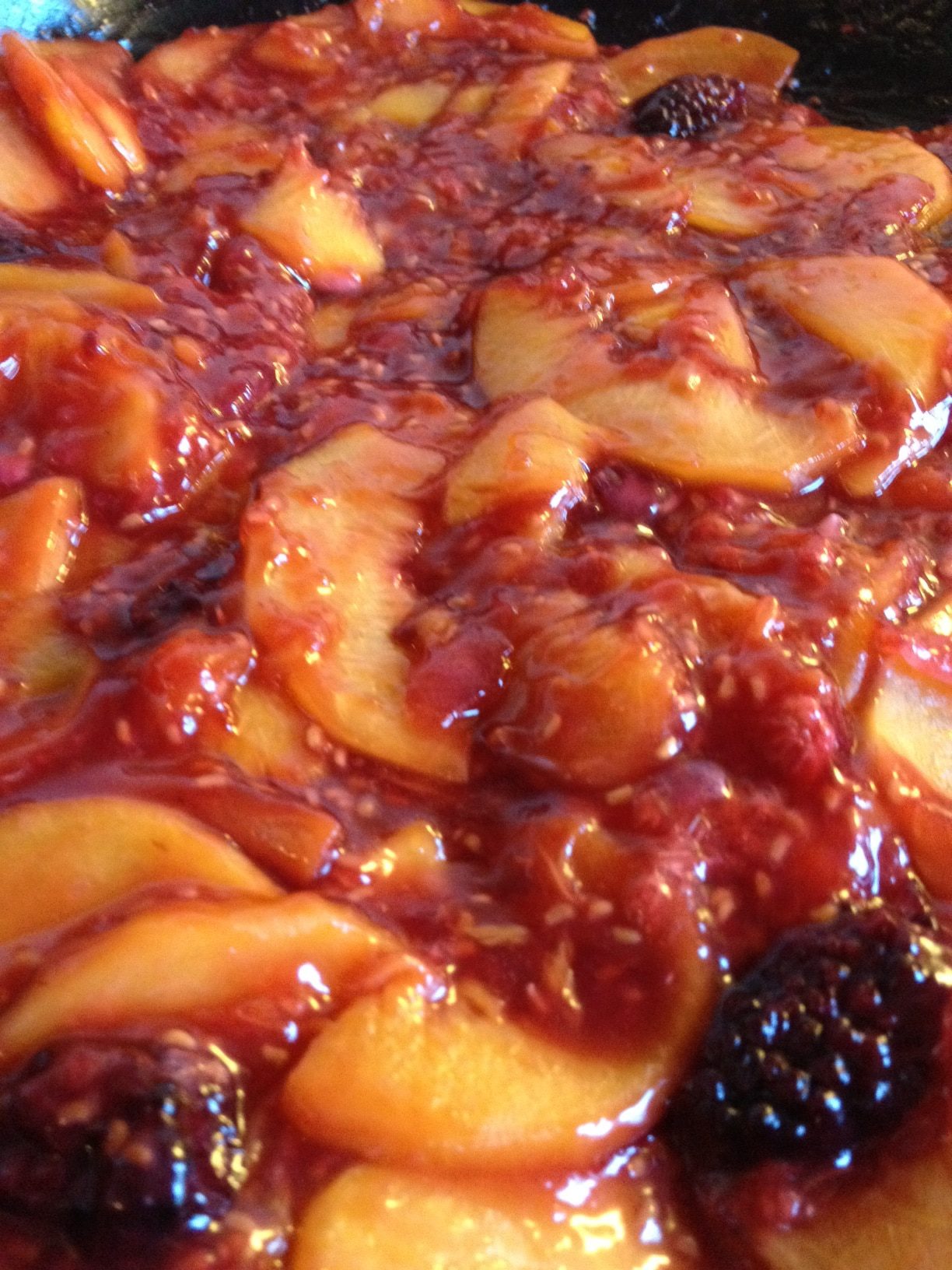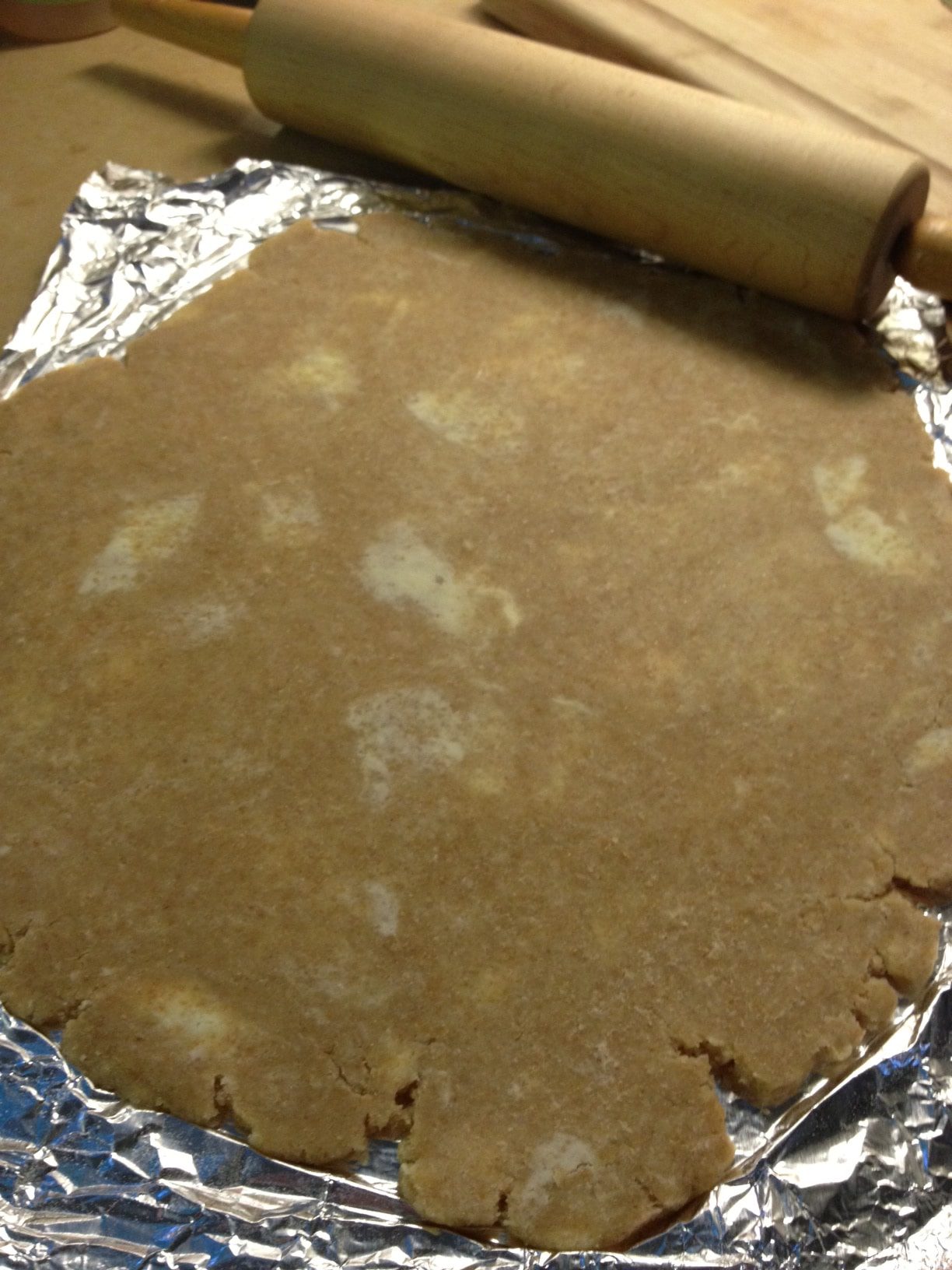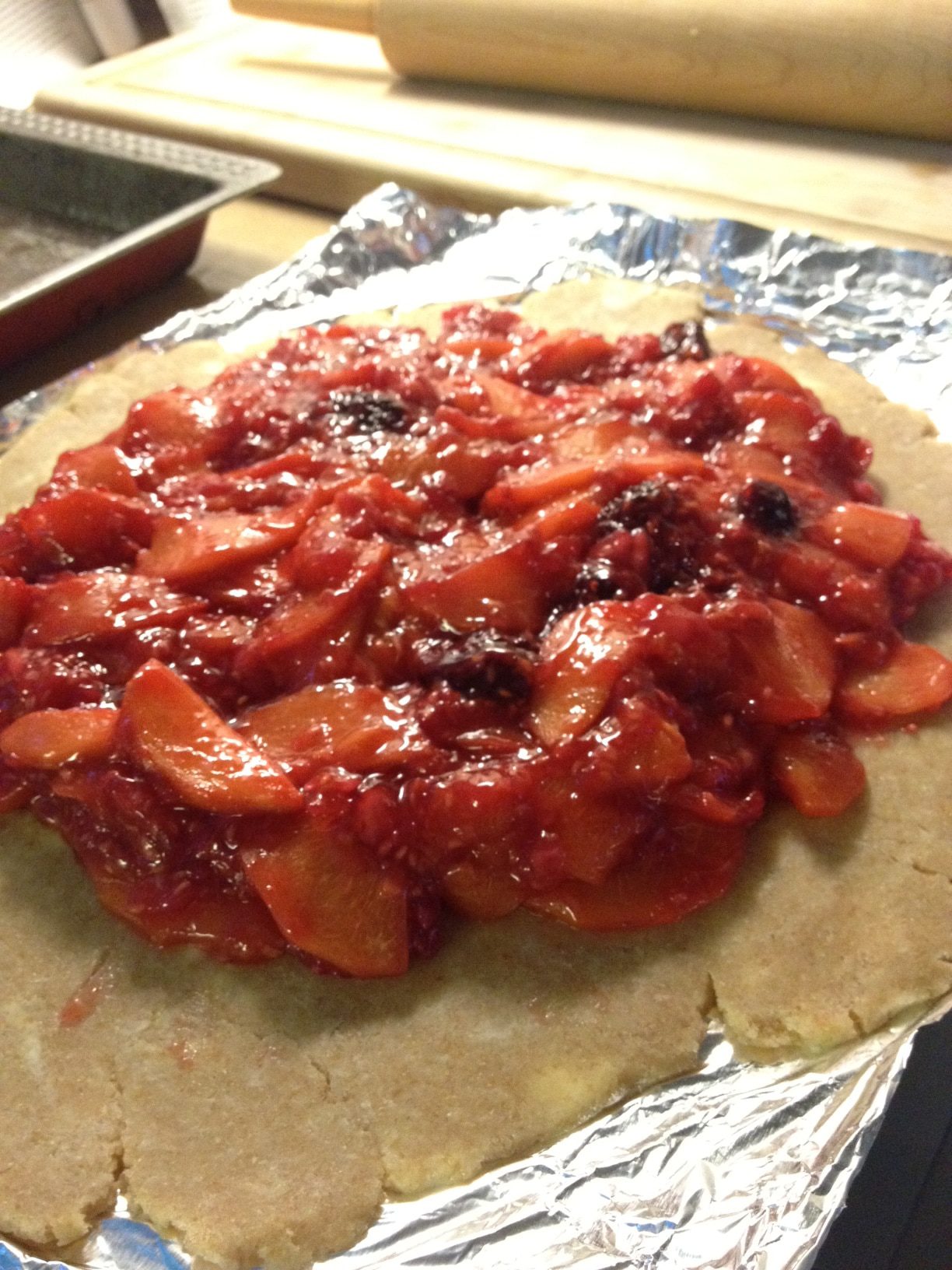 After about 5 minutes, I stirred in the cornstarch-and-water mix, then brought the fruit medley to a boil. I took the pan off the heat and set it aside to cool. Once the fruit had cooled, I flipped the oven on to 400 degrees F and got to rolling the dough out on a floured piece of foil (the recipe says to use parchment paper but I didn't have any on hand) to roughly 12 inches in diameter. I scooped the fruit onto the dough, making sure to leave a 1 1/2″ border.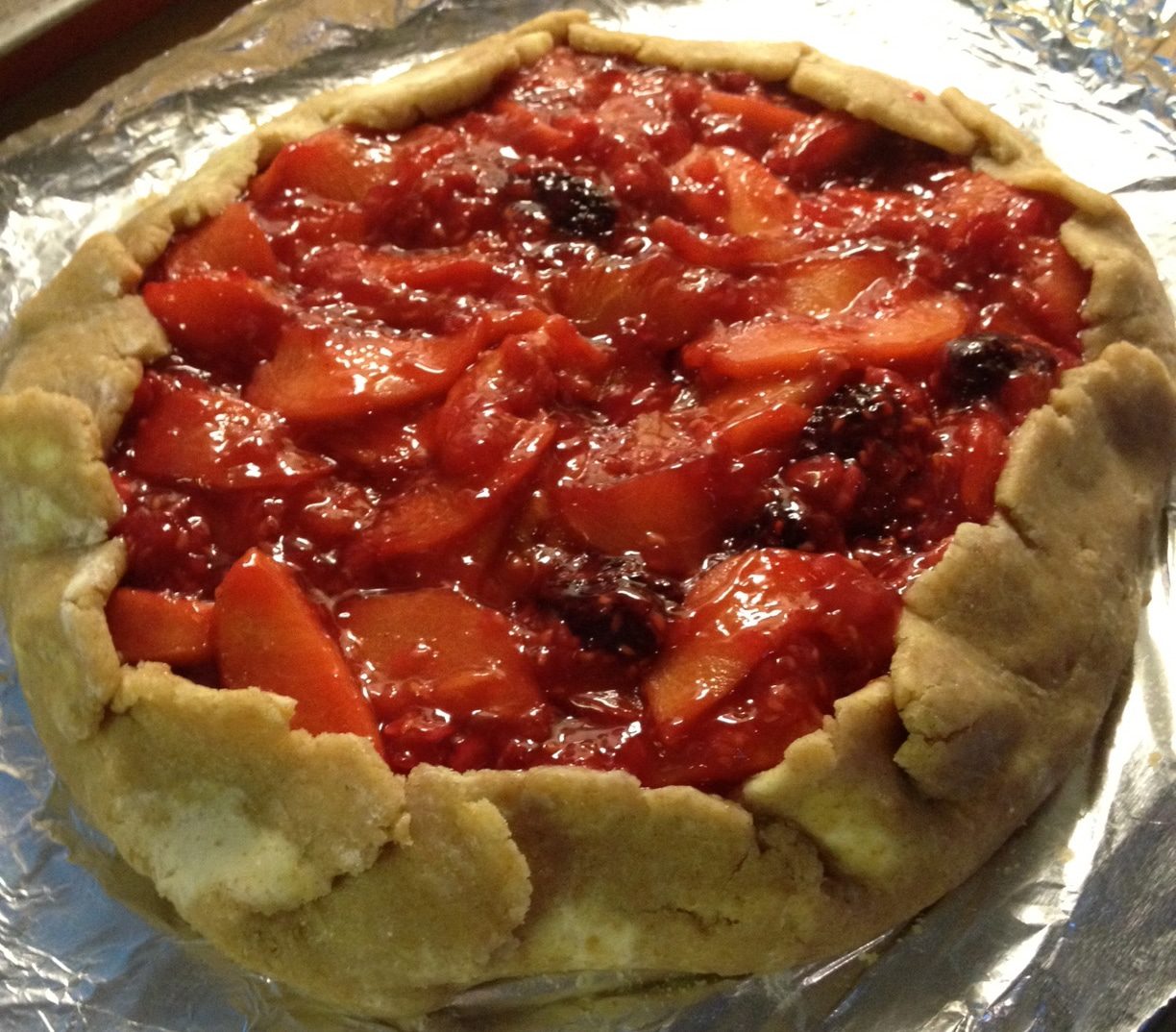 I then carefully folded the edges of the dough over the fruity filling. Karen says to brush the border with a beaten egg and sprinkle with raw sugar. Since I had some egg white left over from a savory dish I was making for dinner that night, I combined it with a bit of water and brushed that on instead.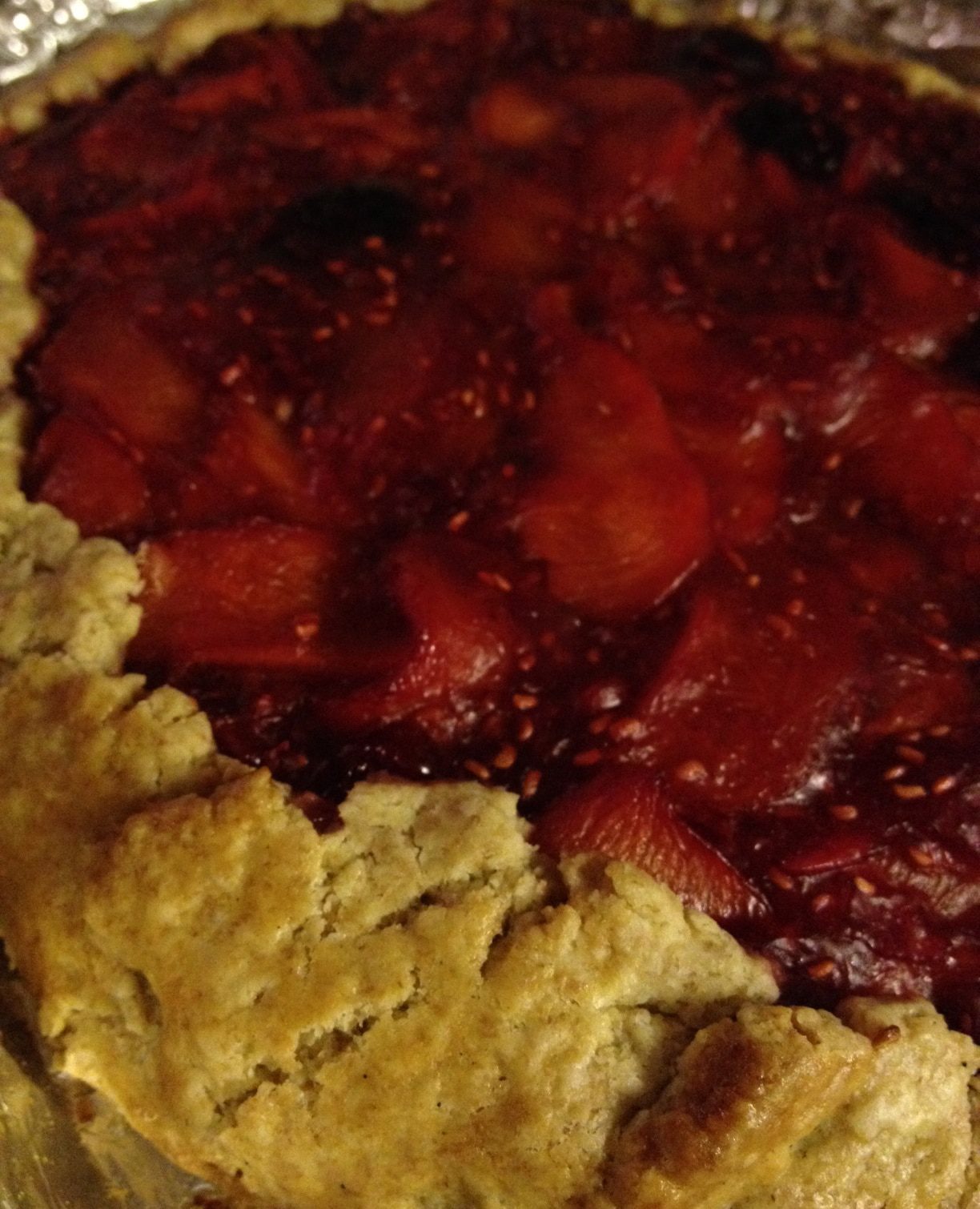 After about 45 minutes in the oven (or 35 in a convection oven), out came this rustic and delicious free-form pie. Vanilla ice cream makes a sublime pairing. (Note: I've made this crostata with pears as well. Yummm.)