Lest you think my life is all multi-step meal prep and using every mixing bowl and utensil in the kitchen (it's not. it's SO not.), here's a recipe for something that is way more likely to be on my plate for any given dinner I eat at home.
I'm sure there are a million different versions of kale and eggs out there, and I don't claim that I've found the best one. But this is my riff, one I've developed over time, using the "whatever is in my fridge" method.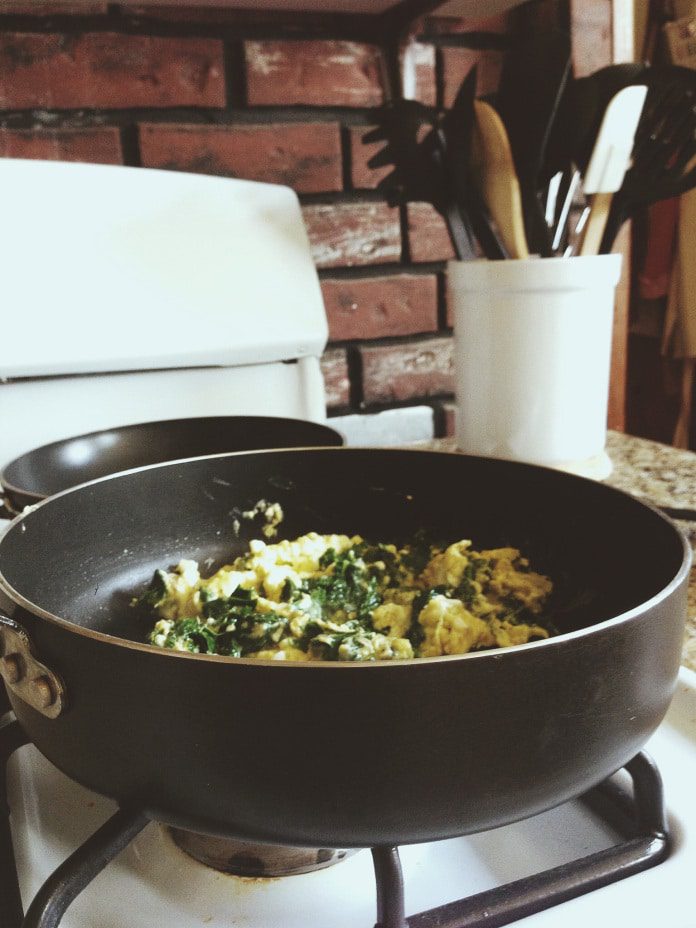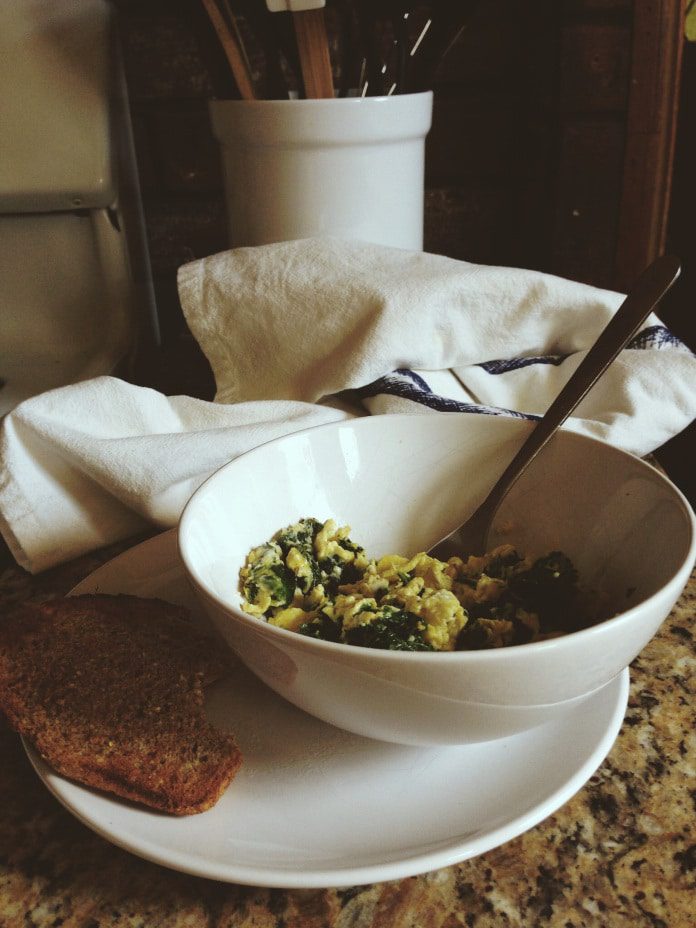 Totally basic, but totally awesome. I could eat this every day. And sometimes I do, for weeklong stretches. It's what happens when you buy a huge bunch of kale and have no one besides yourself to feed. I don't hate it.
EDIT: I wrote this post quite a while ago, and lots of things have happened in the world since then. While we are sitting here talking about having too much kale, many thousands of people are grieving, coping, and trying to rebuild their lives after the recent earthquake in Nepal. I don't claim to know much about the different relief organizations out there, but I would encourage you to look into them and make a donation to help our fellow humans in need! Here's a start: 6 Ways You Can Give to Nepal Earthquake Relief
kale scrambled eggs with feta
Ingredients:
2 leaves kale, rinsed and hand torn into bite-size chunks
1 clove garlic, minced
1.5 Tbsp olive oil
2 eggs
crumbled feta cheese (a couple of tablespoons is usually plenty)
spices to taste: black pepper, oregano, basil, salt
Directions:
1. Hand-massage torn kale leaves with a dash of sea salt, to allow kale to soften.
2. In a small bowl, whisk two eggs together. Add a splash of water and spices desired. Whisk to mix.
3. Heat a medium-large skillet over medium heat with 1 Tbsp olive oil. Add minced garlic and kale. Saute until kale leaves are slightly wilted.
4. Add additional 1/2 Tbsp olive oil. Add egg mixture and feta cheese. Scramble the eggs and kale with a wooden spoon or your own favorite scrambling utensil.
5. Serve. Great with a piece of hearty whole grain toast on the side!