You might have packages of instant noodle lying around the kitchen, but the plain noodle might not interest you. Even in the rush hour we need something more than just a quick bite. When I'm busy at work, I hate to eat a cold turkey sandwich or some instant noodle form the cup. I want a good meal but instantly good meal. So what I did in the kitchen when I had a pile of work on the laptop and the household work in front of me. Yes, I go for instant noodle but an upgrade version. And what would I do if I want some good snacks in the middle of the night or late afternoon which are not from the boring packages. I love everything homemade. So we make flat doughnuts!
Upgrade Instant Noodle: (2 serving)
2 packages Instant noodle of your choice
200 gm chicken- sliced
2 1/2 cup Chicken stock
1/2 cup- sliced Cabbage
1/2 cup- beans Sprout
Few celery leaves or scallion- chopped
Salt & pepper to taste
Bring chicken stock to boil in the medium pot.
Add chicken and cook for 5 minutes or until chicken is cooked.
Add cabbage and sprout.
Add noodle and let it submerge in the liquid.
Cook further until the noodle is soft and cooked.
Season with salt and pepper.
Spring some celery leaves or scallion over and eat!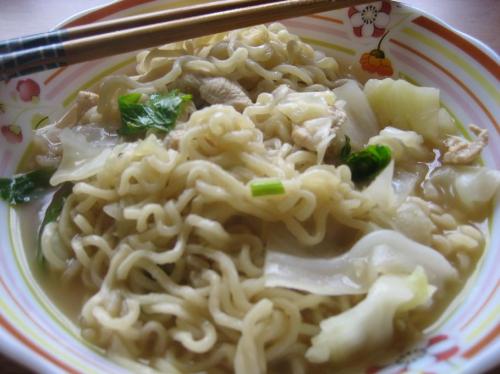 Flat Doughnuts: (Make about 20)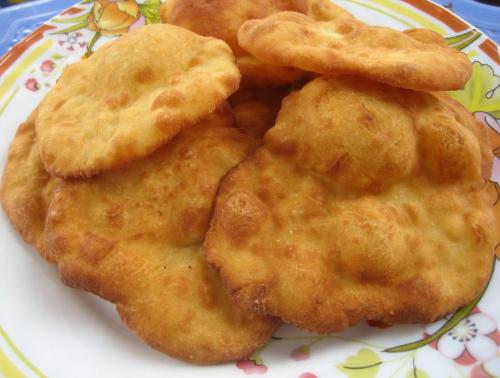 1 1/2 cup whole wheat flour
1 tsp baking powder
2 tbsp melted butter
2 tbsp sugar
1 egg
1 tsp vanilla essence
Oil for frying
Whisk sugar, egg, vanilla essence and butter together until sugar is dissolved.
Sift in whole wheat flour and baking powder and mix well.
Form the dough with your hand and knead gently for few minutes.
Divide the dough into about 20 parts and roll out into thin flat circle sheet.
Heat oil in the pan over the medium heat and fry these round sheets until golden brown.
Serve them hot plain or with icing sugar or jam.