Positive thinking is a powerful tool. A huge literature of research has linked happiness to physical health, mental health and longevity.  The benefit of changing thought-processes, as with mindfulness, is partially due to the encouragement be less self-critical. Having a bias towards negative information and feelings has been linked to depression, bipolar, anxiety and eating disorders. So although it seems a little forced, contemplating on the good aspects of our lives and share that with others can help to counteract our inherent negativity bias. In no way am I suggesting that we should suppress our negative emotions, having a a stiff upper lip is definitely not a British trait to be valued. But tuning into the positive aspects can balance our negative biases and genuinely make us happier. So although it may make us squirm, we should try to embrace the mantra of Thanksgiving and express gratitude and positivity. Next year I will suck it up and find something nice to say…and I'll probably be happier as a result. I've learnt my lesson; positivity is the way forward. And for that, I am thankful. Here are a couple of recipes I made for Thanksgiving, which would work well at any dinner party of festival. I'll definitely be making both on christmas as they are both vegan and pretty delicious!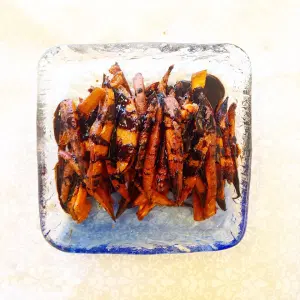 Sweet potato fries with balsamic and maple glaze: Sweet potato fries are all the rage these days, but this recipe gives them and added crispiness you can't beat. You coat the chips in flour and then semi-deep fry them…the result is perfection!
Ingredients
3 large sweet potatoes
1 cup olive oil/coconut oil
2 tablespoons buckwheat/ any gluten-free flour
For the dressing:
2 tablespoons Balsamic vinegar
2 tablespoons Honey or maple syrup
1 table spoon olive oil
salt and pepper
1. Slice the sweet potatoes into chips/wedges
2. Boil in water for 5 mins to soften. Meanwhile, heat a thin layer of oil on a baking tray in the oven at 200.
3. Coat the chips in flour
4. Place chips in hot oil and bake for 30mins or until crispy. Season with salt and pepper
5. Mix balsamic, honey and olive oil for dressing and drizzle over the top.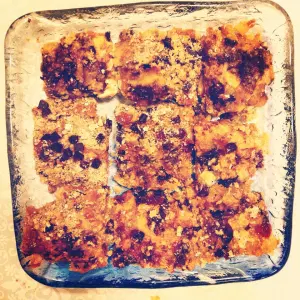 Salted caramel apple pie bars: These chocolate, apple and salted caramel bars are ridiculously good. They taste like a mix between apple pie, flapjacks and millionaire shortbread. YUM.
Ingredients
3 cups of oats
3 cups of plain flour (can use gluten-free flours)
2 cups of sugar
1.5 cups of coconut oil (can also use butter for non-vegan)
1 jar of salted caramel
1 cup chocolate chips
3 peeled and chopped apples
1. Mix the flour, sugar and oats in a bowl. Add melted coconut oil and mix until a crumbly dough is formed
2. Grease a baking tin and press the dough along the bottom. Save a third of the dough to sprinkle on the top. Bake for 10 mins at 180
3. Take out of the oven and top the base with a layer of salted caramel, apple and chocolate chips. Crumble the remaining dough over the top.
4. Bake for 20-25 mins at 180 or until the apple is soft.
5. Cool and refrigerate before cutting into squares