My mission for VeganMoFo is to photograph the food I eat on a daily basis and report it to you in a somewhat informal way. But, dear readers, remember that I also promised a few brand new recipes during this, our month of food? Well, I meant what I said, and it's time to reveal one of those recipes…
Craving something creamy, hearty, fresh and earthy? Risotto's a good stand by in all of those departments. But risotto is traditionally made with arborio rice, a starchy grain that creates a creamy, luscious sauce as it cooks. Arborio is delicious but it's also high in calories and carbs and low in protein. Not exactly a great figure-friendly summer dish, right?
I decided to make a twist on risotto using both pearl barley and brown rice in place of arborio. Pearl barley and brown rice are both great sources of fiber and have a higher protein content than white rice, as an added bonus.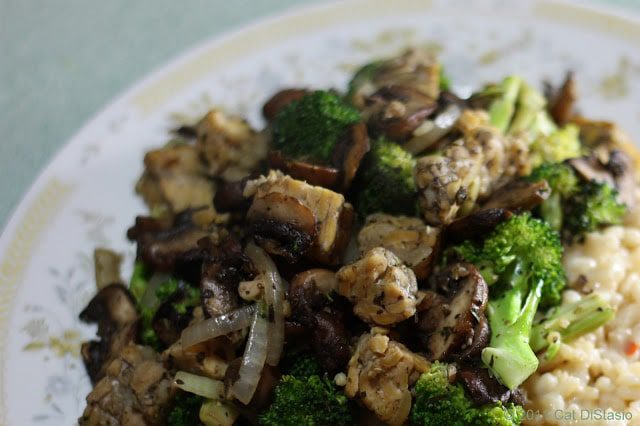 Barley Brown Rice Risotto with Roasted Broccoli, Tempeh and Mushrooms
Yield: 4 servings
2 cups (6 ounces) cremini or oyster mushrooms, quartered
2 cups broccoli florets
4 oz whole grain tempeh, cut into small cubes
Salt and pepper
1/2 cup whole grain brown rice
1/2 cup pearl barley
1 Tbsp olive oil
1 small onion, chopped
2 cloves garlic, minced
1/2 tsp crushed red pepper flakes
Kosher salt and freshly ground black pepper
2 1/2 cups low-sodium veg broth
Preheat oven to 425°F and toss broccoli, tempeh and mushrooms with salt and pepper. Roast, covered, for 25-30 minutes, then set aside to cool.
While veggies are roasting, bring a large pot of salted water to boil. Add rice and barley and cook for 15 minutes or until mostly cooked. Drain off the excess water. You'll finish the cooking process later.
Heat oil in a large skillet over medium heat. Add onion, garlic, red pepper flakes, salt and pepper. Cook for 5 minutes, stirring occasionally, until the onion is tender and just beginning to brown.
Stir in the drained rice mixture.
Add 2 cups vegetable broth, cover and cook until the rice and barley are tender, 6 to 8 minutes.
Remove from the heat and stir in the remaining 1/2 cup broth.
Serve hot with roasted veggies on top, on the side, or mixed right in.