The ULTIMATE Vegan Thanksgiving Sandwich
All I can say is that sometimes inspiration strikes…
I went grocery shopping today and had my usual cast of characters in my cart: Brussel Sprouts, Tempeh, Pumpkin, yummy bread, etc. I intended to make something super healthy for dinner, maybe a fall power bowl with lentils and brussel sprouts — nothing special. And then it hit me… I wanted to create a vegan Thanksgiving sandwich to top even my favorite vegan Thanksgiving Sandoo from The Cinnamon Snail (a vegan food truck in NYC!)
This sandwich is spicy, sweet, and savory with enough flavor and nutrients to fill you up all on its own. It is, in fact, ULTIMATE.
INGREDIENTS:
Yields 1 large sandwich
Main ingredients:
2 slices of hearty bread (I used a locally made whole wheat sour dough)
4 small-medium Brussel Sprouts
1/2 Shallot
3 oz (about 1/3 block) Tempeh
1.5 tbs. Pumpkin Puree
1 tbs. Earth Balance Vegan Butter
Condiments and spices:
**Use as a guide and adjust to your taste and pantry**
1 tbs. Roasted Garlic Vegenaise
1 ts. Sriracha sauce
1 tbs. Tamari (Soy) Sauce
1 ts. Agave Nectar or Maple Syrup
1 pinch Chipotle seasoning powder
1 ts. Rosemary
Cooking oil: I used Pumpkin seed and Coconut
Salt and Pepper to taste
DIRECTIONS: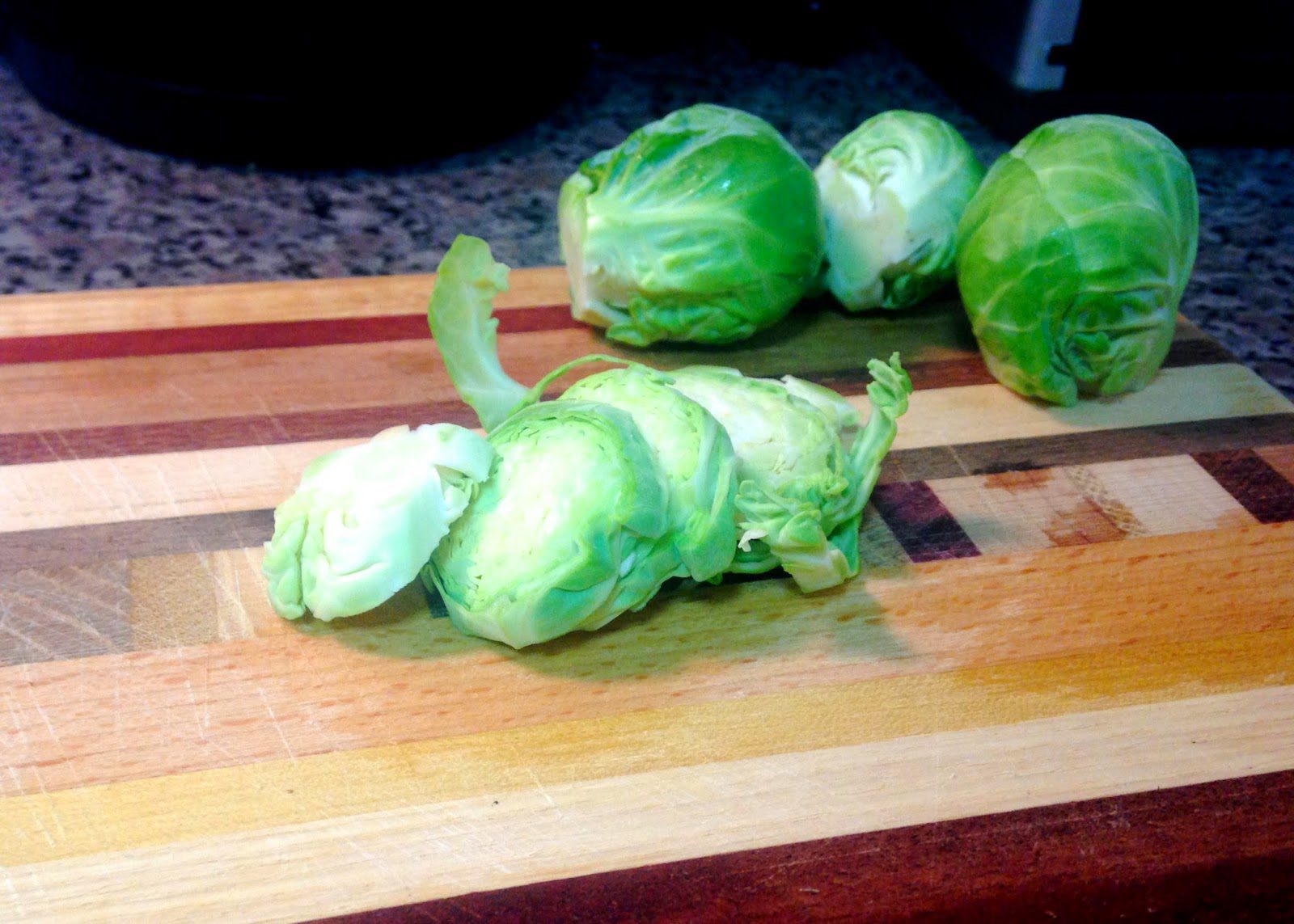 1. Begin by assembling your tempeh marinade. Combine tamari, agave, chipotle, salt and pepper in a small bowl and stir.
2. Cut tempeh width wise into 1/4 inch strips. About four of five will be plenty for your sandwich.
3. Place tempeh in the marinade and set aside.
4. Cut Brussel Sprouts into 1/4 inch strips as shown in photo.
5. Cut Shallots into 1/4 inch strips and leave in rings.
6. Heat desired oil in pan over medium heat and add sprouts and shallots. Keep in mind that because they are so thin they will cook quicker than normal but still need to be fully cooked through. Sauté for about 6-7 minutes.
7. Choose your pieces of bread. On one side coat with earth balance vegan butter. Flip the bread over and coat with a thin layer of roasted garlic veganaise and then add a layer of pumpkin puree. At this point, I also added a squiggle of sriracha because I wanted my sandwich to be spicy!
9. Arrange the tempeh strips on the opposite side of bread.
10. Grill the sandwich open faced on a skillet.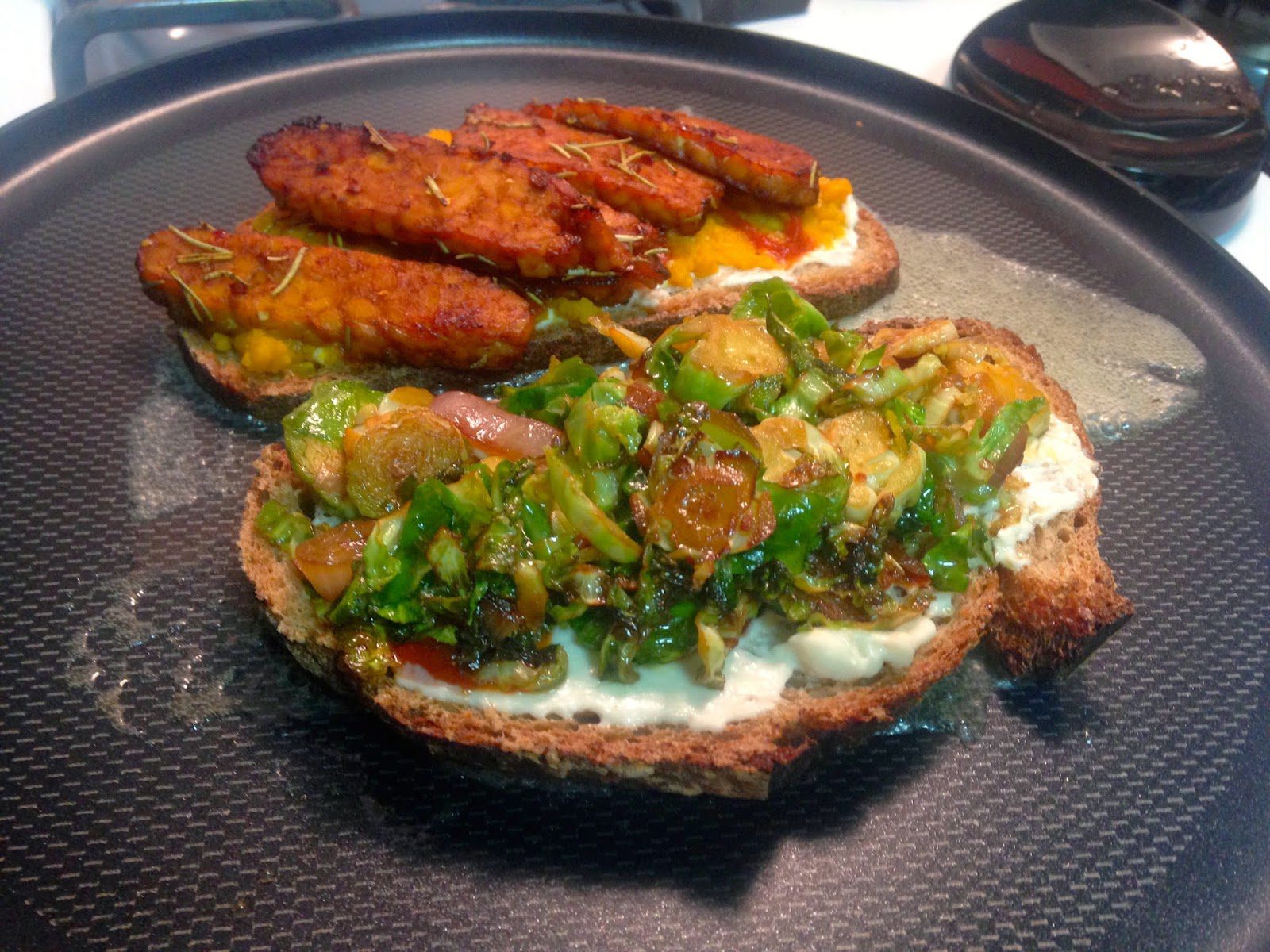 Assemble your sandwich and enjoy!!! This one may be messy, but it's definitely worth it!