So I've been making quite a few brownies lately.  Last week I made matcha green tea latte brownies and this week it's these dark chocolate and raspberry brownies.
And I don't want to play favorites, but… these are my favorite.
I'm a sucker for fruit – I could probably survive solely on strawberries, raspberries, lemons, blackberries, blueberries (okay – basically all the fruit!).  In college I decided I was going to go on an all fruit diet, until my friend's boyfriend told me how much sugar was in fruit.  Welp, who wants to diet anyway!?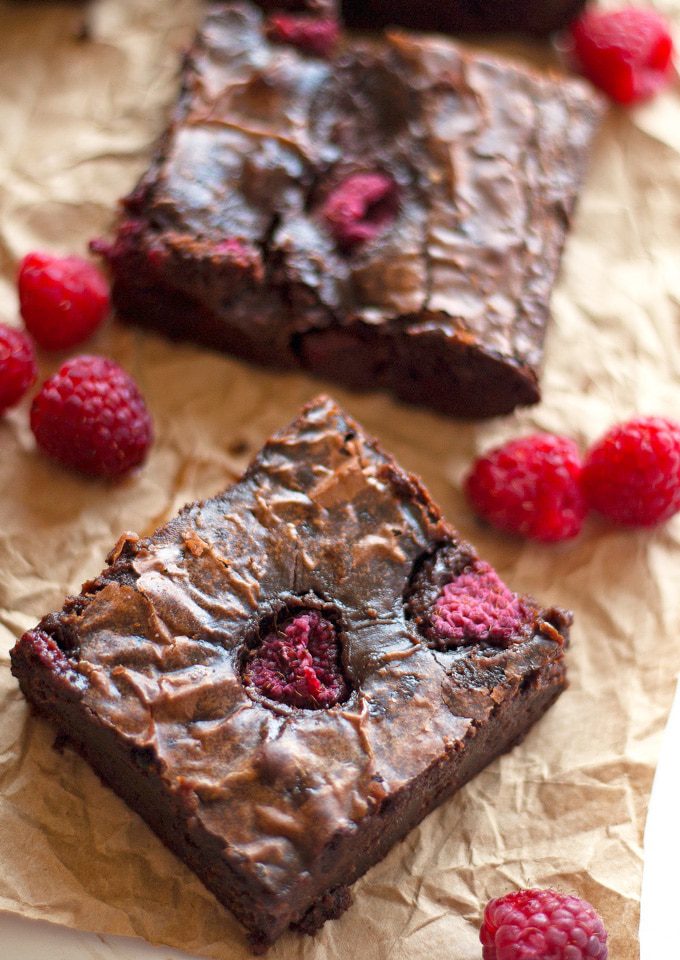 So when you find raspberries on sale and pick up an unreasonably amount (like 5+ cartons) and you've already topped your yogurt with them and eaten them by the handful throughout the day – what else are you to do?  I suggest to make these dark chocolate and raspberry brownies, that's what.
These brownies are super fudgy and deliciously decadent.  Plus there's chunks of fresh raspberries dotted throughout and sprinkled on top.  I think that might be why they are so fudgy, all that sweetness and juiciness from those raspberries.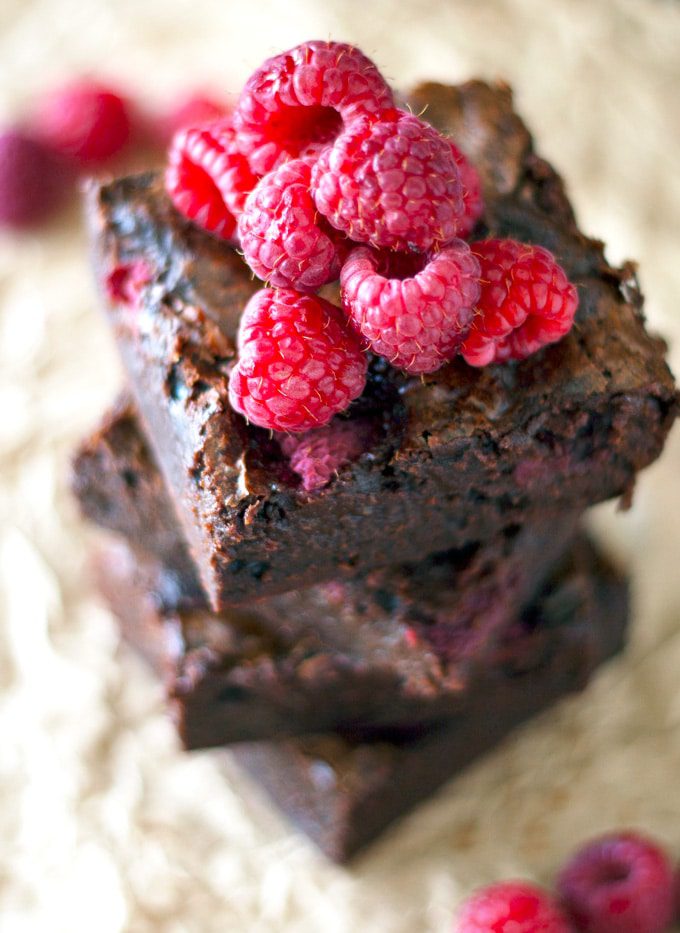 Plus crazy delicious brownies will help you get through the week so I recommend you make a batch, if for no other reason than to make it to Friday.
Ingredients
¾ cup dark chocolate chips
½ cup milk chocolate chips
1 cup (2 sticks) unsalted butter, cut into pieces
2 teaspoons kosher salt
2 cups brown sugar
1 tablespoon vanilla
4 large eggs
1 cup flour
½ cup cocoa powder
1 pint raspberries
dark chocolate and raspberry brownies
Instructions
Preheat oven to 350 degrees F. Butter, flour and line a 13″ x 9″ baking dish with parchment and set aside.
In a glass bowl, set over a pan of boiling water, mix together dark chocolate, milk chocolate and butter. Stir mixture until completely melted and then remove from boil water.
Add salt and sugar to mixture and beat well. Stir in vanilla.
Add eggs, one at a time, beating well after each addition.
Stir in flour and cocoa powder until just combine.
Gently add in half of the raspberries to the mixture, stir together, being careful not to break the fruit.
Transfer the mixture to the prepared pan. Top with the remaining fruit.
Bake for 25-30 minutes or until a toothpick is inserted into the middle and comes out with moist crumbs. If the toothpick comes out dry, you've over baked your brownies.
Allow to cool, then remove from pan and cut brownies into 12 squares.
Brownies are best kept refrigerated.