Without a doubt, pineapple tarts are synonymous with Chinese New Year. I usually make these during the CNY season, but anytime the craving strikes, I start baking these again.
I tend to favour the enclosed 'ball' version over the open faced ones, simply because the pineapple jam is protected from drying out during baking. OK, I confess … the more important reason is because this method allows everyone to chip in and help. Imagine the old and young in my household rolling balls of dough over balls of jam!
This CNY, I decided to make the tarts a lil prettier. I added cloves to make the tarts look like mini tangerines. Truth be told, they weren't popular with my kids 🙁 First, they had to pick out all the clove stems before eating, and second, they were turned off by the faint hint of clove in the tarts. Ah well, it'll be plain old tarts the next time round.
I normally buy ready-made pineapple jam for the filling. To the purists, this is absolutely sacrilegious, but I can't afford the time nor the energy to make the jam from scratch. Besides, the end product is really good enough for us, judging by the rate at which they are devoured by my lil picky eaters.
These are melt-in-the-mouth tarts, which are very addictive. Watch that waistline!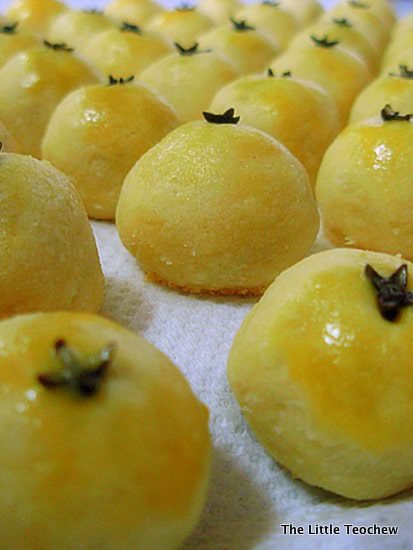 Recipe
(from here)
Dough
– 250g unsalted butter, softened
– 170g cream (I used Nestle UHT cream)
– 75g caster sugar
– 400g plain flour
– 30g corn flour
– 50g cream cheese (Using Kraft Philadelphia)
– 3 egg yolks
– 1 additional egg yolk + 1 tsp caster sugar (for glazing)
1. Sift plain flour and corn flour together.
2. Using a cake mixer, blend the cream, butter, cream cheese and sugar together till you get a creamy mixture. (10 mins on speed 2)
3. Add the 3 egg yolks and sifted flour into the creamed butter mixture.
4. Using the cake mixer's dough mixer, mix till it becomes a smooth dough that is oily enough to not stick to your hand
5. Allow the dough to stand for 10 mins (I usually cover the bowl with a wet towel and chill in the fridge)
6. Divide dough into small balls and the pineapple filling into balls roughly 1/2 the size of the dough.
7. Wrap filling ball with dough ball and shape as desired.
8. Glaze with the glazing mix.
9. Bake at 180 degrees celsius for 15 mins in a oven.
10. Remove from oven and reglaze again before baking for another 5 mins till golden brown on top.
Tip: roll the jam into balls first before starting to mix the dough because if one is too slow, the dough will ooze oil. I usually roll the jam balls the night before, so that I don't have to do so many things all in one day.