if i could choose just one condiment to have in my arsenal, only one, above all else, it would have to be mustard.
i know the chef would disagree and say that i have quite the penchant for ketchup, but in the last few years, i truly think that mustard has taken over.  i put that shit in everything!
i am not particularly biased towards one type, however a grainy dijon is tops in my books, followed closely by good ol' classic yellow french's.and, i digress….

so, how about all those zucchini?!  or courgettes, or summer squash, or whatever you call them.
don't know about you, but our weekly CSA box always has a nice handful, and as our manitoba season is a little behind some of our more southern living counterparts, they are starting to pop up in large proportions in gardens near and far.
i am a recent zucchini convert.  until the last few years, i was one of those people that probably would have told you that my favourite way to eat the squash was in a chocolate zucchini loaf.  now, don't get me wrong, i still lurve me some zucchini loaf, but i can proudly say that we eat zucchini at least once a week nowadays in our casa.  it's just sosimple to have from CSA basket to plate in under 10 minutes, it's filling, it's nutritious, and it's totally crave-worthy.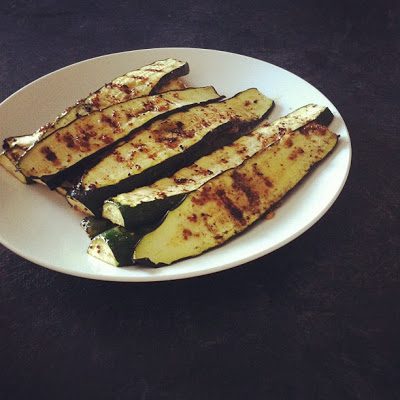 the chef spearheaded this recipe, but i have taken the reigns and now make it regularly.  actually, it is the only way we have eaten zucchini all summer!  it is sweet, savoury and sometimes has a little kick of spice (all depending on how strong your garlic + mustard are).  the recipe's proportions are totally adaptable, as i generally don't measure anything and just squirt stuff into the bowl by eye.
a while back, we had a bit of an impromptu dinner party where i made enormous beef burgers and wanted something light and sweet on the side.  this dish came to mind immediately, as it was the beginning of zucchini season and i knew that i had a crowd of willing summer squash eaters on my hands.  i bought two of thehugest bags of them i have ever seen, and whipped up a ginormous platter of these babies.  i was so excited to share this recipe with the crowd!  they all took heaping servings, and luckily, i took the first bite of mine before anyone else got the chance, as the zucchini was b-a-d.  not just like a little tasteless or off, it was so bitter you couldn't even taste the honey.  oh well, they will all just have to come over for another round soon!
honey mustard grilled zucchini
by alana fiks
Ingredients (serves 4 (or 2 in our house!))
4-6 small-medium zucchini either cut lengthwise into 1/4″ thick strips or sliced into evenly sized "coins"
2 tablespoons olive oil
2 tablespoons honey (i use creamed hutterite honey lately)
1 tablespoon grainy mustard (or any bold mustard – traditional yellow not recommended)
2 large garlic cloves grated on microplane zester (or VERY finely minced) or 1 tablespoon garlic powder in a pinch
1/2 teaspoon salt
pepper to taste
note: all of these ingredients are meant as a guide. feel free to use heaping spoon fulls of one, and scant spoon fulls of the other, depending on your mood. don't skimp too much on the oil, as you don't want you zucchini to stick to the grill.
Instructions
1. in a small bowl, whisk/stir all ingredients (except for the zucchini, obviously) until well combined
2. place zucchini in a large bowl, and toss with prepared dressing, ensuring each piece of zucchini is well coated. i usually get in there with my (clean) hands and massage thee sauce through until i'm sure each piece is coated.
3. grill how you would normally grill veggies (if i am doing coin sized pieces, i do mine on a pre-heated gas b-b-q in one ofthese but if i am doing strips, i just lay them straight on the grill)
this makes an excellent side dish, and i'm sure would still be delish the next day, however we have never had any leftovers to speak of.  sometimes we have this as the star item, with a grain and salad on the side.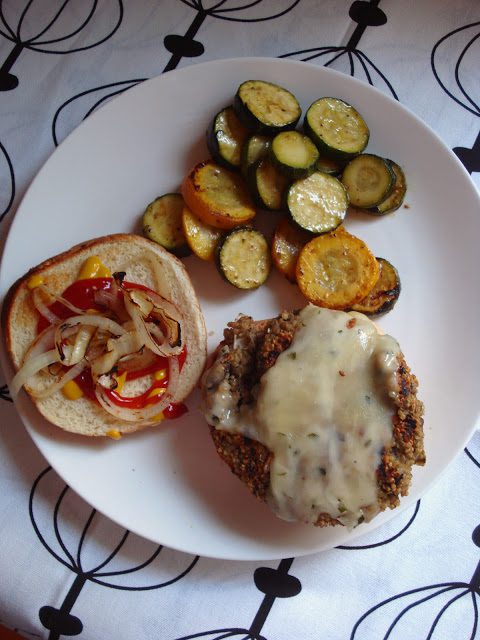 and yes, the recipe for those delicious looking burgers are coming soon (hint, they involve quinoa and mushrooms.)
now would you look at that!  it's totally CSA pickup today!  i see more zucchini in my near future…