Happy Fall, Y'all!
Though this may make me "basic," I must admit that Autumn is my favorite season. I think it's a wonderful time to enjoy a plant-based diet because of the abundant seasonal veggies. Squash, Pumpkins, Cabbage, Carrots, Brussels Sprouts, Cauliflower, Turnips, and Kale, are just a few of my favorites.
In this recipe, I'm pairing two of my favorite Fall comfort foods – my Butternut Squash Risotto and roasted bell peppers! This is the perfect cozy dinner in for a chilly night.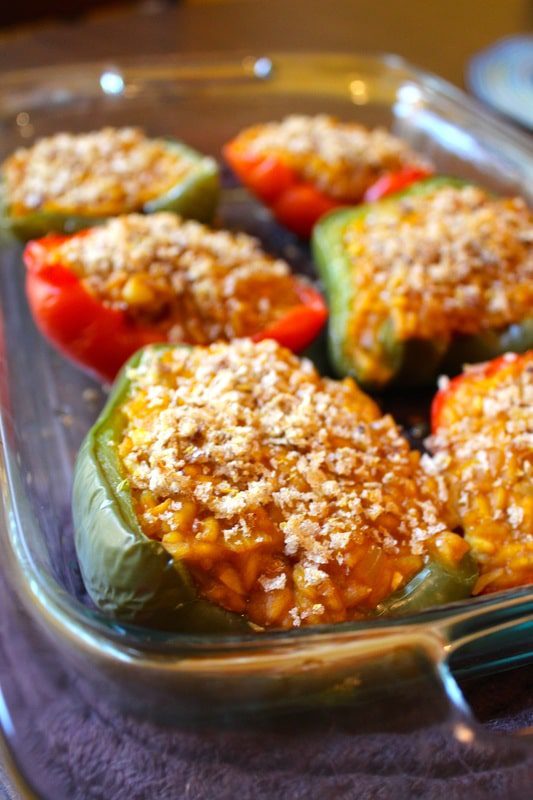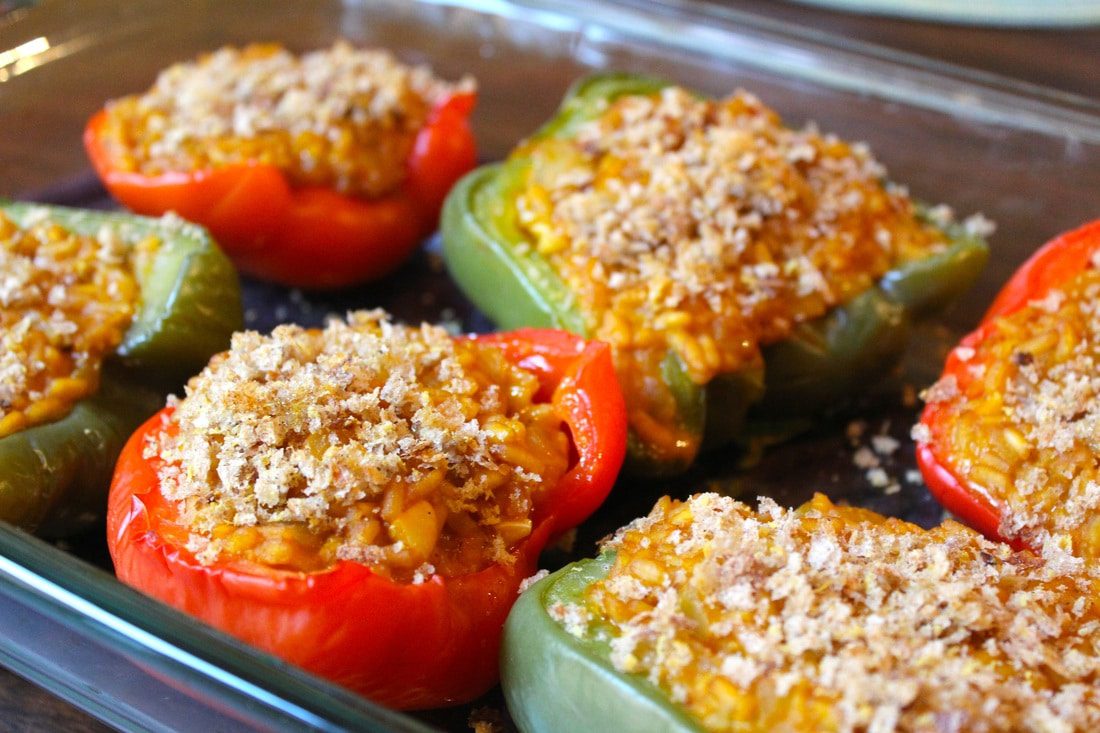 PREP TIME:
COOK TIME:
TOTAL TIME:
YIELD:
INGREDIENTS:
1 package frozen Butternut Squash purée
2 cups uncooked Arborio Rice
1 32-oz box Vegetable Stock
1 cup Dry White Wine
1 cup Nutritional Yeast
4 cloves of Garlic
2 tbsp Olive Oil
2 Shallots
4 large Bell Peppers (any color, but I think the red taste best)
breadcrumbs for topping (optional)

DIRECTIONS:
1. In a large pot, heat olive oil. Chop your shallots and garlic. In a smaller pot, warm vegetable stock.
2. Cook shallots and garlic in olive oil for 2-3 minutes.
3. Add 2 cups uncooked arborio rice to the large pot. Add 1 cup dry white wine and do not add anymore liquid until the wine is almost completely evaporated.
4. Once the wine as evaporated from your rice, you can begin to add warm vegetable stock one half cup at a time. *read my note on risotto if this is your first time*
5. Add the squash purée when your rice is almost completely cooked. Stir in nutritional yeast.
6. You will know your risotto is ready when the rice is soft, creamy, and has puffed up a bit.
7. Wash and prep bell peppers by de-seeding. In a large pot, heat 2-3 inches of water. Par-boil bell peppers until they are slightly soft. Remove from water and allow to cool before stuffing.
8. Stuff bell peppers with risotto and bake for 20 minutes at 350 F. Top with breadcrumbs and a little olive oil.
*A note on cooking risotto… If you have never cooked risotto before, it can be a daunting process. The rice will take about 40-45 minutes to cook from start to finish. You will add warm vegetable stock 1/2 cup at a time and stir until the liquid is almost completely evaporated. This process will repeat itself again and again until your rice is completely cooked. Note that you will add liquid more frequently at the beginning of the process and more sporadically as the rice cooks. Also note that if your rice is boiling, your pot is too hot. Risotto should be cooked over medium-low heat and nothing higher or the rice will come out hard and uneven. This process does take patience, but once you get down the basics, you can easily whip up your own risotto constantly altering your recipe to feature seasonal vegetables.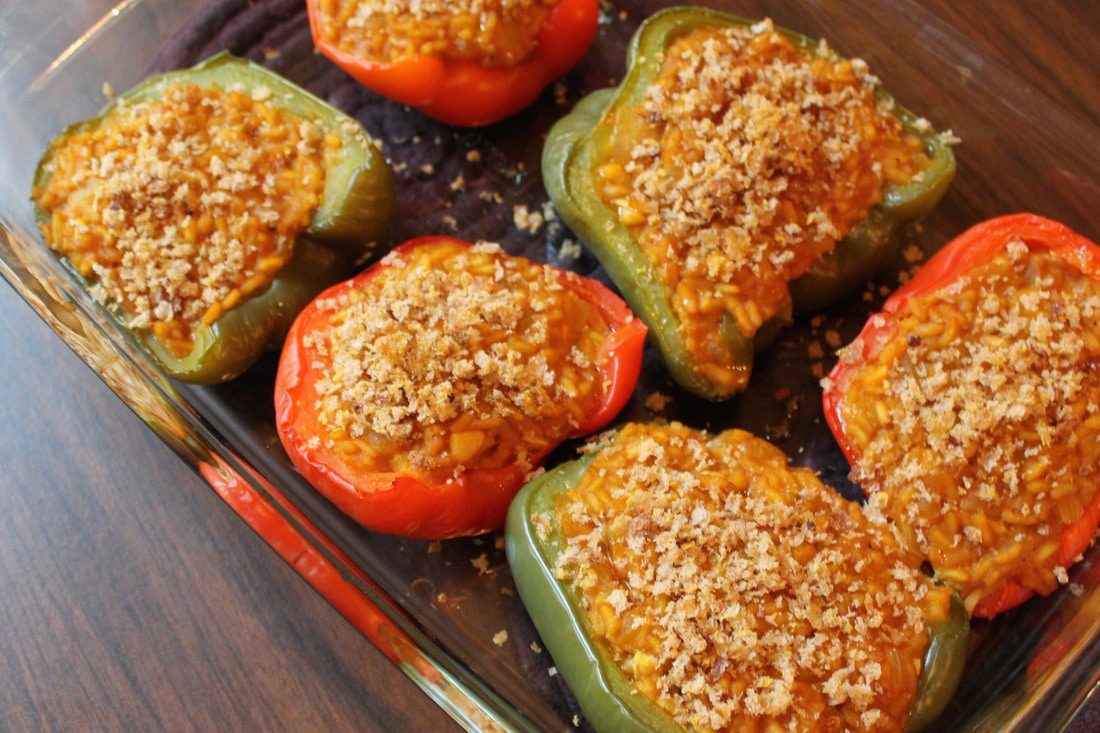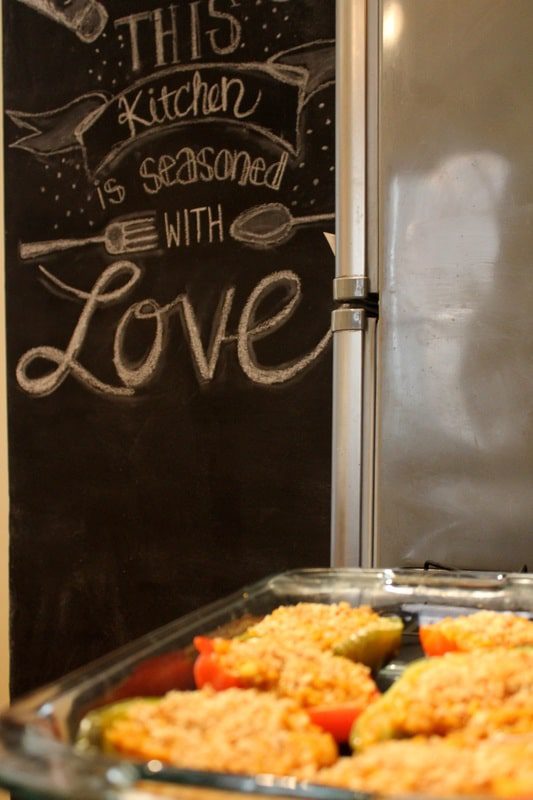 A new quote for a new season!