One of the reasons I love dining out and restaurant menu tasting is because the new dishes I've been exposed to inspire me to do better in my kitchen. They give me ideas in terms of flavors, techniques and the art of plating and even introducing me to the new ingredients and style of serving.
Last Sunday, I went to a famous South-east Asian restaurant, Malaka Spice, in Koregaon Park, Pune. I spotted Duck Salad on the menu, and it intrigued me immediately. I did enjoy the salad very much though, to be honest, the dish needed a little sweetness to cut into that zingy sour punch. I decided to fix this in my kitchen, but my way of course– easy cooking, fresh and healthy, and yes, with flavor bursting dressing.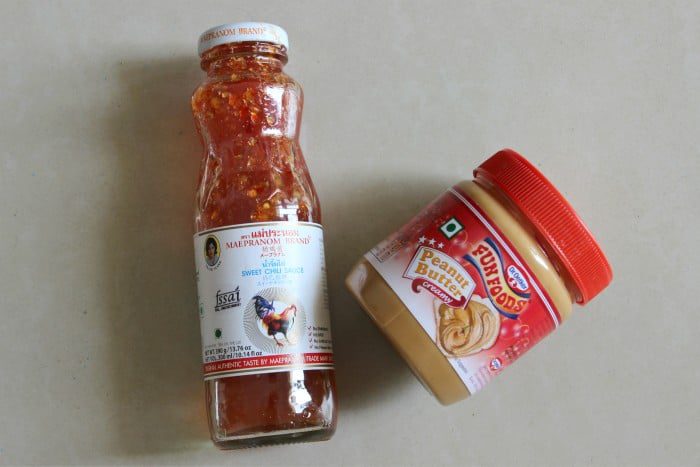 Instead of duck, I used chicken, poached the whole bird in Chinese Five Spice. You can find the recipe in earlier post here. For the dressing, it's super easy you won't believe it. There's only 2 ingredients in it. That's right! 2 ingredients! Enough said; let's cook!
Chinese Five Spice Poached Chicken Salad

Ingredients: (2 servings)

100 gm Cooked Chinese Five Spice Chicken- See the recipe here, sliced

Salad greens

½ cup sliced bell Peppers

1 tomato- sliced

1 onion- sliced

A handful mint leaves-roughly chopped

A handle coriander leaves- roughly chopped

½ cup cooked rice noodle- cooked as per packaged instruction

1/4 cup Thai sweet chili sauce

3 tsp peanut butter- smooth

Preparation:

1. In a large salad bowl, add salad greens, tomato, onion, bell peppers, mint and coriander leaves. Add sliced chicken and noodle.

2. In a small bowl: whisk together Thai sweet chili sauce and peanut butter until smooth. Add a little water to make the dressing a little runny so it will be easy to mix into the salad.

3. Add the dressing into the salad and mix well. Serve and Enjoy!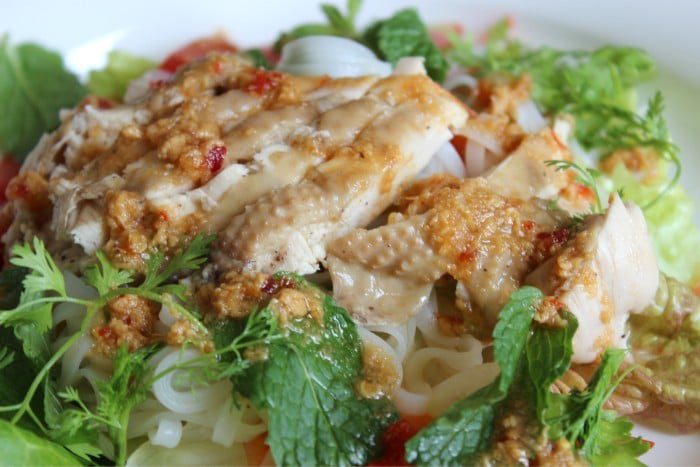 Love,