Winter is truly the season of comfort food. I finally get my Thai hotpot out. This pot is usually used for serving Tom Yum or other kind of thin broth. The hollowed middle section of the pot is filled with live coal which gives the heat to the food and keeps it bubbling the entire time during the meal. Today I make some beef stew with Chinese Five Spice, and this pot is making it even cozier.
This recipe is very simple. Everything is infused and mixed in one pot. It takes a bit of time to get the meat super tender and packed with sweet scent of Chinese Five Spice. If you are in a hurry, you can always use a pressure cooker. But if you have a lot of time, let the meat simmer in the dark broth for hours. Your house will smell divine, and the result will be so worth it.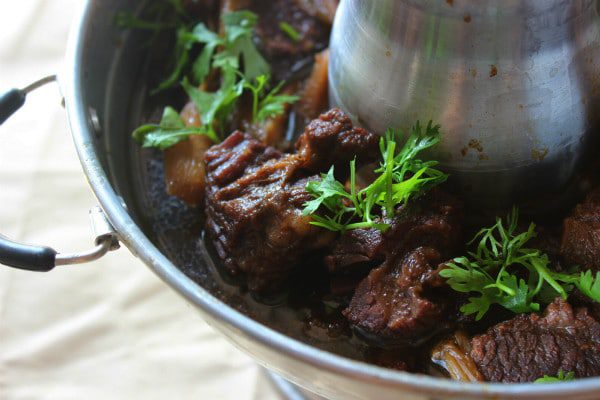 I don't mine a bit of fat in my stew. I actually love fat in my beef. It gives the meat beautifully soft texture. The melting fat in the broth also gives the rich flavor in the stew. You can try this with chicken or duck. I love duck version the best.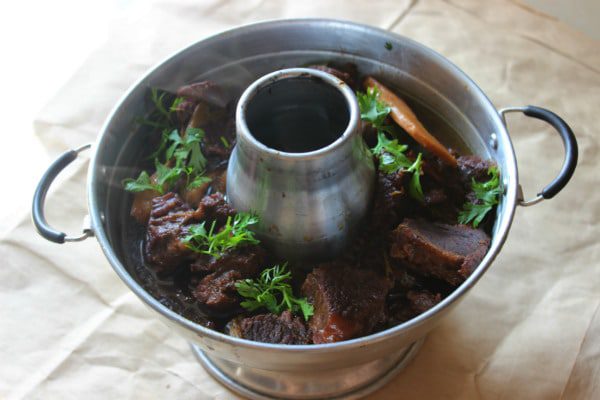 This stew is sweet, rich and savory. It's perfect with rice and some sweet chili sauce on the side.
Chinese Five Spice Beef Stew
Ingredients:
1 kg beef- cut into big chunks
2 tbsp Chinese Five Spice
3 tbsp soy sauce
2 tbsp sugar
1 tsp ground white pepper
1 tsp salt or to taste
4 cup stock- beef or chicken
2 fresh ginger – sliced
5 cloves garlic- roughly bruised
4 coriander roots- roughly bruised
2 stalk celery- sliced
2 tbsp oil
Coriander leaves for garnish
Preparation:
In the large pot, heat the oil and sauté garlic until aromatic.
Add the beef and fry it for a minute or until the outside is slightly brown.
Add Chinese Five Spice, soy sauce, ground white pepper, sugar and salt. Stir further for 3 minutes. At this point, there should be a lot of juice from the beef in the pot.
Add beef stock or chicken stock, and bring to boil. When the stock is boiling, add ginger, coriander roots and celery. Skim off any impurity on the surface. Cover and simmer for 1- 1 1/2 hours or until the beef becomes tender.
Open the lid and reduce the broth to make it slightly thick.
Serve hot with some rice and sweet chili sauce.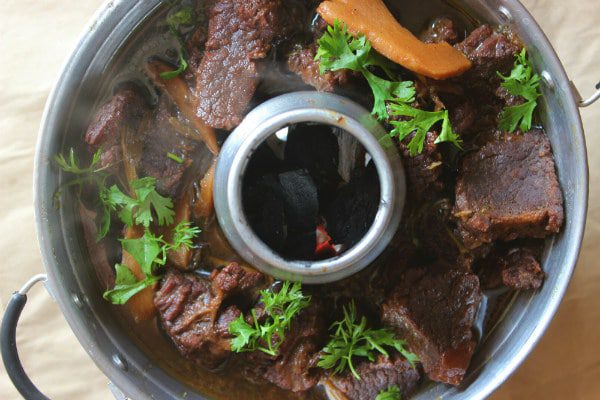 Love,