I love food. Clearly. However, I am nervous to call myself a "foodie" as these days it seems to have a bit of a snobby connotation. Food snob, I certainly am not.  I'll eat ramen and boxed mac & cheese by choice. My favourite french fries are McDonald's. I realize that those are not the best french fries I've ever had in terms of quality and flavour, but I love them. They remind me of my childhood.
Also, Taco Bell isn't as bad as it seems. Most of the time.
But one rule I generally follow in my baking is if I know I can do better than a box, I do it. Cake mix as an ingredient in a greater crust? Sure. Cake mix to make cake? No, no.
Confession time..
I bought a couple jars of caramel sauce and put them in these bars.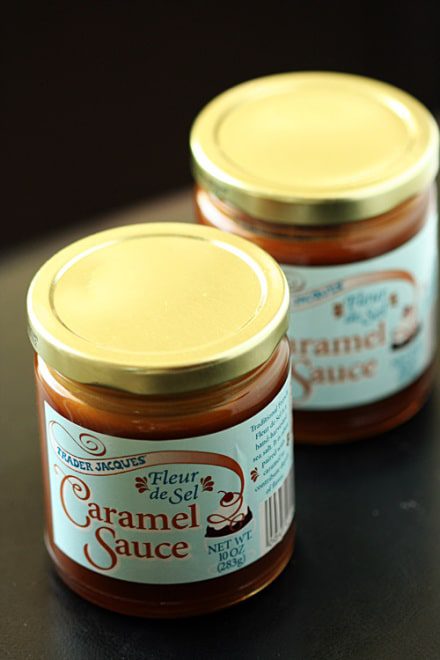 But the jar said "Fleur de Sel" on it. I mean, I own Fleur de Sel, I can and have made Fleur de Sel caramel sauce in the past… but knowing it's all right there, ready to go with no stirring, no careful pot watching…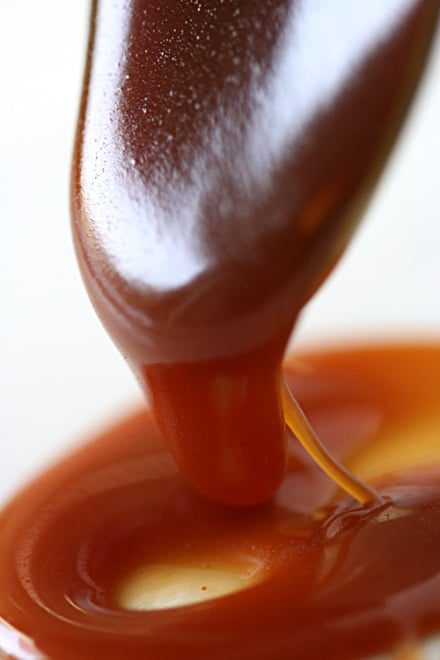 Also, instead of "Trader Joe's" it said "Trader Jacques" on the jar and that made me giggle. That's as good of a reason to buy a food product as any really.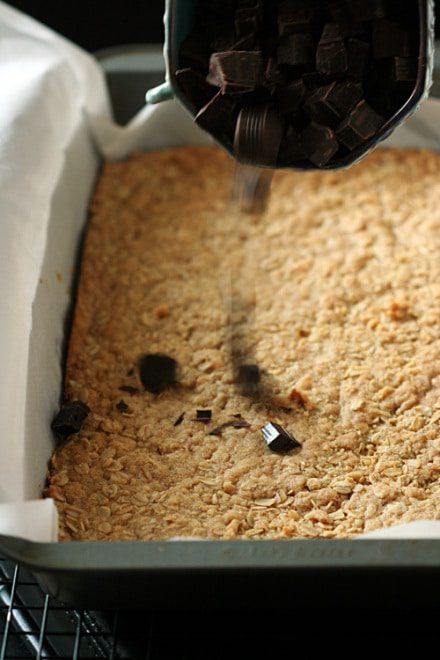 I actually love most things that come in boxes and jars from Trader Joe's. From little raviolis to chocolate covered cocoa nibs, something about their packaged food tastes a little less packaged.
This sauce did not disappoint.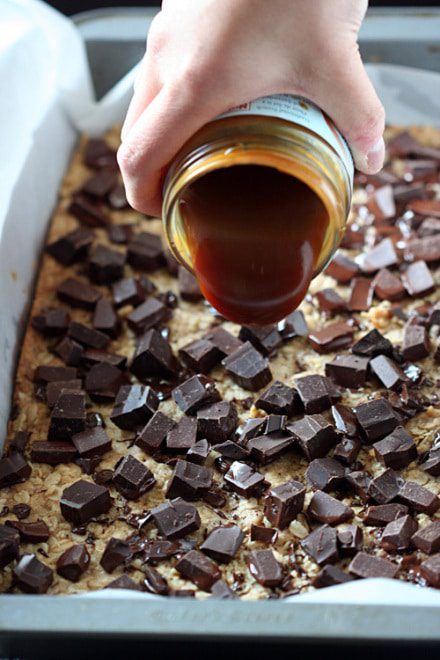 It was kind of amazing. I had to stop myself from attempting to shove my whole face into the tiny jar just to consume every last available drop that didn't make in into the bars.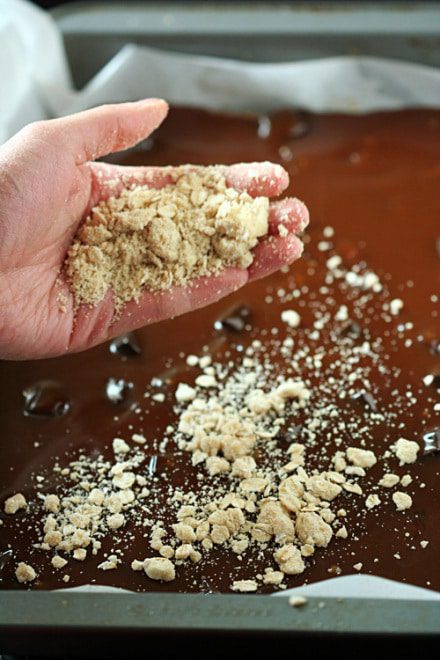 Speaking of Trader Joe's goodies, have you ever had Trader Joe's Cookie Butter? There's none of that in this recipe, but goodness gracious, it may be one of the best things I've ever consumed. Just as an FYI. You totally should try it. I dare you not eat large quantities of it in a single sitting.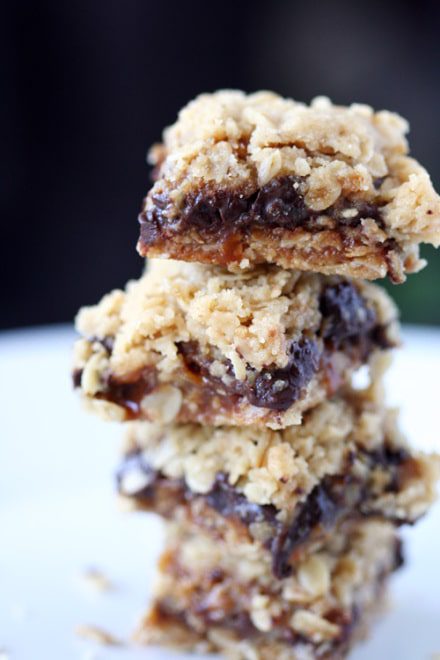 This caramel is a total rule breaker, but I'm sure the bars would taste just as good, if not better, with homemade caramel.
You just get a spatula to lick instead of a jar.
P.S. Happy anniversary Trevor. I think you're nifty. 🙂
Caramel Oatmeal Bars
Adapted from Bake or Break
Ingredients
2 cups old-fashioned oats
2 cups all-purpose flour
1 cup packed light brown sugar
3/4 teaspoon baking soda
1 teaspoon salt
1 & 1/4 cups unsalted butter, cut into small pieces
2 10 oz. jars of Trader Joe's Fleur de Sel Caramel Sauce (or 2 1/2 cups of your favourite caramel sauce, lightly salted or not. Make sure it's on the thicker side.)
1 cup bittersweet chocolate chunks
Directions
Preheat oven to 350°. Coat a 9″x 13″ baking pan with cooking spray. Line with parchment paper, leaving about a 2-inch overhang on the short ends.
In a large bowl, stir together oats, flour, brown sugar, baking soda, and salt. Mix in butter, using a fork or your fingers, until the mixture resembles coarse meal. Press half of mixture onto the bottom of prepared pan. Store rest of mixture in the fridge until ready to use.
Bake until just set and starting to brown around the edges (about 20 minutes). Cool in pan on wire rack for 5 minutes.
Sprinkle partially baked crust with chocolate chunks. Drizzle caramel sauce over chips and crust. Top with remaining crumb mixture.
Bake 20-25 minutes, or until pale golden. Cool completely in pan before cutting into bars, otherwise caramel will ooze out of the bars.