If you're ever left with a bag of marshmallows from making s'mores, this is the recipe for you.  Especially now that summer is winding down.  You don't need a lot of ingredients or time for this recipe.
And you get to broil marshmallows.  Fun!  You want to broil the marshmallows until they're nice and toasty – not black.  I burned the first batch.  Heh hehe.  It even made the smoke detector go off and scare me to death.  Just keep your eye on them and don't turn around and start doing dishes.
The broiled mallows get beaten into a mixture of butter, sugar, vanilla bean, cake flour, baking powder, salt and egg.  You could substitute al purpose flour and vanilla extract, if needed.  I know I don't always have cake flour around.  Although I do love how light it makes things.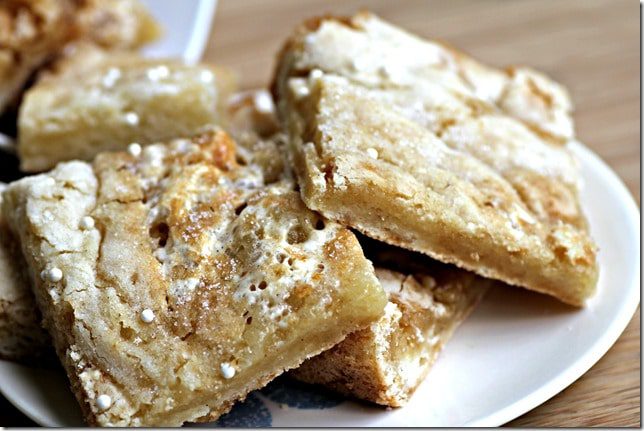 Toasted Marshmallow Vanilla Bean Sugar Cookie Bars
Ingredients: 
10 square marshmallows or 20 regular-sized marshmallows
2 1/2 cups cake flour
2 teaspoons baking powder
1/4 teaspoon salt
1/2 cup butter, melted
1 1/4 cups granulated sugar
1/2 vanilla bean, split, seeds scraped out
1/4 teaspoon almond extract
1 large egg
Instructions:
Heat oven broiler,  Coat a cookie sheet with cooking spray.  Place marshmallows on cookie sheet and broil until golden brown; flip, and broil other sides until golden brown.  Transfer mallows to a medium plate or bowl and refrigerate until cold.
In a medium bowl, sift together flour, baking powder and salt.  In a large bowl, using a mixer on medium speed, beat together melted butter, sugar, vanilla bean and almond extract until well combined.  Beat in egg until combined.  Reduce mixer speed to low and beat in flour mixture until partially combined.  Chopped up marshmallows and add them to bowl.  Continue to beat on low until mixture comes together.  Spread batter into the bottom of a 13×9-inch pan (lined with foil/coat foil with cooking spray).  Sprinkle with sugar or sprinkles, if desired.  Chill in the refrigerator for 30 minutes.
Heat oven to 350 degrees F.  Bake 20-25 minutes or until set and light golden brown.  Cool completely before lifting foil out of pan and slicing into bars.
Makes 12 large bars