How long do you think it took her to test all of the recipes for this cookbook?  Can you imagine all of the cookies she must have had in the house?
The recipes are unique and really creative.  I have quite a few on my list to bake. including,  Josie's Chocolate Chip Cherry Pistachio Bars, Scottish Oat Cookies, Potato Chip Cookies, Mud Hen Bars, Tex-Mex and Chocolate Chipotle Cherry Cookies.  I made two recipes from the book so far.
Corn chip candy.  This stuff is so good.  Anna calls it Frito candy on her blog.  It's crushed Fritos, pretzels and peanuts covered in melted toffee and chocolate.  I put mini Reese Pieces on mine for Halloween.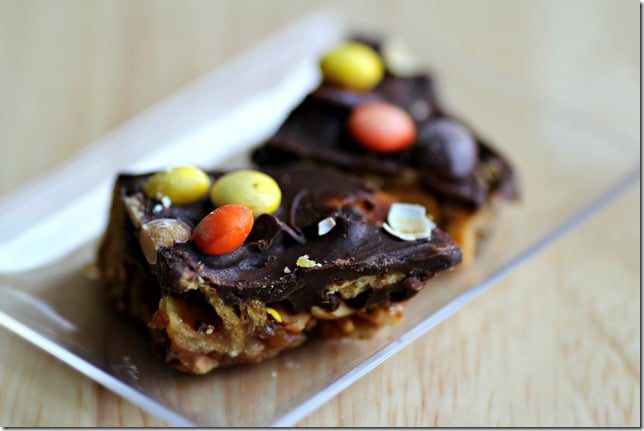 I bagged up the candy and these ginger guy (gingerdead men) cookies, and sent them with Eric to work for their Halloween lunch-thing.
I think this is my favorite gingerbread recipe I've ever made. It's absolutely delicious – I kept tasting the dough (Bad Emily!).  There's so much flavor from all of the spices, molasses, and cocoa powder.  This recipe will be perfect for the holiday season.

Two last things:
#1 Get out and vote today!  This will be my first time voting in Illinois, obviously.  I'm excited.
#2 The Sugar Plum Blog Facebook page is down… maybe permanently.  I'm so, so angry.  I'm fighting to get it back.  I just wanted to let you know.  I'll explain more soon.
Spicy Chocolate Ginger Guys
1 tsp. baking soda
1/4 cup hot coffee
8 Tbs. (4 ounces) unsalted butter
1/2 cup granulated sugar
1/2 tsp. salt
1 large egg
1 cup mild molasses
1 tsp. vanilla extract
1/2 cup unsweetened natural cocoa powder
1 tsp. ground ginger
1 tsp. ground cinnamon
1/4 tsp. ground cloves
1/4 tsp. freshly ground nutmeg
3 3/4 cups (17 ounces) all-purpose flour
Preheat the oven to 350°F and place a rack in the center. Line two baking sheets with nonstick foil or parchment paper and set aside.
Dissolve the baking soda in the coffee and set aside.
In the bowl of an electric mixer fitted with the paddle attachment, beat the butter and sugar on medium speed until creamy. Beat in the salt, egg, molasses and vanilla. Add the cocoa powder, ginger, cinnamon, cloves, and nutmeg and stir until mixed. Using the lowest speed of the mixer, stir in the flour alternately with the coffee mixture.
Roll out the dough about 3/8 inch thick on a floured surface. Cut out gingerbread men and arrange them 2 inches apart on the prepared baking sheets. Bake for 8 to 10 minutes, or until the guys appear set.
Transfer to a wire rack and let cool completely.