Black sesame always gives a classy edge to food, and Goma ice-cream is a fine example. This, my friends, is ice-cream all grown up. I, for one, can never say no to the seductive, goth appeal of this dessert. How do I resist thee? Oh, sweet surrender. ♥♥♥
Melting ice-cream and condensation on the cup … incredibly photogenic. 🙂
The past few days have been crazy, crazy hot. And whilst browsing through various recipes, I realised I was subconsciously drawn to ice-creams and granite (plural of granita). I'll be the first to tell you that subliminal advertising works. It really does, because the next thing I knew, I was preparing the ingredients to make Goma ice-cream.
Goma, as you know, refers to sesame seed in Japanese. Unhulled white sesame seed is called shiro-goma, and black sesame seed is called kuro-goma.
Information taken from here.
I chose to make kuro-goma ice-cream with the sesame seeds I had leftover from makingthis dish.
Mistake.
The recipe called for black sesame paste. I thought that I could make my own by pounding the seeds. What was I thinking?! Super woman I am not, and there was not a chance I could achieve a smooth, paste-like texture … which was why my ice-cream turned out so grainy.
After pounding till my own head pounded, I still got a gritty consistency. 🙁 Sigh. Lesson to all, get a bottle of sesame paste if you are thinking of making this ice-cream. Otherwise, it tasted really nice. Not too sweet, and very creamy and nutty.
♥LOVES♥
I will try this again for sure, when I buy a bottle of ready-made paste! *face palm*
Updated (19 April)
– I received an email from Jade, who shared with me a precious tip, which I am publishing verbatim.
"I've always made mine with black sesame powder ~ the kind you get in sachets and mix with water to get instant 'hei zhi ma hu' and found that it works best because you get really concentrated flavour and there's no excess liquid that might interfere with the consistency of the ice cream. Saves you a lot of time and energy too … The final product lacks that dark intensity colour-wise, you get a sort of pale speckled dove grey, but the flavour is in no way compromised."
Thank you, Jade!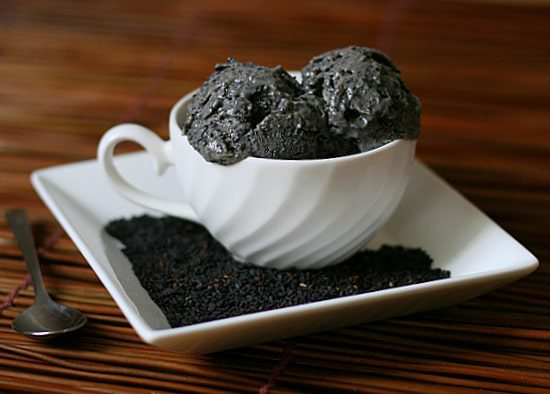 Recipe
(from my buttery fingers and originally adapted from Junko Fukuda)
– 60g black sesame paste
– 180ml milk
– 2 egg yolks
– 70g + 2 tbsp sugar (measure separately)
– 120ml whipping cream
– 1 tbsp ground black sesame seeds
1. In a large bowl, whisk together 2 tbsp of sugar with the black sesame paste until smooth.
2. In a separate large bowl, whisk together 70g sugar and the egg yolks until pale yellow.
3. Heat the milk in a small saucepan until just about to boil.
4. Mix the yolks and the milk, adding the milk in small portions (so you don't end up with scrambled eggs!)
5. Pour the mixture (the custard) back into the pan. Heat the mixture over low heat, stirring constantly until the mixture thickens – it should coat the back of a wooden spoon.
6. Strain the custard. Mix the custard with the black sesame mixture, adding the custard in small portions (or the mixture will separate).
7. Place the bowl over an ice bath to cool, stirring occasionally. Chill the mixture until thoroughly cold.
8. Mix the cream and ground sesame seeds into the cold ice cream mixture.
9. Churn the ice cream in an ice-cream maker, for around 20 minutes (time may differ according to your machine).
* I do not own an ice-cream maker, so I simply put the mixture into a metal container (with lid) and placed it into the freezer. I churned by hand, every 1.5 hours for 3 hours, to break the ice crystals.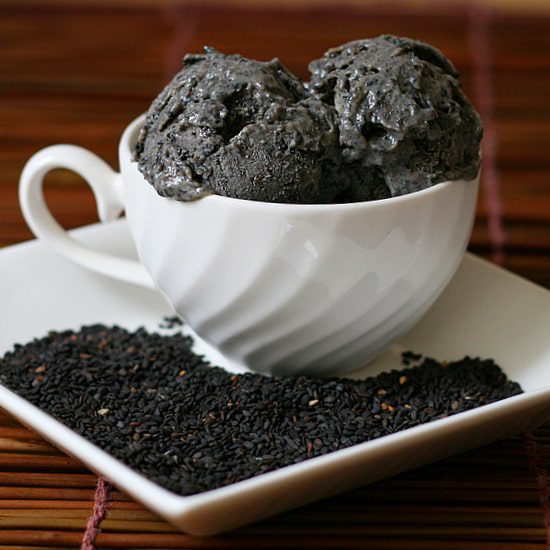 Ice-cream the colour of graphite. Welcome to the dark side.