Hi friends,
well it's been quite a busy last couple of weeks and this one is no different. well, it's a little different. this weekend two very dear and talented friends of mine are getting hitched! one miss amy seeley and mr. christopher messenger (go check them out!) have given me the humbling opportunity to bake pies for their small, intimate wedding. i am beyond honored that they picked me! i'm making several different pies for their day so today i thought i would share a little peak into what i'm baking up for them!
today-spiced citrus pear pie.pear makes a wonderful winter pie. it's flavor is delicate enough that it pairs well with lots of things without tasting like too much is going on. and the skin is soft enough that you don't have to peal all of the fruit and adds a little more structure to the filling.

so make this pie this weekend and have it with a glass of champagne and toast to chris and amy! may their happiness last lifetimes.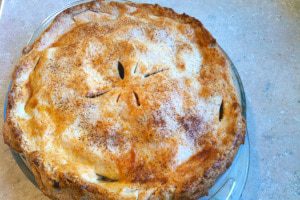 spiced citrus pear pie:
double crust recipe of 'a day for pie' crust.
filling:
7 cups of sliced pears. (this usually is about 6 medium sized pears and peal only half of them. i used anjou but really any kind will do.)
1/3 cup sugar
zest of one lemon
1/2 teaspoon cinnamon
1/2 teaspoon ginger
1/4 teaspoon cardamom
2 dashes of nutmeg
1 tablespoon lemon juice
2 tablespoons orange juice
2 tablespoons cornstarch
milk or an egg for brushing on top for an extra pretty crust
preheat oven to 400. prepare your crust as usual. break into two even sized balls and roll them out. place one in the pie dish and save the other to place over top of the filling. pop this in the fridge until you're ready to use it. peal half of the pears and then slice them all and put into a large mixing bowl. add sugar, zest, spices, and juices. let sit for 5-10 minutes to let the juices ruminate. mix cornstarch in well and pour into dish. cover with the top crust. dip your fingers into water and pinch the crusts together. cut a few slits in the top crust for ventilation. make sure you cut some slits along the edges so you can see when the juices are nice and thick and bubbly. brush top with milk or egg wash and sprinkle with sugar and cinnamon. put into preheated oven and bake for 30 minutes. turn oven down to 375 F rotate pie 180 and bake for an additional 30 minutes or until you can see that the juices are thick and bubbly.
*this tastes even better on snowy mornings in front of a glowing christmas tree. but most things do, i guess.