Does anyone else feel a bit overloaded with all of the pumpkin recipes that get posted at this time of year??? It can be a little overwhelming because there are so many recipes to choose from, but it's also kind of awesome because I love pumpkin and never get sick of it during the fall.

These pumpkin bars might be a new post on our blog, but the recipe is a classic oldie that I grew up with. This is my mom's recipe and it is perfect! I've tried other recipes over the years and none of them compare. These bars are perfectly soft, moist and fluffy and are topped with the yummiest cream cheese frosting. I like to make them for Halloween as a dessert to go with our traditional Halloween dinner.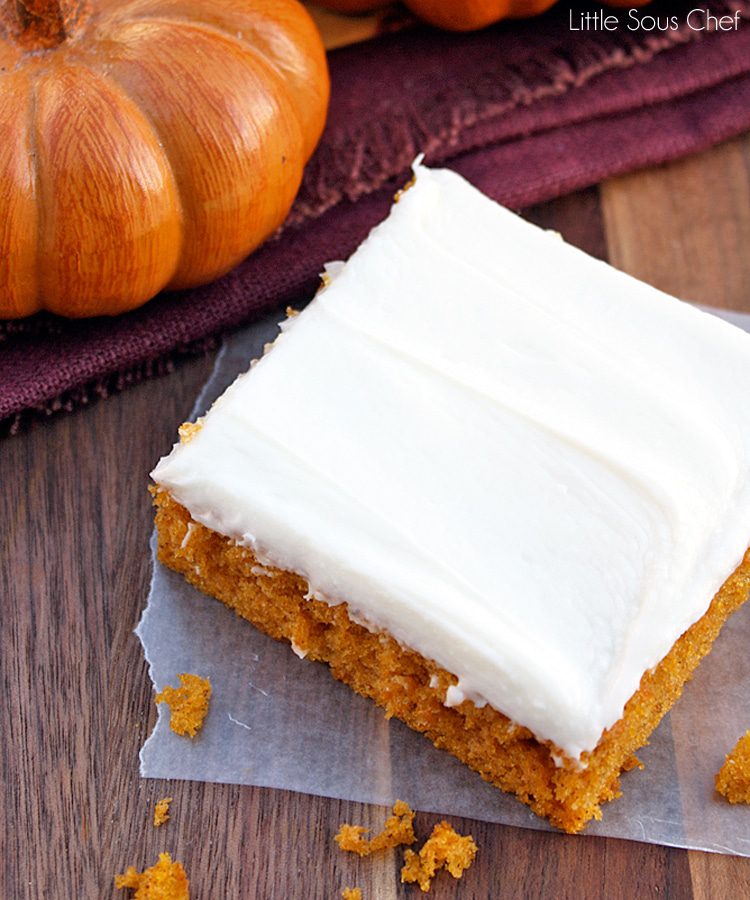 Pumpkin Bars with Cream Cheese Frosting
Ingredients
2 cups flour
2 teaspoons cinnamon
2 teaspoons baking powder
1 teaspoon baking soda
¼ teaspoon salt
4 eggs
15 oz can pumpkin puree
1 2/3 cups sugar
1 cup vegetable oil
1 teaspoon vanilla
Cream Cheese Frosting
8 oz cream cheese, softened
½ cup butter, softened
1 teaspoon vanilla
4 cups powdered sugar
Directions
Preheat oven to 350 degrees.
Pour flour, cinnamon, baking powder, soda and salt into a large bowl. Whisk to combine.
Crack eggs into a separate, medium bowl.
Add pumpkin, sugar, oil and vanilla. Whisk to combine.
Carefully pour pumpkin mixture into flour mixture. Whisk to combine.
Spread batter into an ungreased jellyroll pan. Bake 25-28 minutes. Cool.
Combine softened cream cheese, butter and vanilla in a medium bowl. Beat until smooth.
Gradually add powdered sugar, beating until smooth. (add more powdered sugar if frosting is too runny. Add a little milk if it gets too thick.)
Spread frosting over completely cooled bars.