This little cake, while humble in appearance, in my mind really epitomizes the genius of Scandinavian baking. Underneath it's plain Jane exterior lies a tender, delicately flavored cake that quite literally will blow your socks off with the first bite. Fyrstekake (pronounced FYSH-ta-kaka) contains two of the most essential ingredients to good Nordic pastry; almonds and cardamom. In it's simplest terms Fyrsetakake is defined by it's sweet, buttery, almost cookie like crust, surrounding a moist almond and cardamom flecked interior.
Whenever I eat a slice of this cake, I'm transported. Instantly I am back to the time I first ate it, in Norway at the age of 13, sitting around the most heavily laden coffee table I'd ever seen. We'd come, my Grandmother and I for our first visit to the family farm located near a small town hugging the edge of the Hardanger fjord. Our relatives in true Norwegian fashion served strong coffee, a minimum of seven, SEVEN baked goods and the expectation that we would try them all. And we did.
It's a miracle really that I remember any of what I ate on that trip.  There was so much food, all the time, and being the typical self absorbed teenager that I was I'm sure my thoughts were on other things. But this cake I remember.  Many years would go by before I had it again, and it really wasn't until I'd reached adulthood that I thought about making my own.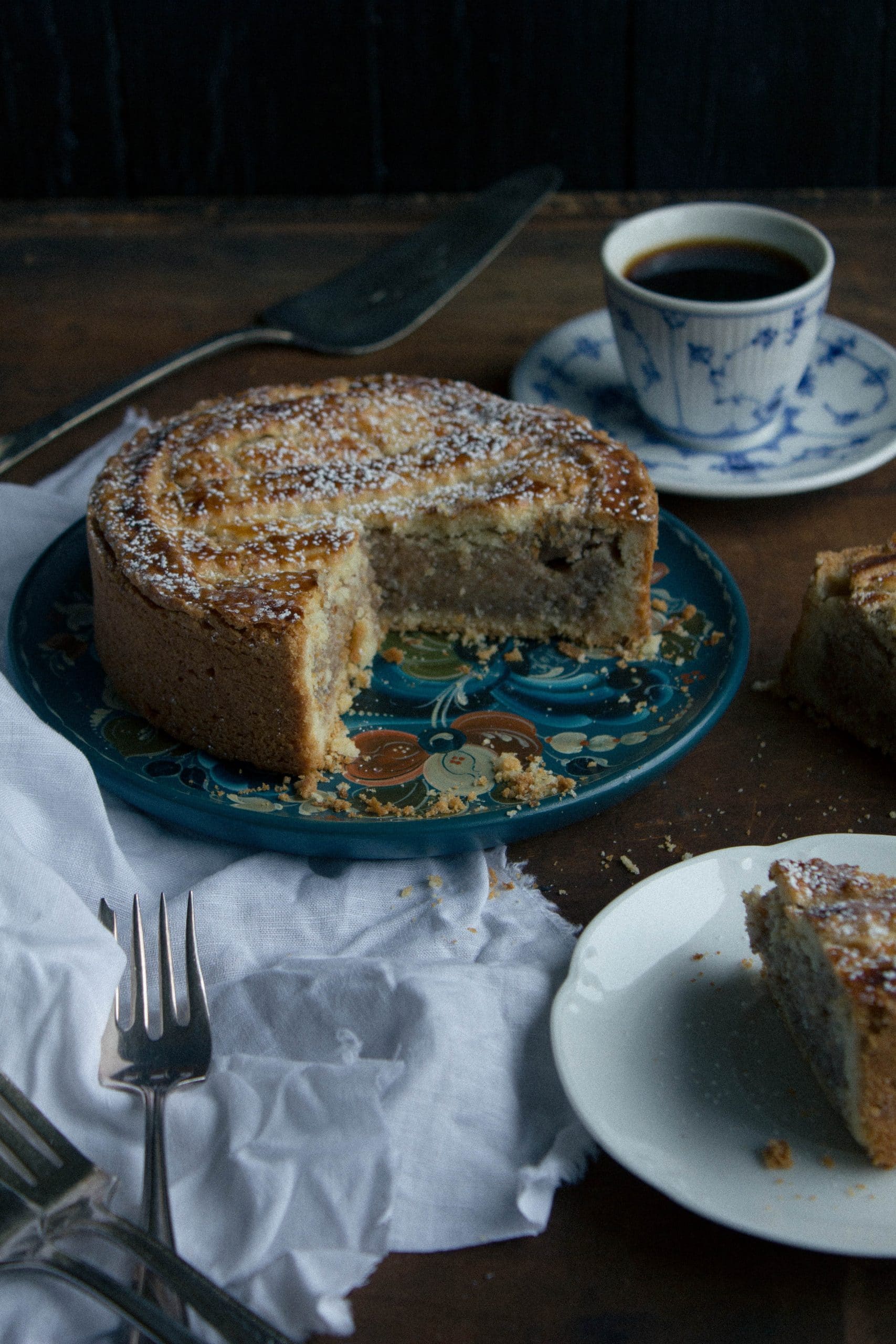 Digging through my recipe box like a fiend, once I thought about making it, it was all I could think about. Manic in my desire to be there again, at Elisabeth's table with my Grandmother in the place that my family and ancestors had lived since Viking times.
This recipe is simple in ingredients, but like anything, quality of ingredients matters. If you've never purchased cardamom pods before and crushed your own, this recipe would be the perfect time to do so.  I prefer to crush them by hand in a pestle as the flavor of cardamom is stronger, more present.  If you're not a fan of cardamom, feel free to leave it out as there are many recipes that don't include it all. You will still get a delicious cake.  Also, take the time to grind the almonds in the food processor as opposed to using pre-ground almond meal.  The flavors are much more fresh, bright, intense and authentic.
Fyrstekake
Serves 8
For the crust:
1 1/2 C. flour
1 tsp. baking powder
1/2 C. sugar
1/2 C. plus 1 T. unsalted butter, cold in pieces
1/4 tsp. salt
1 egg
For the filling:
1 1/4 C. ground almonds (skins on)
1 1/4 C. powdered sugar
1/2 tsp. freshly ground cardamom
2 egg whites, slightly beaten
1 egg for the wash
Butter and flour an 8″ cake pan and set aside.
Combine the flour, baking powder, sugar, butter and salt in the bowl of a food processor and blitz until it resembles coarse meal.  Add the egg and process until a soft dough forms.  Remove dough from the bowl and form it into a flat disk. Wrap in plastic wrap and refrigerate for 30 minutes.
Combine the ground almonds, and powdered sugar in the bowl of a food processor and blitz just to combine.  Add the cardamom and the egg whites.  Process until combined and the filling looks thick, 30 seconds or so.  Pour into a small bowl and refrigerate 30 minutes.
Once the dough is chilled, remove it from the refrigerator and crumble 2/3 of it into the pan.
Press the dough evenly along the bottom and 2/3 of the way up the sides of the pan.  Fill with the filling. Roll the remaining dough flat on a floured board. Using a ruler, slice the dough into 1/2″ strips. You'll need about 10 strips.  Lay 4 of the strips atop the filling, lay another 4 strips across the first 4 at a diagonal. Apply the 2 remaining strips of dough along the edge of the pan, pressing lightly to cover the ends of the lattice like strips.
Preheat your oven to 375 degrees F.
Beat the remaining egg and brush it over the surface of the dough.  Place the pan on a baking sheet and bake 25-30 minutes until the dough is golden and a skewer comes out clean.
Let cool for 15, then carefully tip the pan upside down to remove the cake.
Cool completely then serve.