Right now I am sitting in the Puerto Vallarta airport after five loooong days in Mexico.  I say long days, because the house that we were staying in that was supposed to have wifi, didn't, which isn't the biggest deal.  It was nice to be off Facebook, Instagram, and everything else for a change, but it was also kind of hard to look stuff up, remember the names of restaurants I had wanted to go to, get directions, you know… all the things we take for granted.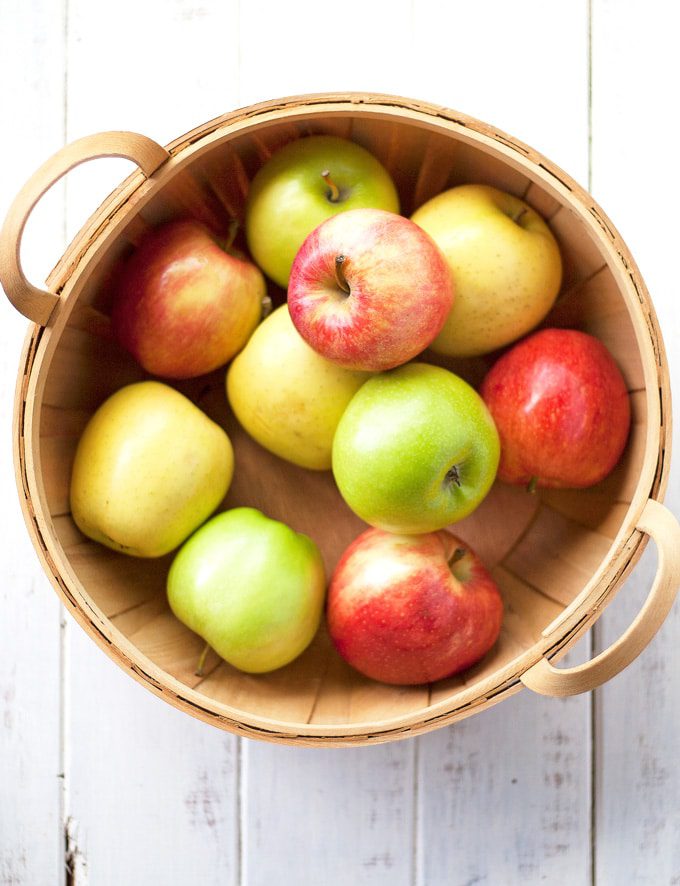 My fiancé and I went down with a few friends to check out a smaller town near Puerto Vallarta in hopes of having our wedding there, and although we had a great time, we came back deciding that it wasn't the place for us.  Which is a bit discouraging, I have really been struggling with the whole wedding planning thing, and although I'm glad we went on the trip and now know this wasn't the place for us, I'm no closer to securing a venue, date, or anything else.
A courthouse wedding with a fun dinner afterwards is sounding more and more appealing every day.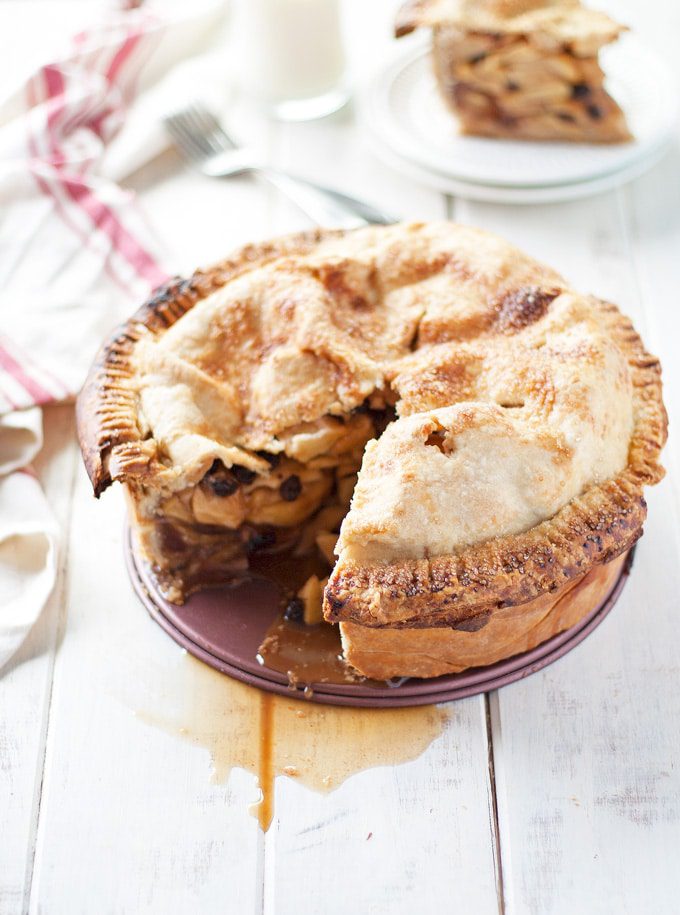 You know what also sounds appealing, a BIG slice of this ginormous, mile high apple pie.  Although after five days of margaritas, al pastor tacos, and eating my weight it guacamole, I should really be thinking about detoxing.  But right now I'm going to wedding stress eat a piece of this pie.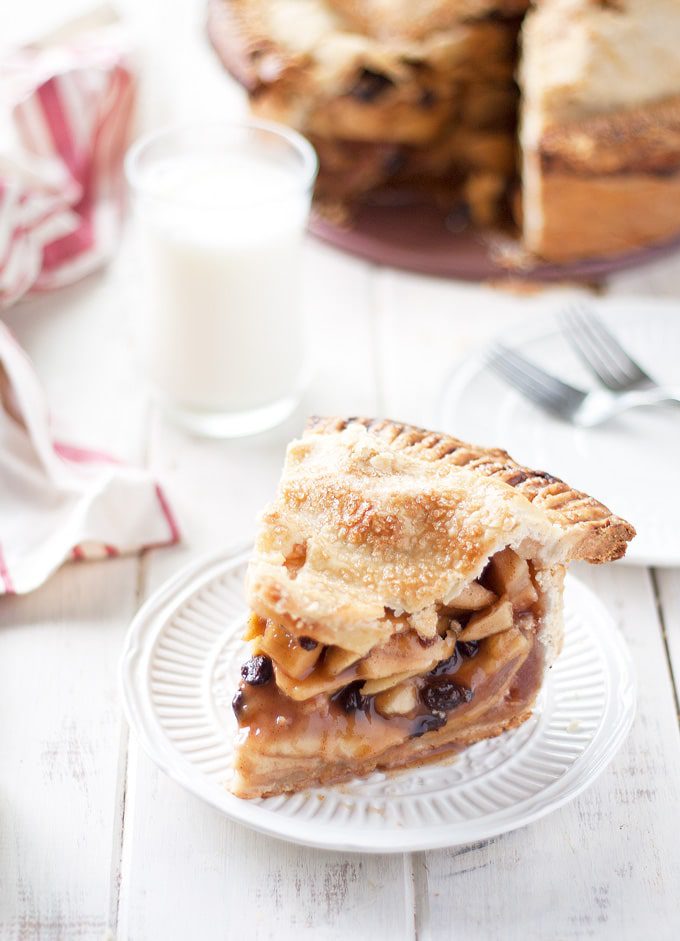 I got the idea for this MILE HIGH pie from here but I was really craving an apple pie, so I used the crust and method and made my own filling which consisted of granny smith, Fuji and golden delicious apples.
I like to use a mix of apples because it really does create a variety of flavor in your pie – sweet, tart, juicy, etc…  I also added a bunch of raisins, because I LOVE raisins in my pie, but if raisins aren't your thing, you can totally leave them out.
My favorite part, the caramel-like sauce that covers the apples in the center of the pie.  It has a deep sugar flavor, mixed in with cinnamon and just a hint of salt, that really just makes this pie.
And right now, a big slice of pie is just what I need!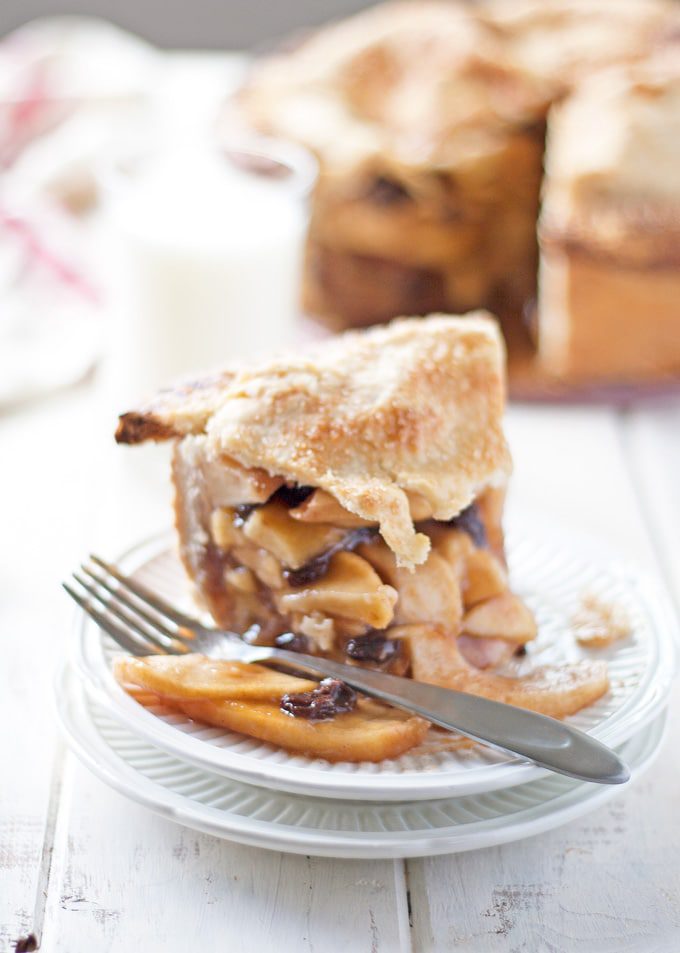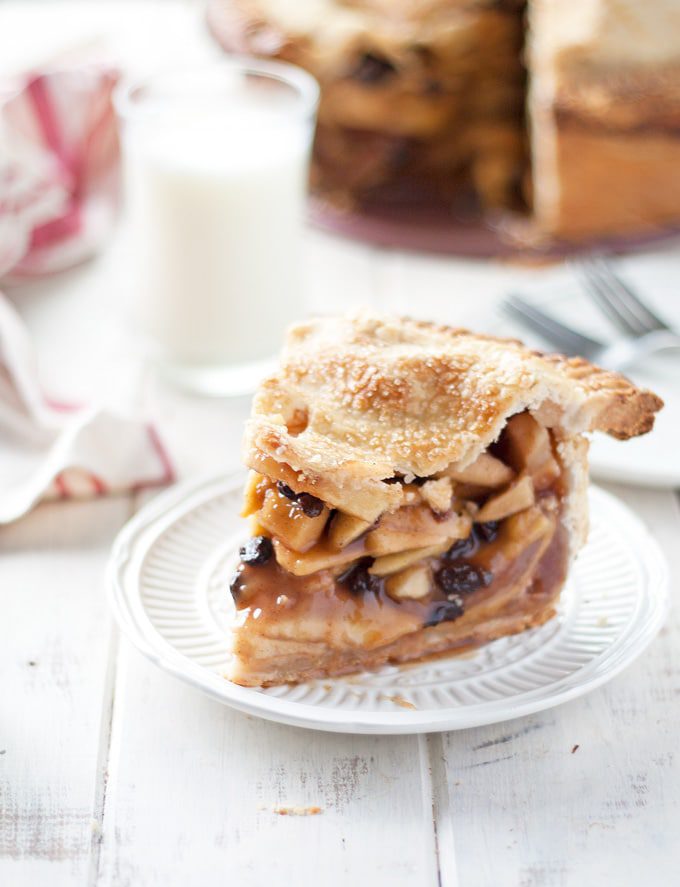 ingredients
pie crust
3¾ cup all-purpose flour, plus more for rolling out pie crust
1 teaspoon slat
1½ cups (3 sticks) cold, unsalted butter, cubed
¾ cup ice water, plus more as needed
apple filling
4 pounds apples (I used a mix of granny smith, golden delicious and Fuji) peeled, cored and sliced
1 lemon, juice and zested
1 tablespoon vanilla extract
1 tablespoons cinnamon
½ cup raisins
2 cups granulated sugar
¾ cup cornstarch
1 egg, whisked with 1 tablespoon water
turbinado sugar, for finishing
Instructions
pie crust
To make the pie crust, combine the flour and salt in a food processor and process to combine. Add the cubed butter and pulse 8-12 times, or until the butter resembles the size of walnut halves.
With the processing running, add the water slowly, just until the crust combines. You want it to be slightly crumbly, but it should hold together when pressed.
Divide the dough – you'll need ⅔ of the dough for the bottom crust and ⅓ for the top crust. Wrap each piece of dough in plastic wrap and chill for at least 60 minutes in the refrigerator.
On a lightly floured surface, roll out the bottom dough disk to ⅓"-thick. Transfer to a 9″ springform pan and trim the edges so that there is about ½" overhang all around. Chill the dough inside the pan for at least 30 minutes in the refrigerator.
Preheat the oven to 425 degrees F. Dock the chilled dough with a fork on the base and sides. Line the crust with parchment paper and fill with pie weights (or beans).
Bake for 15 to 20 minutes, or until the crust starts to brown on the edges. Remove the parchment and weights. If the base looks wet or under baked, return the crust to the oven without the weights for another 5 minutes. Cool to room temperature.
apple filling
While the crust is cooling, in a large bowl combine the apple slices, lemon juice, lemon zest, vanilla, cinnamon and raisins.
In a small bowl combine the sugar and cornstarch. Stir just to combine then add the apple mixture, stirring just until the apples are evenly coated.
to assemble
Mound the filling into the cooled crust, pressing firmly to eliminate any air pockets, and forming a nice rounded mound on top.
On a lightly floured surface, roll out the smaller dough disk until about 10″ in diameter. Using a rolling pin, transfer the dough to the top of the pie.
Trim away any excess dough, leaving ¾" all the way around the edge. Nudge the edge down into the side of the springform pan so that it meets the top edge of the bottom crust.
Egg wash the top of the crust evenly and sprinkle with the turbaned sugar all over. Cut vents into the top of the pie.
Transfer the pie to a baking sheet lined with parchment paper and bake until the crust is very golden and the filling is bubbling through the vents – about 60 to 90 minutes. If the top of the crust starts to brown too much, tent with foil or reduce the oven temperature to 375 degrees F.
Cool the pie completely before slicing (this is very important!). Un mold the outer edge of the springform pan. If the pie is completely cool you can transfer to a serving platter with a spatula (I just left mine on the bottom of the springform pan.)