The aroma of sweet, fruity bread has been filling my house all morning! Can I get a yum? Moist, bright, and playing off a sweet and slightly tangy taste, this bread is the perfect snack for any time of the day! I love having it in the morning, because the hints of lemon and the pops of raspberry really wake me up and get me ready for the big day ahead.
If you want to bring a little bit of summer lightness and flavor back into your home (which, if yours is like mine, is currently getting snowed on!) then make this bread! Either by itself or spread with a little jam and butter, it will definitely delight and wake up your taste buds!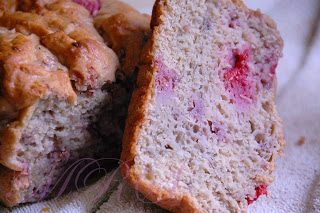 The smell of this bread literally brought my family down from upstairs. I had to revise this recipe a few times before I was happy with it, but now it is moist and oh-so-good! It's also a breeze to make, so you can just pop it in the oven in the morning and let it do its thing. An entire loaf got eaten off in one day (and that wasn't even my perfected version). Success!
Lemon Raspberry Bread
Makes 10 Slices              Calories/Slice: 129
Ingredients:
1 and 1/2c. bread flour (or all-purpose, but I seriously recommend bread!)
1/2c. white whole-wheat flour (whole wheat flour that is lighter in color)
1/2tsp. baking soda
1tsp baking powder
1/2c. splenda or other no-calorie sweetener
zest of 1 lemon
2tsp fresh lemon juice
1tsp vanilla 
1 large egg
1 large egg white
1c. nonfat vanilla yogurt (I use Light-N'-Fit because it is the best tasting and lowest in calories)
1tbl canola oil
3tbl unsweetened applesauce
1tbl sugar-free raspberry jam (optional)
3/4c. fresh raspberries, broken into thirds
Instructions:
Preheat your oven to 350 degrees Fahrenheit.
in a medium bowl, sift together the flours, baking soda, baking powder, and splenda. Sifting is essential for this recipe, helping to create a light and smooth end result.
In a large bowl, beat the lemon zest, lemon juice, vanilla, egg, and egg white together. Add in the yogurt, oil, applesauce, and jam. Mix until well distributed and smooth.
Pour the dry ingredients into the wet ones, and mix just until moistened (over-mixing creates a gummy texture). Fold in the raspberries, broken into pieces. Make sure that they are well-distributed throughout the batter. The batter will be a bit thick; if the dry ingredients aren't getting incorporated, add 1 tablespoon water (however, you most likely won't need to).
Spoon the batter into a bread pan that has been coated with cooking spray on all sides. Place in the oven for 55-65 minutes, turning halfway through the cooking process. Insert a thin knife into the center of the bread; if it comes out almost clean, the bread is ready to come out.
Allow the bread to cool for ten minutes. Remove the bread by running a thin knife around the edges and then turning upside down onto a plate. The bread should slide out. Turn the bread right-side up. Now, if the bottom doesn't seem to be completely firm, that's ok. In order to get the bottom fully cooked, place the bread pan over the loaf and turn over again (meaning that it is the bottom of the bread that will now be exposed to the oven) (picture below)


See how the bottom of the bread is now exposed to the oven? (Sorry for only showing half of the bread– as you can see, I couldn't resist trying a piece!)

Then, place in the 350 degree oven for another 7-15 minutes. This ensures that there aren't any undercooked parts, and that there is a nice defined outer layer on all sides of the bread.

Before serving, allow to cool completely (although at this point, there might be people waiting in the kitchen, begging to sample it!). Then devour!