Stirfried Cauliflower With Peas is an  easy, delicious gluten-free vegan side with the distinct flavours of nigella seeds & curry. It's ready in a flash and is perfect to pair with any protein of your choice or as a filling for wraps.

Happy leap day guys! How are you? This post is brought to you by courtesy of wordpress' scheduled posting feature :P. I do apologise for it. I am still vacation-ing in Kerala. Blissfully spending the days languidly by the beach or the pool. By the way, you need to connect with me on instagram. I am constantly posting pictures of my holiday among other things. Come over and say hi will you? I'd love to know you too. So, without digressing, now that we are all centered & geo-located, let's get on with our recipe at hand.

Hey do you want a free cookbook now and printable cooking hacks, guides & meal ideas every Friday? You know the exclusive stuff I only give out through emails. Then you need to sign up below for my emails and I will send my book over right now.
THE VIDEO OF STIRFRIED CAULIFLOWER WITH PEAS:
I do hope you listened when I told you last week, that you will need to get your cast iron skillet out for this particular recipe. Cast iron's superior heat retention makes it perfect for this recipe. I can honestly go on waxing eloquent as to why you need it in your life, but let's just say you are suitably armed and delve right in to the video shall we?
Stirfried cauliflower with peas is always on the winning #side #vegan #glutenfree #paleo #dinner Click To Tweet
So was the video useful? Let me know in the comments below how I can make them more worth your while. I am all ears. Like this video if you want to see more of such content and subscribe to my Youtube channel for free. You will get updates twice a week about the latest recipes the moment they are out. You can do it right here by clicking the button below.
A SHORT NOTE ON NIGELLA SEEDS: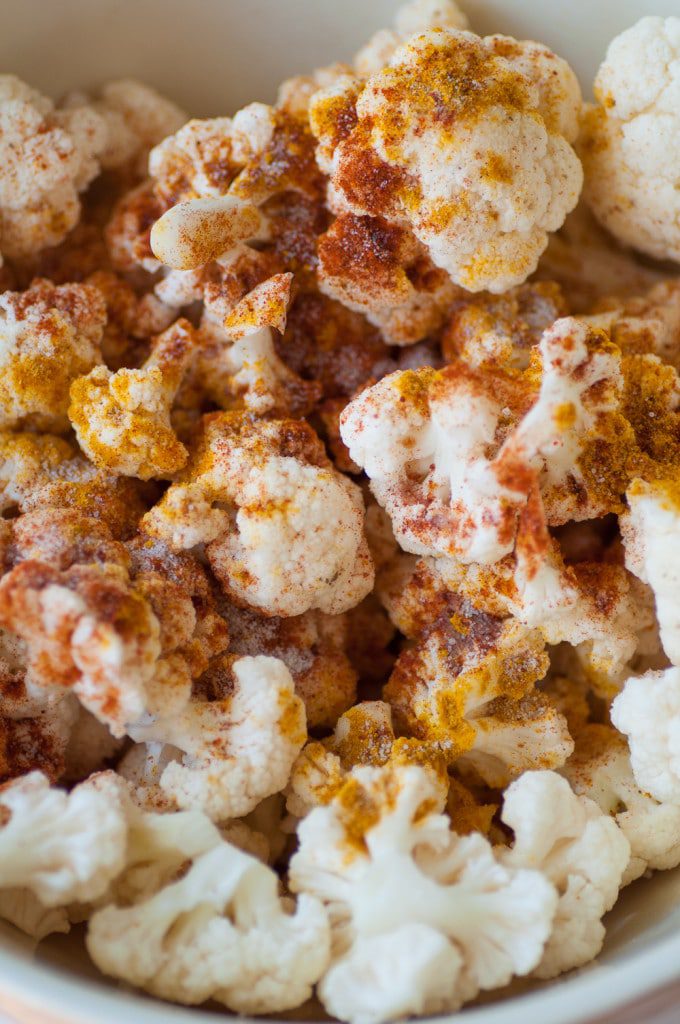 This recipe is so straight I couldn't make it any simpler even if I tried. A dry-rub combining curry powder and paprika to coat the florets. And tempered whole peppercorn and nigella seeds to lend a super-distinct and addictive flavour. This easy dish has weeknight written all over it.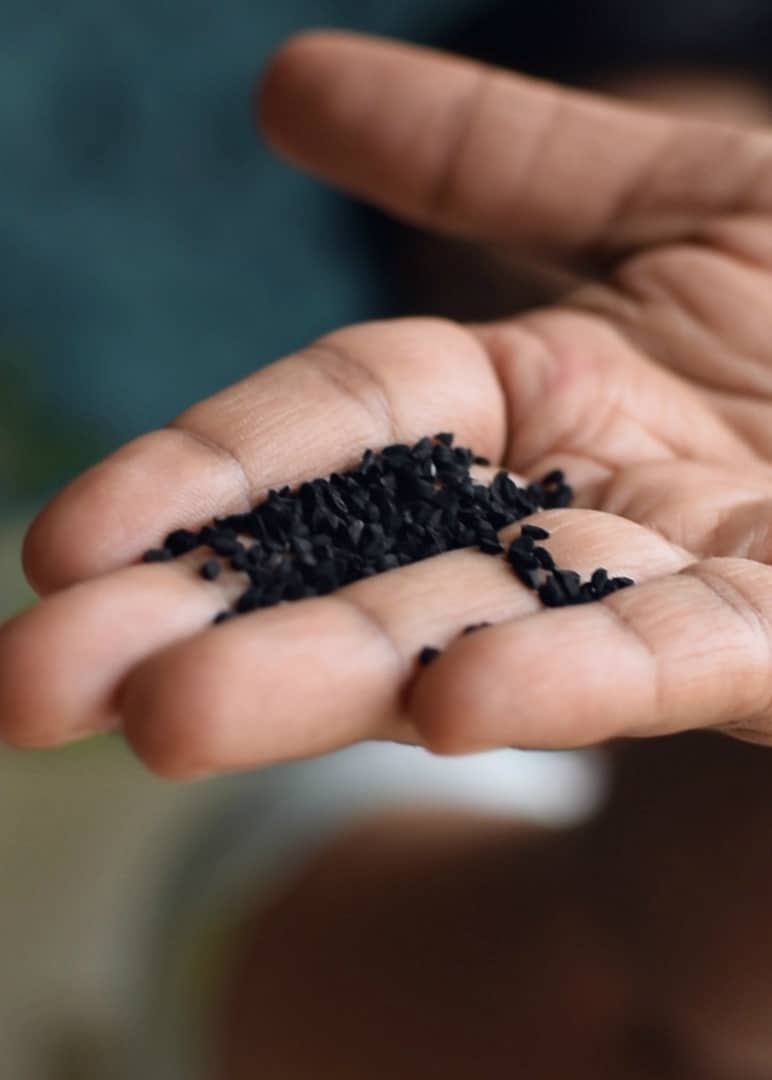 Nigella seeds are also known as onion seeds or black seed. You might recognise them as the black specks you find in the naan you ordered. They are tiny, triangular little things with the insane flavour profile of onion, black pepper and oregano. They are a staple in Bengali food, hence my early introduction to this small but wondrous spice. If you look, your ethnic food stores should stock them too, as well as online.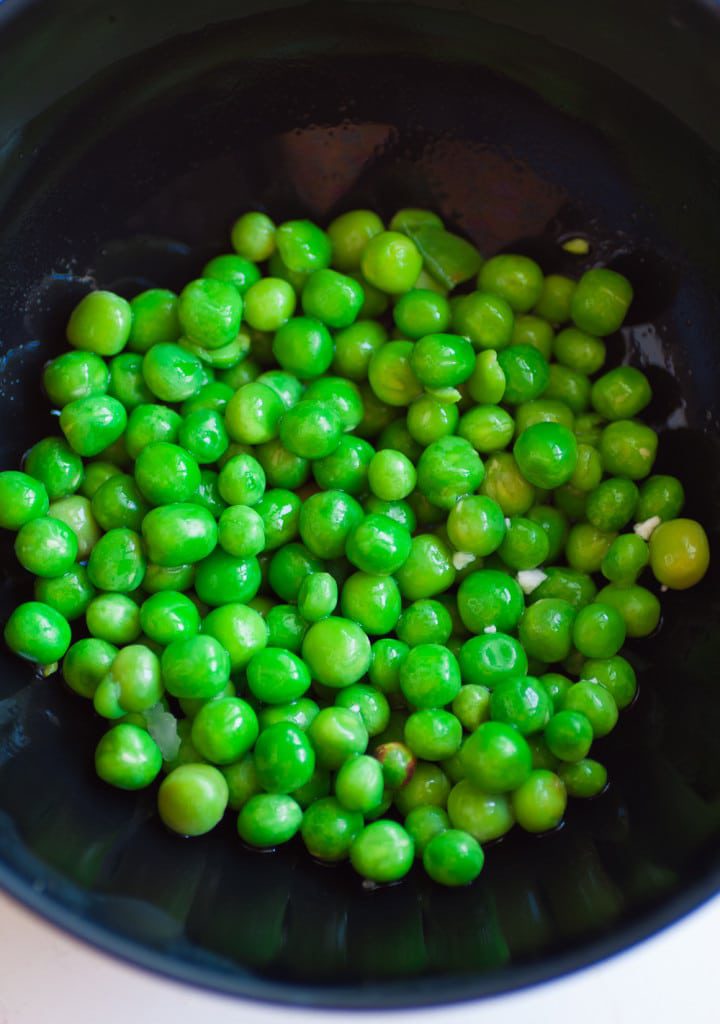 WHY YOUR KITCHEN NEEDS A CAST IRON SKILLET?
It's Built To Last: Cast iron cookware is nothing new. It's been there for ages. If you search, I am pretty sure you will be able to find your grandmom's skillet still around because they are built to last. Couldn't find the vintage family skillet, no worries, get a new one.
Once it's Hot it Stays Hot: It's a popular misconception that cast iron heats evenly. Far from it. It is singularly terrible at heating up evenly. But where cast iron really shines, is the way it retains heat. Honestly that's what makes it perfect for frying, roasting, searing meat and vegetables and baking. Once it's hot it will stay hot for a long, long time.
It's Practically Idiot Proof: Cast iron has only two natural enemies (assuming you have a pre-seasoned skillet
The More You Use It, The Better It Gets: The proof is in the pudding. My skillet is 9 years old. And I still use it and enjoy it as much as I did on the first day. In fact, the more oil and heat it comes in contact with the better the non-stick oil polymer coating gets. I would just not use it to fry me up an omelette though
Can Cook With Any Heat Source: Camp-fire, oven, stove-top or induction; a cast iron skillet has you covered no matter what your source of heat. Talk about versatility.
Weapon of Choice: (Cue in Christopher Walken now) In the event of an intruder attack, I would be using my skillet to whack off the potential threats just like Betty White's Catherine Piper did in Boston Legal.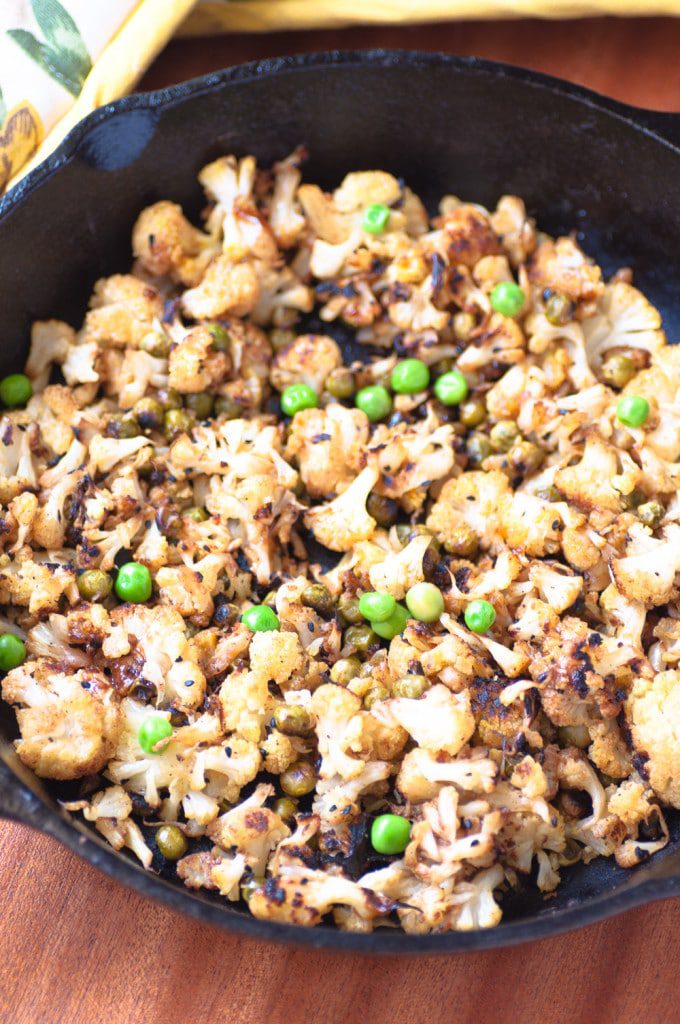 Veteran cast iron cookware fans, did I miss something? Talk to me. Let's get the dialogue rolling. Now on to the recipe, but before you go, don't forget to come back on Thursday for a monstrous, epic dessert post. You will love it.
Let's be honest though, you might not remember to come back to check a recipe. Why not subscribe to my updates and you will not only get an email every week with carefully my recipes but I will also add in my Coconut Cookbook for free.
My coconut cookbook is brilliantly crafted and totally delicious. It's free for my subscribers. So sign up for updates and I will send you the book, plus delicious recipes every Friday along with hacks and downloadable guides that make cooking food from scratch as easy as it can be for you.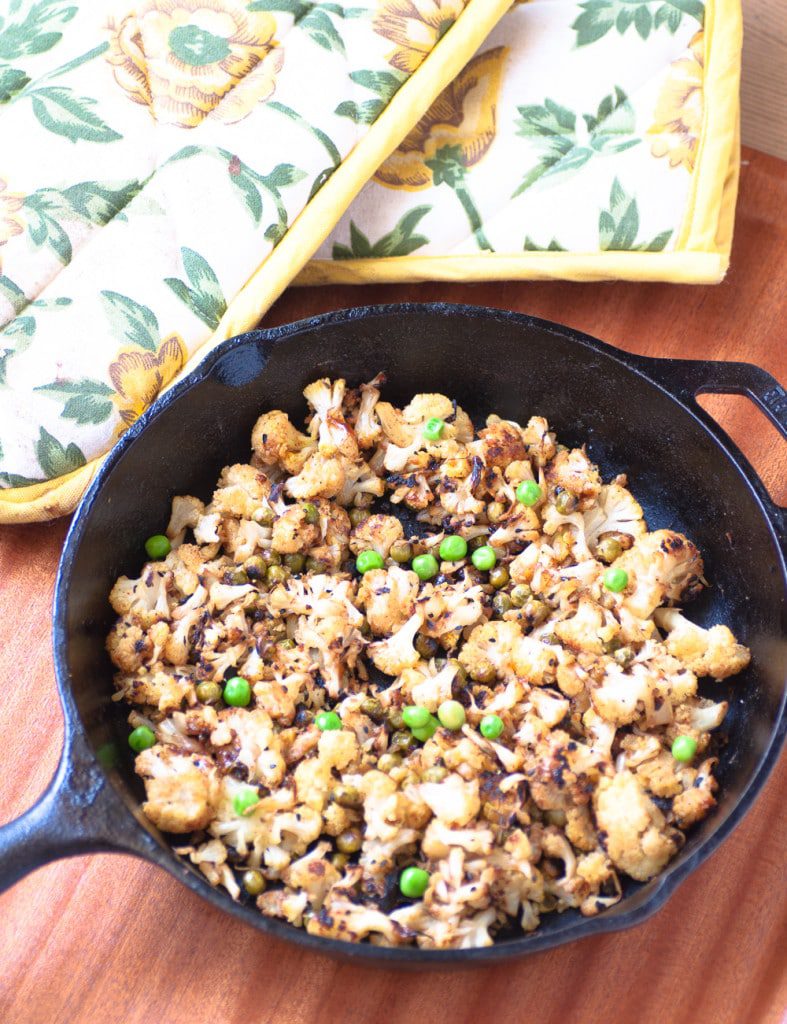 An easy cauliflower side dish with distinctive flavours of nigella seeds and curry powder which can easily double up as a delicious filling for a wrap.
Method
Mix in the curry powder, paprika and salt with the cauliflower florets and coat the florets in this dry rub. Reserve.
In a cast iron skillet, heat some olive oil. Add in the peppercorn and nigella seeds and temper them. Add in the cauliflower. Mix well to combine. Allow to take on some colour.
Add the peas, and cook on a low-medium heat for 10-15 minutes or until the florets are fork tender.
Serve hot as a side with a protein of your choice or use it as a delicious filling for wraps and sandwiches.
Notes
Nutritional information is a rough estimate of 1 part (of 2) of the dish without accompaniments.
If you don't own a cast iron skillet, the dish may be made using a very heavy bottomed steel skillet. The cook time will vary as per the make of the skillet.
Both fresh or frozen cauliflower and peas will do well in this recipe. If using frozen, just thaw them out.
If you do not findnigella seeds: use ¼tsp dried oregano & ¼tsp fried onion to get a similar flavour profile.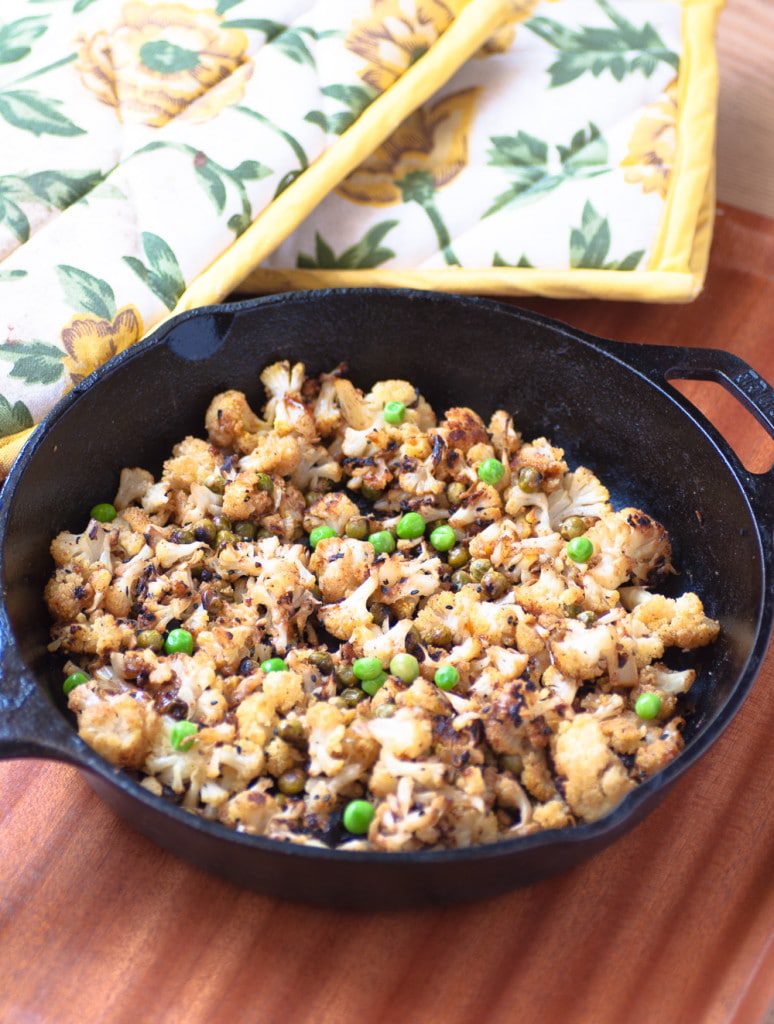 SHOW SOME LOVE TODAY:
Please let me know your thoughts on my stirfried cauliflower. Leave a comment below. Sharing this recipe with your friends on Facebook and on Pinterest makes everyone happy.
If you are looking for other vegan recipes, here's my Easy One-pot Muchroom Pilaf and Pineapple Chutney that you can make in no time.
And of course don't forget to download your free copy of my coconut cookbook .
Thank you for reading.
Lots of Love,
Shreyashi