It's a balmy summer evening and your beau is taking you out to dinner with his work buddies and their wives. It's late in the summer of 1986 so Tiffany is blasting on the radio and the 49ers game captivates him as he waits for you to get ready. You wonder: "What does one wear to a swanky hotel supper in the Napa Valley". Duh!! That apricot hued taffeta stunner with the peplum waist!!
From the all white lobby you walk down steps into a sunken dining room, chandeliers sparkle and polished silver gleams on white linen tabletops. You hide your gasp as the waiter pulls your chair out for you. It is the picture of elegance,The Royal Oak. How did you end up in this fairytale?
The waiter brings a bottle of wine over and smiles at you sweetly as he pours a splash to taste, you can't help but notice he is handsome. Another waiter takes your orders, he is VERY handsome, but then again, you have a thing for mustaches. The table is erupting with laughter, the waiters are telling a story about the old country, they are brothers, and apparently there are a couple more of them equally as fun. From the story you can tell that they were a rambunctious bunch of boys but golden hearted none the less.
First course arrives, tableside caesar salad. Your two waiters already feel like family, you know everything about them. Hilarious storytellers, caring and brilliant, and uncannily good at guessing which playing card you are hiding. King of Hearts. Most likely PERFECT in every way. They are hardworking engineering students; they live there in the valley, just moved from Lebanon. The VERY handsome one has a baby daughter that he can't wait to go home and see. You can't help but LOVE him.
That baby daughter… grew up to be me.
This is my daddy's tableside caesar salad.
It is one part delicious and one part performance. 100% Impressive.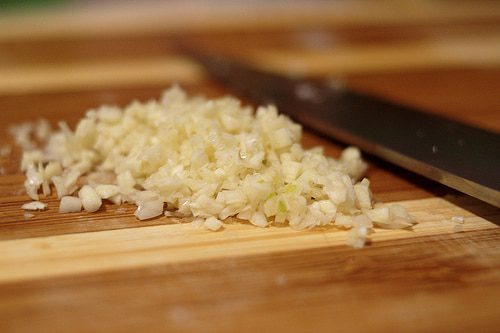 This recipe starts, as all good ones do, with cloves of fresh garlic.
Mash with them a mortar and pastel with a tiny pinch of salt until it forms a paste.
Add the smashed garlic and two teeny anchovy filets into a bowl and mash with a fork until combined.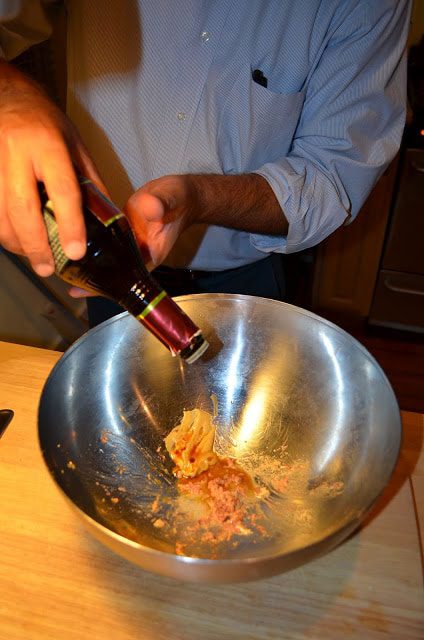 Next whisk in the mustard, red wine vinegar, Worcestershire sauce and freshly cracked black pepper.
While mixing, which my dad does with two forks, he simultaneously spins the bowl, for a little extra traction, or maybe just flair.
Break and egg over the mortar and separate the yolk.  Add the yolk to the almost dressing and keep mixing and bowl spinning.
Next the juice from half a lemon. No seeds. More fork whisking. More bowl spinning.
Lightly steam in Olive Oil while mixing with forks to emulsify.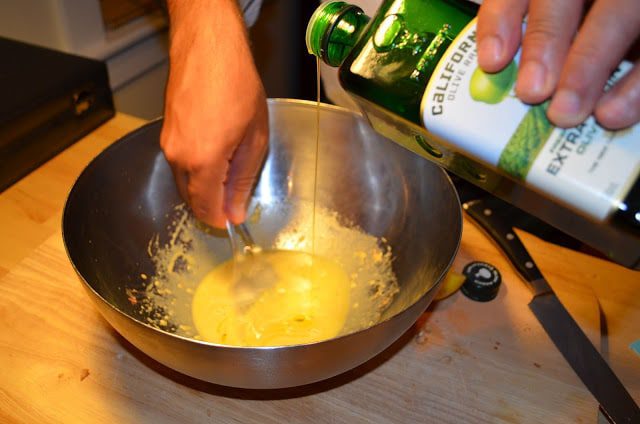 Taste. My favorite part.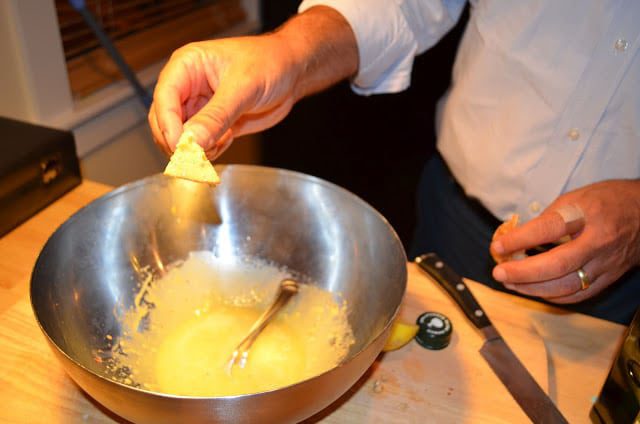 Two heads of freshly washed and torn romaine lettuce. We get to eat the crunchy white stumps, it's the best part.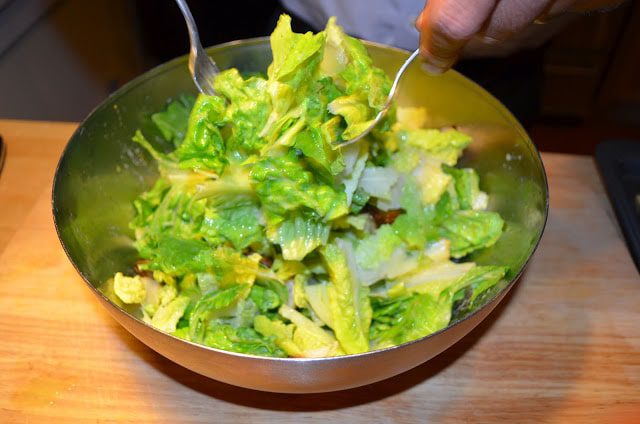 Toss in a few handfuls of croutons. Homemade of course, with day old bread tossed with olive oil, salt and pepper and toasted in the oven.
Plate and then serve topped with freshly grated parmesan cheese.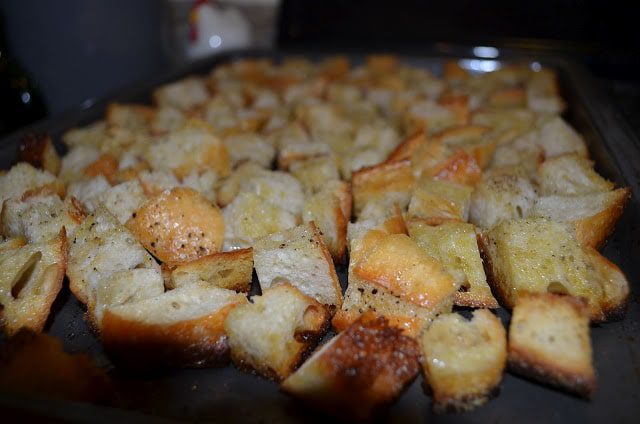 The Royal Oak still offers this salad, 26 years later, for $11.00; which after a taste you will understand is a bargain at twice the price.
My dad makes it from physical memory; the dressing is perfectly proportioned out by weight of the bottle of oil and the color of the mustard. These words and these pictures do not do justice to the magnificence of this crafted salad. You can pair it with anything or eat it alone, but no one will ever make it like he does.
Ingredients:
2 Heads Romaine Lettuce
2 Handfuls Croutons
3/4 Cup Fresh Grated Parmesan Cheese
For the Dressing:
2 Cloves Fresh Garlic
Pinch of Salt
2 Anchovy Fillets
1 Tb Dijon Mustard
1 Splash Red Wine Vinegar
1 Splash Worcestershire Sauce
8 or so Cracks of Black Pepper
1 Egg Yolk
Juice from 1/2 a Lemon
About 1/2 Cup Olive Oil