A short and simple post today, folks … nothing much. It's the weekend. 🙂
I have 3 friends currently on a soft diet, and thought this might be something you girls might like to try. 🙂 I made this for my daughter for her after-school snack a few days ago, and she loved it.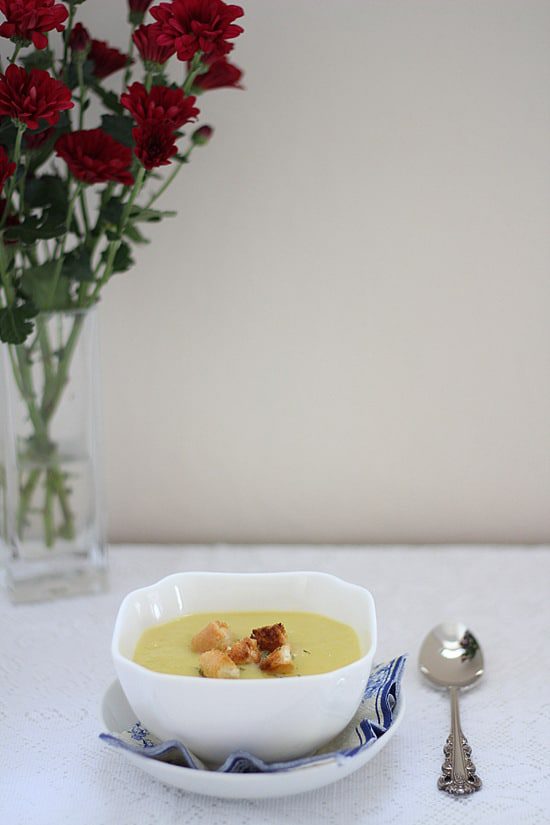 Recipe
(Serves 1 hungry, growing child)
– 2 sticks celery, cut into small chunks
– 1 small yellow onion, diced
– 1 floury potato, cut into small chunks
– 1 cup water
– 1/2 to 1 cup stock
– Knob of butter
– Croutons (optional)
– About 1 tbsp grated parmesan cheese (optional)
– Parsley (optional)
1. In a saucepan, heat up a knob of butter. Fry onions until they begin to sweat. Add in celery and potato and cook for 2-3 minutes.
2a. Pour in water and allow to simmer over a low-medium flame until the vegetables have cooked through and softened. The water would have been reduced considerably. Use a hand held-blender to mash everything into a smooth puree.
2b. If you do not have a hand-held blender, use a food processor (turn off the fire when you do this, obviously). Be careful, as the lids of some food processors can get blown off by the hot steam! After you get a smooth puree, return it to the saucepan, on a low flame.
3. Add stock according to how thick or thinned out you want your soup to be. I added slightly less than 1 cup.
4. Add 1 tbsp grated parmesan cheese. This imparts a nice salty flavour. 🙂 I did not need to add salt at all.
5. Top with croutons, or plain toasted bread. Sprinkle parsley before serving.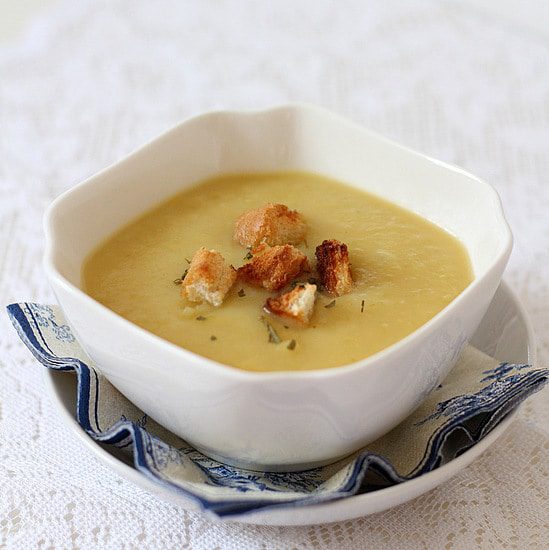 Happy weekend, everyone!