One of the media's most beloved health regimes is the Mediterranean-style diet. I've seen endless articles claiming that the mediterranean diet reduces heart disease, fights dementia, makes you live longer, cures depression and is even better than exercise. To be fair, these bold statements are usually (loosely) backed up with research demonstrating physical and mental health improvements after a dietary change.
The Mediterranean diet is based on traditional Greek, Spanish and Italian eating habits, lots of vegetables, beans, legumes, healthy fats (namely olive oil) and moderate amounts of fish, chicken and wine (wahey! I've now started using this as an excuse to drink more wine – beware, it's a dangerous game, especially when you realise that the Mediterranean diet recommends 7 glasses per week and you are just pouring your 7th of the night…). Nutritional researchers have spent years trying to pinpoint the exact component fostering these health benefits. Is it the oleic acid in the olive oil, antioxidants in red wine, omega 3 in the fish?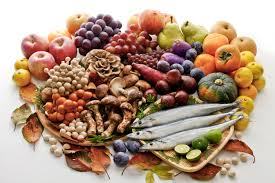 While this diet is obviously proven to be beneficial, I can't help feeling like the media has missed the point (as per). It's not like consuming more olive oil or drinking an extra glass of wine is going to suddenly cure your heart problems and make you lose a bunch of weight. Any diet that includes a wide variety of unprocessed foods, mostly fruit and vegetables, healthy fats and small amounts of lean protein is going to yield a range of health benefits…because that's what humans are designed to eat.
The Mediterranean diet is merely an example of what we already know is the way we should be eating – as Michael Pollan puts it "Eat food. Not too much. Mostly plants". There are many diets which embrace these practices, be it a vegan diet or Okinawans eating an Asian diet. One study compared multiple diets including low carb, low-fat, Mediterranean, vegetarian, vegan, low glycemic, and Paleo. They found no one overall healthier diet but shared principles that stood out as the healthiest – limited in processed foods and rich in plants.
So why are we repeatedly told that it's the Mediterranean diet that we should be following for a longer happier life? I think what people are missing that it isn't just about what you eat, but about how you eat.
The diet represents a cultural attitude to eating that fosters pleasure. The Mediterranean lifestyle involves a more leisurely pace of life for more time to cook the fresh produce, to eat slower and (therefore less), and used meal times as a way to relax and bond with family. This couldn't be more different from the current American and UK eating habits, where food is designed to be purchased and consumed as quickly as possible, to take the least time out of our busy schedules – we often don't even sit down and stop moving to eat, never mind 2 hour lunches every day. Perhaps what makes the Mediterranean diet so special is that it creates a sense of positivity surrounding meal times, essentially following the ethos of mindfulness where you focus on nothing but the food. They've already shown that attending to your food in a positive way improves digestion and, importantly, mends our broken relationships with food. So instead of changing your diet by consuming volumes of olive oil or increasing your feta intake, embrace the Mediterranean attitude to food. Make meals the part of the day where you relax, spend time with family and eat slowly…not only will this benefit your health but you'll enjoy your food a helluva lot more.
Here is my go to meal when I want to impress, and it's Mediterranean inspired!
Pasta with a prawn, olive, tomato and basil: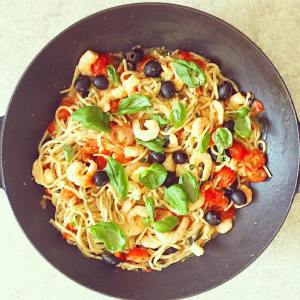 Ingredients
1/2 packet whole-wheat spaghetti (Could substitute with courgetti for gluten-free)
1 jar olives
1 punnet cherry tomatoes
2 handfuls fresh basil
1 packet uncooked prawns
2 anchovies from tin (or use anchovy paste)
splash olive oil
1. First boil the pasta in slightly salted water for 10-15 mins or until cooked to your liking.
2. Meanwhile chop tomatoes and olives in half.
3. Cook the tomatoes, 2 anchovies and olives in a pan with a splash of olive oil for 5 mins.
4. Add basil (put a few leaves aside for garnish) and prawns and cook for a further 3-4 mins. Season with salt and pepper.
5. Once the pasta is cooked, mix in the sauce and top with fresh basil leaves to serve.