I think I've discovered heaven.I got the idea when buying my dried fruit in Maastricht just before Christmas in order to make my Christmas cake and fruit mince pies.  There was this stall on the edge of the main square selling the most amazing array of dried fruits imaginable.  And among the selection were these incredibly sumptuous and flavorsome semi-dried strawberries. The lady let me sample one, and from that moment on I knew I was in love.
I have been a huge fan of Jo Seagar's fudge recipe for a long time (found in her cookbook "The Cook School Recipes" and unfortunately only available in New Zealand as far as I can tell).  The magic ingredient that makes her fudge so divinely smooth is liquid glucose.  In New Zealand, liquid glucose is available at any good pharmacy.  In the Netherlands, you can find it at various specialty stores.  Here in Lelystad, the local chocolatier sells it in a big plastic tub.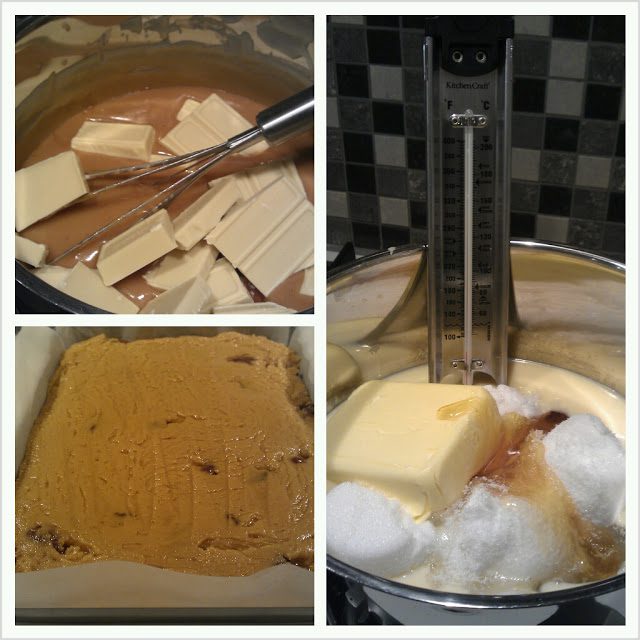 Jo Seagar suggests various flavor combinations to use with the fudge base, including "ginger & walnut" or "apricots, macadamia & Grand Mariner.  For me personally, none of these combinations inspired me very much (I'm not a fan of crystallized ginger, and dried apricots just seemed too 'meh').  But when I saw the semi-dried strawberries in Maastricht, I knew I had found a combination that would be to die for.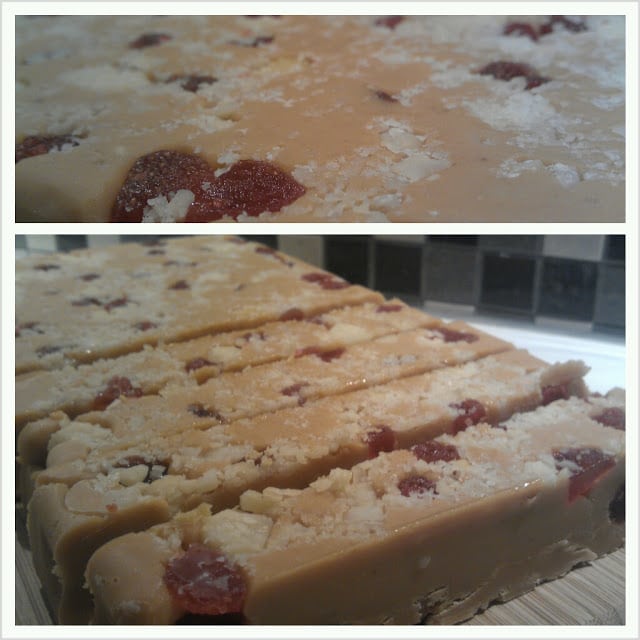 Any fudge recipe will tell you that it's important that you keep stirring the mixture and scraping the bottom of the bowl so that it doesn't catch and burn.  Now I'm a very impatient cook, and I'm not prepared to spend forever waiting for the fudge to boil.  And yes, every time that I cook this fudge, I get little bits of brown stuff forming meaning that it's catching slightly on the bottom of the pot.  However, I've found that if you keep stirring, the bits seem to disappear and the finished product contains no brown bits at all.  So my word of advice – don't panic if you start seeing little brown flecks in your mixture while you stir and wait for it to boil!  In saying that, you do need to be a little bit careful – obviously if the heat is too high, then it really will catch and burn on the bottom.
This fudge makes such a wonderful home-made gift, and not only for Valentine's Day.  Just wrap the pieces up in some clear cellophane, tie a ribbon around it and voila! – a handmade gift that's cheap and delicious.
Strawberry, Macadamia & White Chocolate Fudge
2013-04-18 04:28:43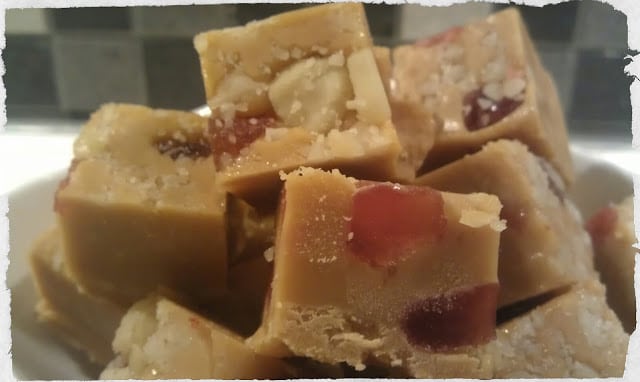 Ingredients
2x 400g tins of condensed milk (gecondeseerde melk)
3 tbsp golden syrup (now sold at Jumbo!!)
100ml liquid glucose syrup
2 cups white sugar (kristalsuiker)
250g butter
400g white chocolate
1 tspn vanilla essence
1/2 cup semi-dried strawberries
1/2 cup macadamia nuts
Instructions
Line a deep baking tray, brownie tin or square/rectangle cake tin with baking paper, ensuring that some of the paper overlaps the edge so that you can use it as a handle to pull out the finished fudge.
In a food processor, gently process the macadamia nuts. You want a few bigger pieces left, while the rest becomes soft and flaky.
Using kitchen scissors, cut up most of the strawberries into smaller pieces, leaving a handful aside.
Layer the bottom of your tin with the strawberries and macadamia, using a mixture of the smaller flakes and the bigger pieces (see picture).
Put the rest of the ingredients into a pot, and stir over a medium heat until the sugars dissolve and the butter melts.
While continuously stirring the mixture to stop/minimize the bottom from catching, you want to bring the mixture to the "soft ball" stage. (i.e. approximately 116 degrees Celsius) You can either do this by using a temperature gauge as pictured, or else once the mixture starts to boil rapidly and thickens, spoon a tiny amount into a glass of iced water. If the drop of fudge turns into a rough ball of firm fudge, then the mixture is ready. If it's still liquid and falls through your fingers, then you haven't yet reached soft-ball stage (i.e. 116 degrees Celsius).
Once the mixture reaches soft-ball stage, remove from the heat and wait for the bubbles to subside. Add the remaining strawberries and pour the mixture into the lined tin. Use a spatula to smooth the mixture and leave to cool for about 3 hours. Then transfer to the fridge.
Once fully cooled, cut the fudge into pieces.
Eet Smakelijk!!!
Monique xx