Summer is waning to an end. The days of cook outs and pool parties are slowly coming to a close. College kids are getting ready for school, teachers are lesson planning like cra cra, school supplies, boots, and sweaters are flying off the shelves, and pumpkin spice lattes are coming back to Starbucks… This year, I was so pregnant most of the summer, I don't really fell like I really enjoyed it.  So, rather than jumping into fall headfirst (my usual game plan in August), I'm really trying to savor these last few days of summer.
And, this weekend, these burgers were definitely appropriate.  Lean, but packed with cilantro, Sriracha, and garlic, these tasty burgers are the perfect way to celebrate the end of my favorite season. Even though they are turkey burgers, they have enough flavor to woo Jason, my dad, and my little brothers.  Score! I like mine over a crisp salad with a spicy dressing. (Spicy Ranch or Spicy Peanut Dressing from Trader Joe's are my two go-to bottles.)  The guys really love them with mango salsa. Go for it!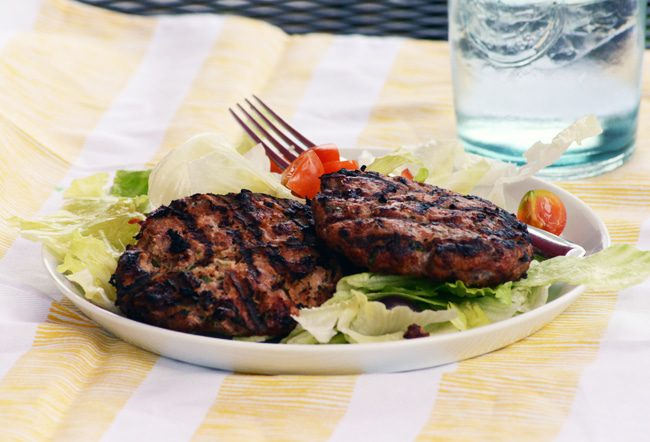 Thai Turkey Burger Salad
Click here for a printable recipe!
Ingredients:
1 pound ground turkey
1/4 cup cilantro, finely chopped
2 cloves garlic, minced
1 small onion, chopped
2 tablespoons Sriracha
1 tablespoon fish sauce
1 teaspoon sea salt
1 head iceberg lettuce
10-12 grape tomatoes, halved
10 kalamata olives, pitted
Spicy dressing of your choice
Prep Time: 10 minutes
Cook Time: 20 minutes
Yields: 4 Hamburgers
Method:
1.  Place ground turkey in bowl and add cilantro, garlic, onion, Sriracha, and sea salt.  Mix with your hands until well blended.  Form meat into four patties.
2. In a greased pan, cook patties thoroughly.  About ten minutes on each side.
3.  Assemble your salad and place burgers on top. Drizzle the whole thing with dressing of your choice and enjoy.
Note: These freeze well.  Cook thoroughly and freeze in a plastic bag with parchment paper layered between the patties.