Its hot.  Like 96 degrees and humid hot.  This morning I stepped out of my car and was met my stuffy air.  Don't you hate stuffy air?

It does nothing good for these locks I spend hours on to make pretty.  Its rude for humidity to find humor in making my hard work go flat.  Literally.

What do you do when it is hot out?  I love my pool time, margarita, or sweet tea- whichever you prefer.  I'm from the South- so both are acceptable when it is 110 degrees.
One of my most favorite things is laying by the lake with a huge wedge of watermelon in hand, juices running down my chin and both arms with each bite.. and I could literally careless due to the fact that the lake is 5 feet from my toes, and this melon juice is nothing a quick dip couldn't take care of.
First signs of summer came with the arrival of  large bins stocked full of watermelon in my grocery store.  I strategically- well, probably with less grace than a normal person would, weighed out each melon in order to choose the heaviest, then tap*, tap*, tap* to check out the sound- a hollow thump is what I'm looking for
I came home with a seemingly perfect watermelon.  I couldn't wait to cut into it!  Four large containers- and one full belly (cut a few cubes, taste, cubes, and taste again..) I had watermelon overload taking up the majority of my space in the fridge.  What was I going to do with all this watermelon!!??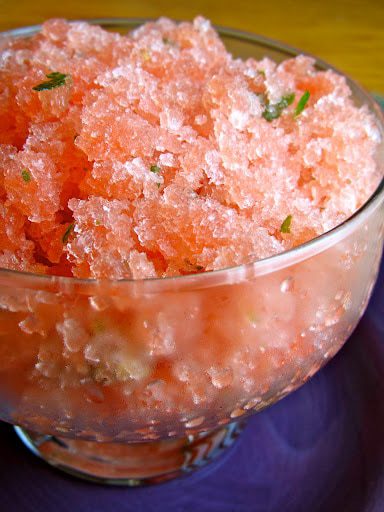 I have watched Giada make granita over and over- both boozed and non-boozed.  It always looked so yummy, but with too much effort.  You think?  I Saturday morning I watched her make a Strawberry Granita with some sort of citrus liquor mixed in.  I'm thinking Watermelon Granita?  Sounds right up my alley- and gives me a GREAT reason to use up some of this summer fruit.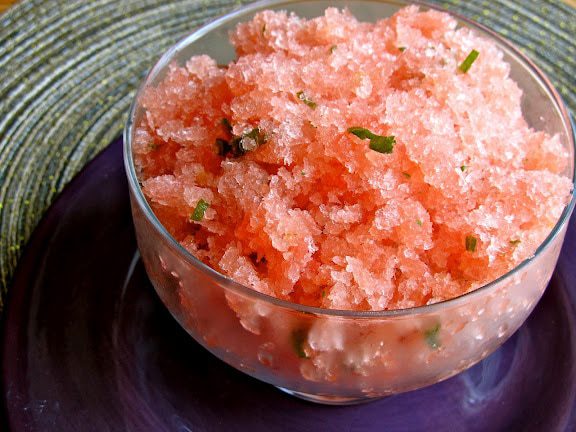 While I only thought I was the genius that came up with this.. Cooking Light helped me out a tad with measuring with their recipe I adapted this one from.
This was delicious- and so refreshing.  Something I will forsure be repeating for the coming steamy days of summer.  When I say steamy- thats no joke.. it is halfway to miserable on occasion here in Texas.  BUT- I think I've found a contender in the attempt to beat the heat!
Watermelon Granita with Basil & Lime
Yield: 6 servings
Serving Size: 1/2 cup
Ingredients
1/2 cup sugar
1/2 cup water
4 cups cubed seedless watermelon
1/2 cup fresh lime juice (about 5 limes)
1/4 cup chopped basil (about 8 leaves)
Lime wedges (optional)
Instructions
Place sugar and 1/2 cup water in a small saucepan over medium-high heat; bring to a boil. Reduce heat, and simmer 3 minutes. Remove from heat. Place sugar mixture in a small bowl; cool 10 minutes. Cover and chill at least 30 minutes.
Place sugar mixture, watermelon, and juice in a blender; process until smooth. Pour watermelon mixture into an 11 x 7-inch plastic dish; add in chopped basil. Cover and freeze 3 hours. Stir well. Cover and freeze at least 2 hours or overnight. Remove mixture from freezer, and let stand at room temperature for 10 minutes. Scrape the entire mixture with a fork until fluffy. Serve with lime wedges, if desired.
Nutritional Information:
Calories: 100; Fat: 0.2 g; Carbohydrate: 26 g; Fiber: 0.5 g; Protein: 0.7 g; Sodium: 0.2 mg