Whether you are or aren't a fan of tofu, I want you to give this recipe a try. This warm tofu salad (Well, it's not quite a typical salad, and we usually make it as snack) has a zingy, robust flavor. Plainly, it's a deep-fried tofu in a bed of lettuce with a tangy, sweet dressing. It's my kind of tofu salad.
To get your tofu super crispy, it should be cooked quickly in a smoking hot oil. The dressing takes less than a couple of minutes to make. It's the combination of sweet and sour flavor with a pungent kick of soy sauce. And what I really love about this dish was an addition of the mellow deep-fried garlic. It just whips up all flavors together and adds the wonderful aroma to the dish.
Warm Tofu Salad

Ingredients: (2 servings)

250 gm firm tofu- cubed into bite size

4 cloves garlic- roughly minced

2 tbsp sugar

1/2 tbsp soy sauce

1 tsp salt or to taste

2 tbsp vinegar

1 fresh chili- chopped

Oil for deep frying

Few celery leaves- chopped

1/2 onion- sliced

Sliced lettuce- as required

Preparation

Heat oil in a large wok or pan until high heat. When the oil is hot, add tofu and fry until golden brown. This should take less than a minute to get the tofu crispy on the outside and cook through on the inside. When the tofu is done, remove from the oil and keep aside.
For the dressing, bring sugar, vinegar and salt to boil. Stir until all sugar is dissolved and turn off the heat. Add green chili and check the seasoning.
For crispy garlic, fry minced garlic in 1 tbsp oil on a fairly low heat until golden brown. Remove from the heat and keep aside.
To assemble the salad, add lettuce and onion on the bottom of your serving dish, follow by deep-fried tofu, celery leaves and deep-fried garlic. Add the dressing while it is still hot and serve.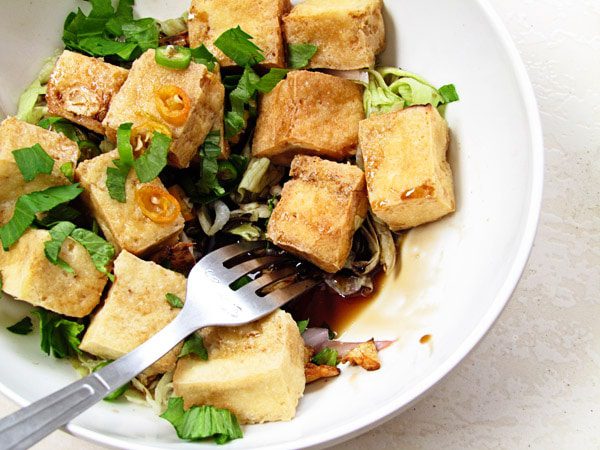 I love the crisp and crunch of the deep fried tofu. There is everything in one bite— sweet, sour, salty, and freshness of garlic and celery leaves. Like I said, it's not really a traditional way of salad, but it is one healthy dish that you may serve as snack or appetizer.