Here I am on my lavender kick again. Seriously, it came to me in the middle of the night. God knows why, I was unconsciously trying to think of a dessert to bring to Christmas dinner, and it was one of those aha! moments that I have every now and then. I was thinking about lavender for some reason, probably because I had just ordered the local lavender products for the store that day which include lavender shortbread cookie and lavender brownie mixes. I thought the lavender cookie mix would be a great gift for someone, and what else you could use it for besides making cookies. The package suggests it as a topping for a fruit cobbler. And then I thought, why make my own lavender PIE CRUST?! And veganize it. GENIUS. I was so excited it took me a while to fall asleep after that. I began to think of possible filling combinations and a mixed berry one sounded best to start off with. Not very winter or fall-like, but I couldn't think of any good fall fruits that would pair well with lavender. Since fresh berries are terribly expensive right now because it's not the season, I figured Trader Joe's would come to the rescue with their $3 bags of mixed frozen berries–blueberries, raspberries, cherries, strawberries, and blackberries. Perfect.
After finding the perfect basic flaky pie crust recipe in The Garden of Vegan and doing some online research on what else you put into a pie filling, I was ready. I never really make pies so this was an adventure. A little of this and a little of that, and here is what I came up with… it turned out INCREDIBLE. Five stars, in my opinion (and those that tried it). The lavender isn't too overpowering, and is a nice compliment to the berries and vice-versa. And the lemon zest is perfect. It is really more of a summer pie, but who really cares. We need those antioxidants in the winter too! I'm so stoked on this. And that it's mostly a recipe I made up. One more to add to that book! Yes!!!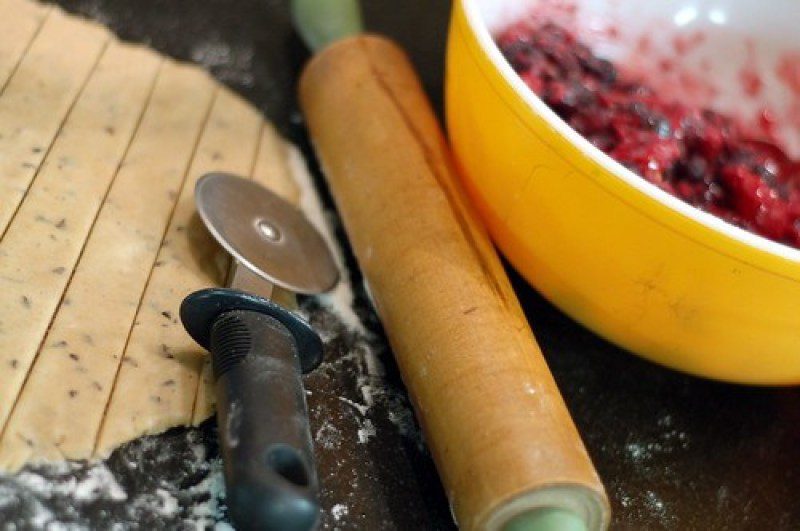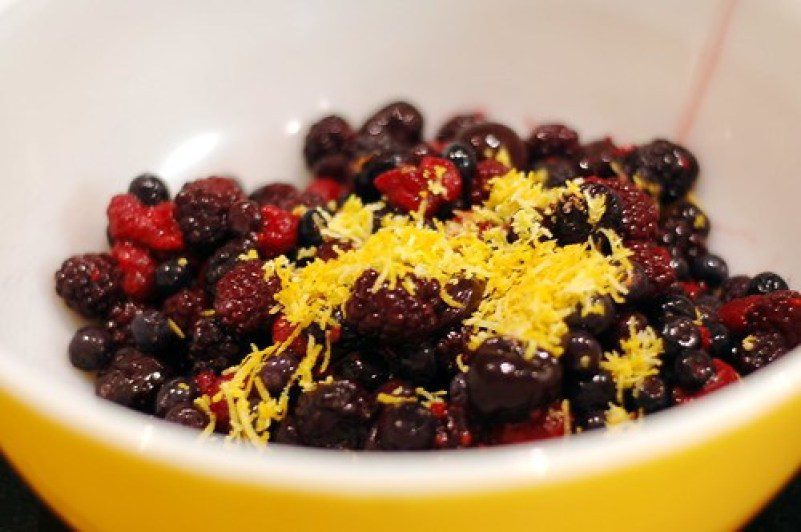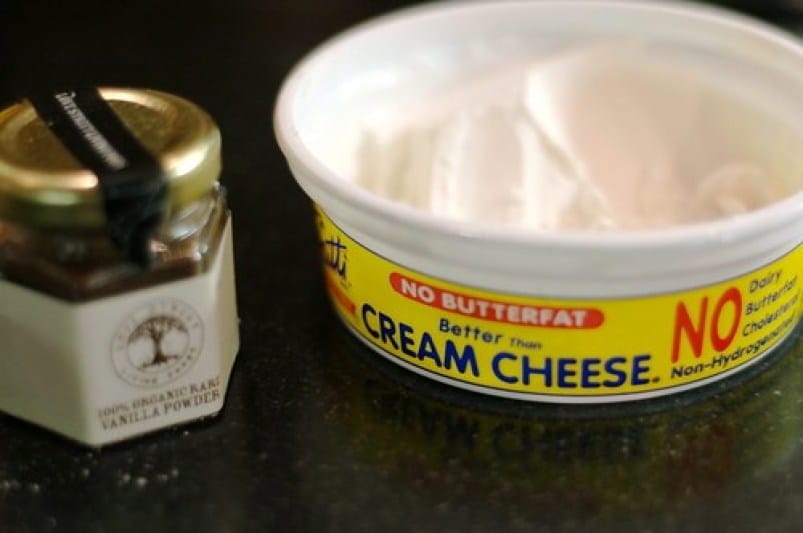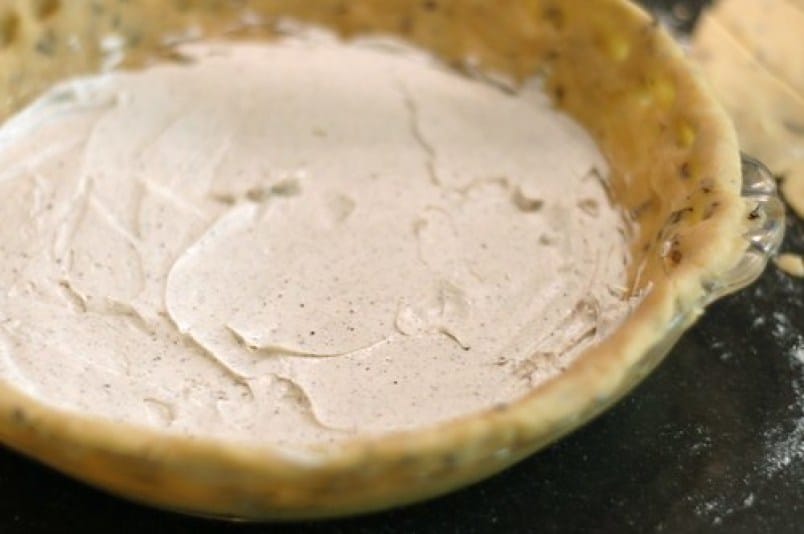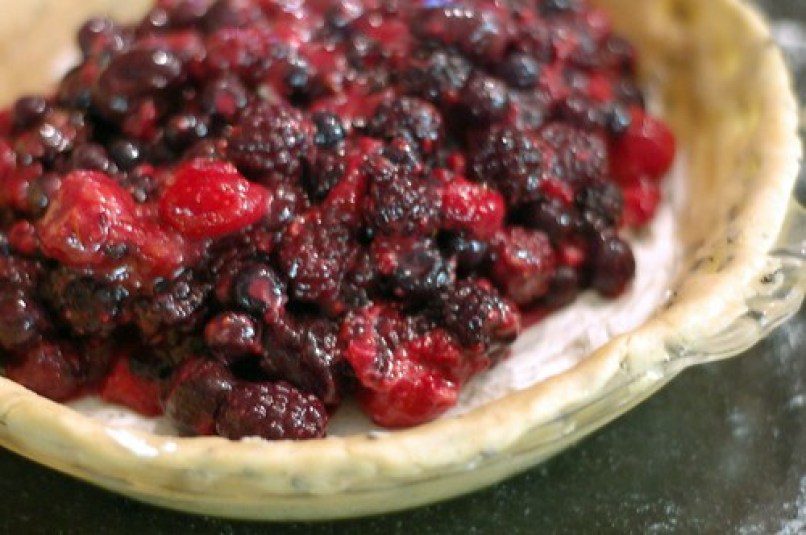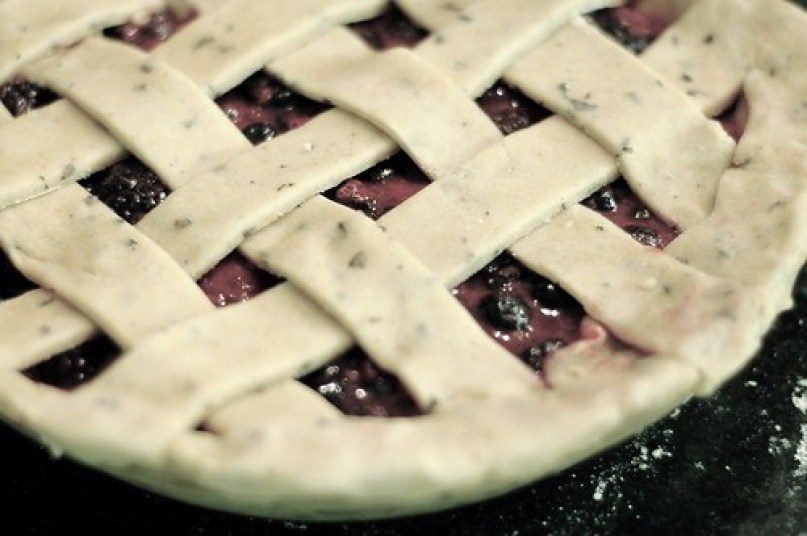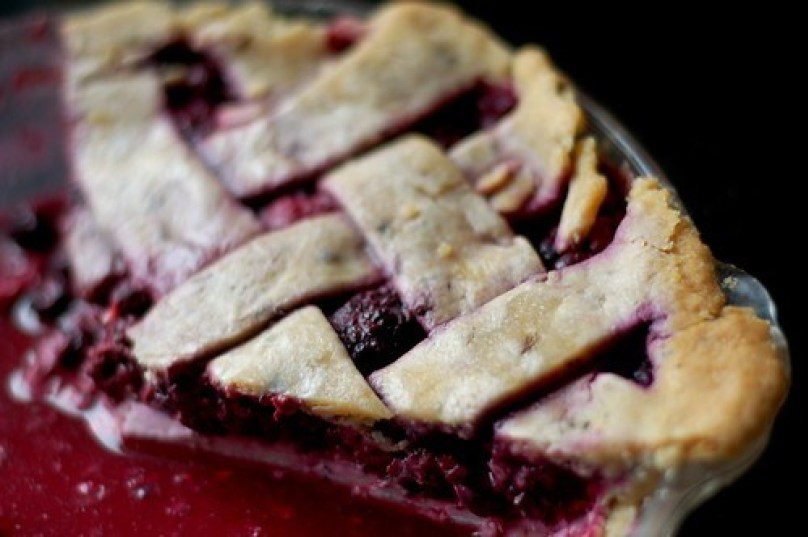 Vegan Lavender Berry Cream Pie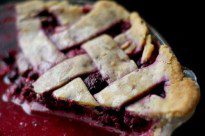 Recipe type: Dessert, Pie, Pastry, Vegan
Serves: 8 servings
Ingredients
For the Basic Flaky Pie Crust: (adapted from The Garden of Vegan):
2½ cups flour (I used half white and half whole wheat pastry)
⅓ cup dried lavender buds
½ tsp salt
1 cup Earth Balance margarine
6 Tbsp ice cold water
For the Berry Cream filling:
6 oz. non-hydrogenated Tofutti cream cheese
1 tsp vanilla bean
two 16 oz. bags defrosted mixed frozen berries (ie. blueberries, blackberries, raspberries, etc)
½ cup lavender sugar (or just add a few tablespoons of dried lavender to regular white sugar)
¼ cup flour
⅛ teaspoon salt
3 teaspoons grated lemon zest
3 Tablespoons lemon juice
Instructions
In a large bowl, stir together the flour, lavender, and salt.
Cut the margarine into the flour mixture and when well mixed, add the water.
Mix together until a dough forms. Knead for a minute or two.
Divide the dough equally in half. Wrap the dough in plastic wrap and chill for at least 30 minutes or overnight. Roll one part of the dough out with a little flour to prevent sticking.
Place into a glass pie dish.
Preheat oven to 400 degrees F.
Soften the Tofutti cream cheese by placing it into the microwave for about 20 seconds, or let it sit out while you mix the berry filling. Mash the cream cheese with the vanilla bean and equally spread it over the bottom part of the pie crust.
Rinse the defrosted mixed berries with a little water, draining out the extra juice.
Combine the berries, sugar, flour, salt, lemon zest, and lemon juice in a large mixing bowl.
Add berry mixture to pie shell.
Roll out the second part of dough for your top crust.
Add the top crust. I chose to do a lattice top for the crust, which seems more complicated than it is. I learned how to make it here. So pretty! You can do practically anything though. Using a cookie cutter, you can also make cute designs in the crust.
Bake on a cookie sheet for 20 minutes.
Cover pie with foil and bake for an addition 25 minutes. The crust should be lightly browned and the juices should bubble.
Once cooled, serve with some vanilla bean soy ice cream for the best dessert EVER!