Even though I'm Italian, my abhorrence of coffee often steers me away from tiramisu.  And, like many other things in our lives, if I don't like it, John loves it.  To be honest, these differences of opinions practically always work out well for me.  Only John could convince me to try this dish so often that finally…hey, wouldn't you know?  I actually like it!
Which is why for his birthday, I didn't want to cut corners and make my quickie, down and dirty, tiramisu.  Nope, I wanted this to be a whole upscale event.  Carefully, I made the Lady Fingers.  Then, carefully, I made the custard.  Carefully, I put it all together and hoping it would be great, held my breath until dessert.
As we were spending Christmas Day with my family, we took the train rather than fight the traffic.  In a refrigerated bag, the prized tiramisu sat on my lap and I held it so tight my fingers turned white!  I was not letting anything happen to this hours-long dessert, the one thing I could give John that he actually wanted (and in my budget) – a birthday cake that he would love!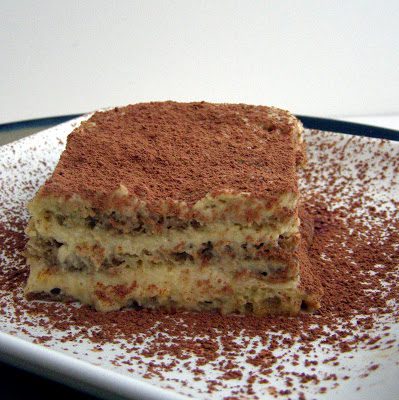 Tiramisu (adapted from Joy of Baking)
Serves: 10 (9x5x3 inch loaf pan)
Cream Filling
2 cups whole milk, divided
3/4 cups sugar, divided
1/4 cup flour
6 large egg yolks
1/4 cup rum
2 teaspoons amaretto
1/4  cup butter, cut into small pieces
8 ounces mascarpone cheese
Lady Fingers
48 lady fingers
1 1/2 cups coffee
1/3 cup sugar
1/4 cup rum
Prepare:  Line a 9x5x3 inch loaf pan with plastic wrap.  Make sure this wrap extends up and over the sides of the loaf pan.  Set aside.
Cream Filling:  Put 1 3/4 cups milk and 1/2 cup sugar in a large saucepan.  Place over medium heat and bring this mixture to a boil, stirring occasionally.  Meanwhile, in a small bowl, whisk together the remaining milk, remaining sugar, flour, and egg yolks.
When the mixture comes to a boil, temper the egg yolk mixture by spooning in hot milk constantly whisking until all the milk has been added.  Add this back to the saucepan and cook over medium-low heat, stirring constantly, until it boils.  Let it boil for 1-2 minutes, while continuing to stir constantly.  Remove from heat and strain.  Whisk in rum, amaretto, and butter until fully incorporated.
Immediately cover the surface with plastic wrap and refrigerate until thick and cold (at least 2 hours, preferably overnight).  Beat the mascarpone cheese until it is soft and smooth.  Whisk this into the cold custard, until smooth.  Set aside.
Lady Fingers:  Have the lady fingers, cream filling, and prepared pan ready.
In a shallow bowl (I like to use a 9×9 baking pan), combine coffee, sugar, and rum.  Working with lady fingers one at a time, dip each into the coffee mixture.  Place them side by side in a single layer on the bottom of the loaf pan, until it is completely covered in  one single layer.
Spoon one-third of the cream filling over the lady fingers, covering completely.  Repeat with another layer of lady fingers (dipping each into the coffee mixture than laying on top of the cream filling).  After a single layer has been done, again, cover the lady fingers with one-third of the cream mixture.
Repeat one more time – dip lady fingers into the coffee mixture, lay on top of the cream filling, and top with all the remaining cream mixture.  Cover the dessert with plastic wrap and refrigerate at least 6 hours, preferably overnight.
To serve, using the plastic wrap on the sides as handles, flip the Tiramisu out of the loaf pan and onto the serving plate.  Sift cocoa powder over the top if desired, serve immediately.
This keeps in the fridge 3-5 days, and it kept in our freezer (for a frozen tasty treat) for 2 weeks (and was great to have when we got back from vacation!).  Or thaw it overnight in the fridge before serving.
Until the next time my oven is on….