Noodle is my comfort food. There are so many ways to whip it up. It doesn't need a lot of time to cook, and it can go with anything. From a simple stir fry to a bowl of steamy noodle in hot broth, every kind of noodle dishes is so comforting, and I love them all.
I don't like to cook anything complicated on the normal days. Tofu and Noodle with Sticky Plum Sauce is that kind of food I make at home on regular basis. It's simple, easy and take less than 15 minutes to cook. I use some plum sauce for the dressing. It's sticky, sweet and full of flavor.
Tofu and Noodle with Sticky Plum Sauce

Ingredients:

200 gm Tofu- cut into bite size cubes

100 gm uncooked rice noodle

2 tbsp plum sauce

2 tsp fish sauce

1 tsp lime juice

1 tsp chili flakes or chili powder

A handful mint leaves

Salad greens to serve on the side

Oil for deep frying

Preparation:

1.  Heat oil in the deep bottom pan. When the oil is hot, deep fry tofu until golden brown and keep aside.

2.  In a pot of water, cook rice noodle until cooked and soft.

3.  To assemble the dish, mix deep fried tofu and noodle in a bowl, add plum sauce, fish sauce, lime juice and chili power. Mix well and serve with salad green and fresh mint leaves.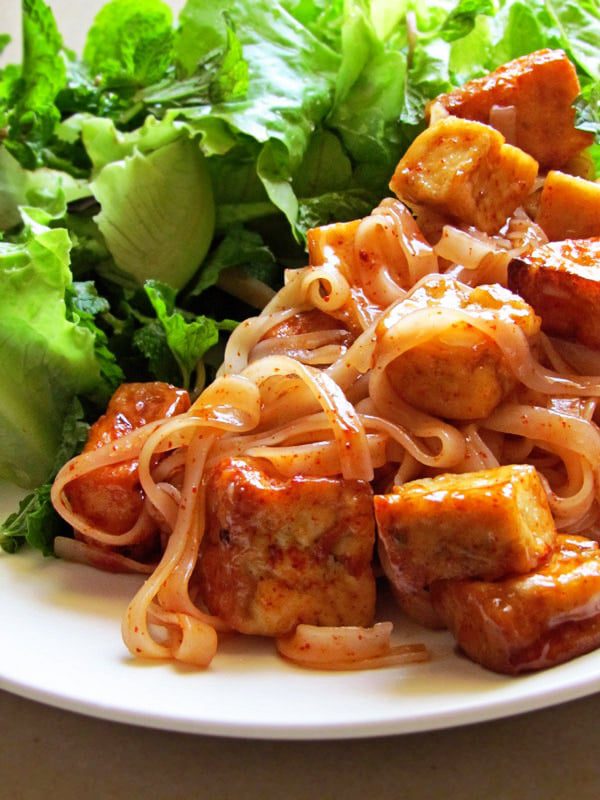 I love how simple ingredients can come together and make magic. Every bite is so good. Okay, I'll give you a tip, try having everything in one bite… salad, noodle, mints and that sticky deliciousness. It's super delicious.
Love,
Tes