After a month of silence, it feels great to finally have something nummy to share with you all today. This past month has been so busy I've hardly cooked or baked anything at all! I can't tell you how wonderful it felt to stand over the stove and give this chili a stir. It was good for my soul.
I made this chili last year, using a vegetarian three-bean chili recipe as a guide. The result was outstanding, and I can't believe I haven't blogged about it until now! If you want to make it vegetarian, check out the original recipe which uses cubed butternut squash and veggie stock. Based off of the outstanding reviews, I'm sure it would be equally as delicious!!
I chose to top the chili with shredded jack cheese, sliced green onions, and chopped cilantro. I think some avocado would be divine. Can you tell I'm a girl who loves her garnishes?? 🙂
I will be submitting this recipe toSouper Sundays at Kahakai Kitchen. There's always a great line up of soups, salads, and sandwiches every Sunday, so check it out!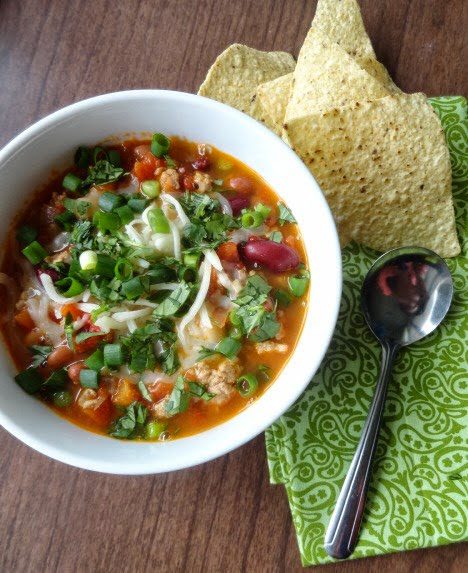 Three-Bean Turkey Chili
Ingredients
2 red bell peppers
3 tablespoons extra virgin olive oil
1 cup chopped onion
1 pound ground turkey (dark meat if you can find it!)
2 teaspoons ground cumin
1 teaspoon crushed red pepper
1 teaspoon paprika
1/4 teaspoon salt
4 garlic cloves, minced
2 cups chicken broth
1 28-ounce can diced tomatoes, undrained (no salt added)
1 15-ounce can pinto beans, drained and rinsed
1 15-ounce can great northern or cannellini beans, drained and rinsed
1 15-ounce can red kidney beans, rinsed and drained
Garnishes (optional…I guess): sliced green onion, chopped cilantro, shredded jack cheese, avocado, whatever you like!
Directions
Preheat broiler. Cut bell peppers in half lengthwise. Remove and discard seeds and
membranes. Place pepper halves, skin sides up, on a foil-lined baking
sheet. Broil 15 minutes or until blackened. Place pepper halves in a
zip-top plastic bag, and seal. Let stand 15 minutes. Peel and chop peppers.
Heat a Dutch oven over medium heat. Add oil to pan, and swirl to
coat. Add onion and turkey, and cook until meat is browned. Stir in cumin
and next 4 ingredients (through garlic). Cook 2 minutes, stirring
frequently. Add bell peppers, broth, and tomatoes, and bring to a
simmer. Cook 20 minutes, covered, stirring occasionally. Add beans, simmer 25
minutes or until slightly thick, stirring occasionally. If you want a thicker chili, leave the lid off after you add the beans. I like it a little more soupy, so I just took the lid off for the last 15 minutes or so. Totally up to you!
When ready to serve, top with your favorite garnishes and serve with tortilla chips!