You know that friend you have that is bad with directions… the one that is late everywhere she goes because she inevitably finds herself lost. The one who you have to slyly convenience to ride with you, she's never heard of google maps, and even Siri gives up after the fifth re-route. That one that calls on her way to your house and ropes you into staying on the line while she makes the turns and waits for the lights to turn green, oh there's construction, uuggghhh!
Don't give her this recipe, just don't.
I have gotten one too many panicked phone calls from friends I have shared this recipe with, wanting me to stay on the phone with them while they go through this recipe step by step. This isn't a vegetable crisis hotline. Seriously, just order in.  I've got Grandma's and cousins to call and a sale shoe rack to riffle through here at Marshall's and I need both hands,  I can't stay on the phone with you!!
This post is purely selfish, if you're that friend (you know who you are!) and you call me and ask me to walk you through this recipe AGAIN. You're getting texted a link to this, just get ready for it. Add it to your favorites. Whatever.
This is a show stopper of a side dish. So much so, my friends, that 90% of the dinner party invites I get come with a request for "Those SuperFancy Brusels Sprouts". Learn about it – and you will be ever so popular. It's that kind of vegetable dish that boys love and converts people who swear they've never met a Brussels sprout they could stand.
I mean… it's an adorable tiny cabbage, how could anyone hate it!!
Mon Petite Chu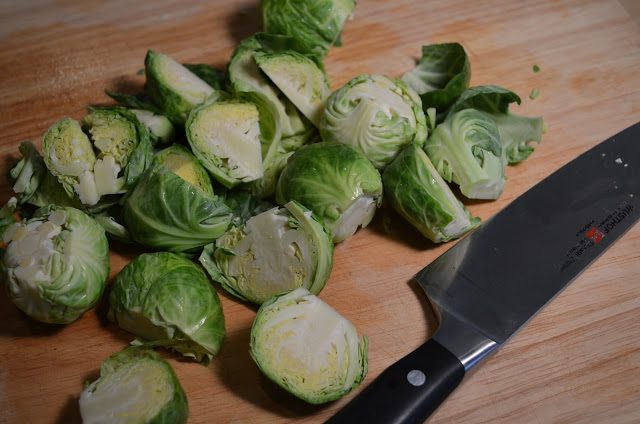 1 Pound Brussels Sprouts
4 oz Diced Pancetta
1/2 Onion, Diced
3 Cloves Garlic, Minced
About 3 TB Olive Oil
About 3 TB Balsamic Vinegar
1/4 Cup Parmesan Cheese, Shredded
1/4 Cup Parsley, Chopped
Freshly Cracked Black Pepper
Wash, trim and quarter the Brussels sprouts.
Place them in a deep sauté pan and add water a quarter of the way up the sides of the Brussels sprouts. That's just a tiny bit of water, you don't want to boil or braise them, just kind of steam them up. Place the pan over high heat and leave for five minutes, when you come back the water should be almost cooked off, shake that pan, shake it a little bit more.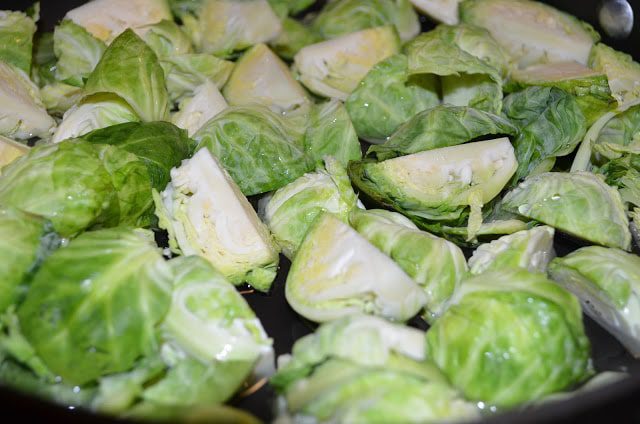 Once the water is completely cooked off – add olive oil, diced pancetta, onions, and minced garlic. Saute until the pancetta is browned and the Brussels sprouts have begun to caramelize and crisp up. Then let them sauté a little more. Add a few big splashes of balsamic vinegar and a handful of chopped parsley. Let cook a few more seconds.
My favorite part is when the outer leaves detach themselves and get extra crispy.
Plate and top with freshly cracked pepper and parmesan cheese.
No salt. The pancetta is already salty enough.
Yes, yes I am sure.
Well ok, you can add salt if you think you need to, but I am pretty sure that its already salty enough, just taste it and if it needs more salt then add it. Be careful it's hot. Ya. Ok, it's good.
Yes – I am proud of you, just call me back later after everyone leaves; tell me if they like it.