Another week and another chocolate chip cookie recipe.  If you haven't been following along I'm trying to find the most perfect chocolate chip cookie recipe, or at least my idea of the best chocolate chip cookie recipe.
I started with Cook's Illustrated Perfect Chocolate Chip Cookie recipe, and that reigned supreme for quite some time.  Next up was a copycat version of Levain Bakery's famous chocolate chip with walnuts.  This round – Alton Brown's "the chewy" chocolate chip cookies.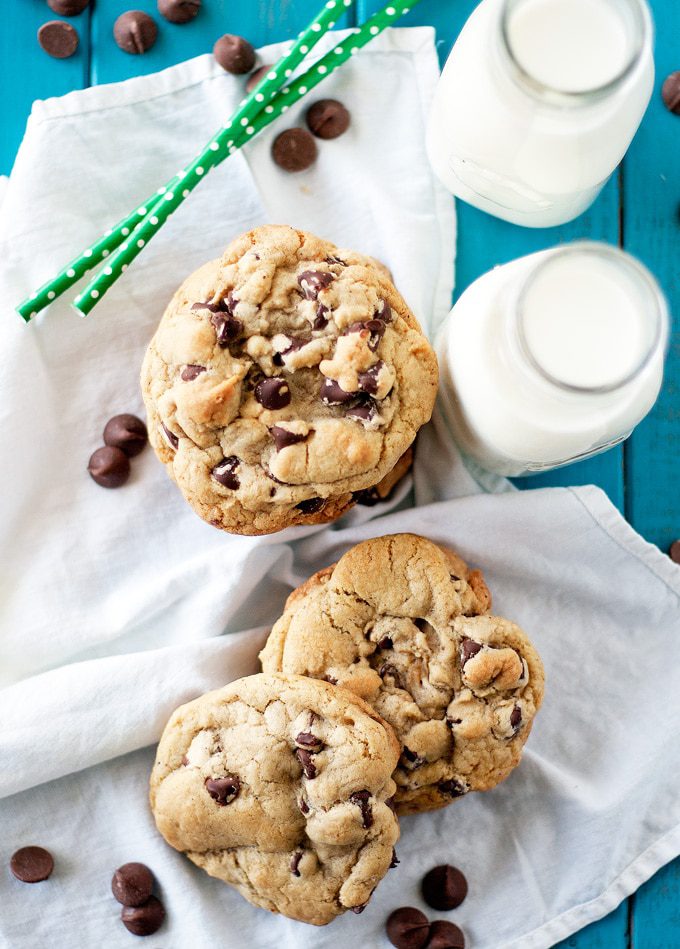 I did a few alterations- as always.  I really can't let a good thing go without doing a little adjustment, my fiance can definitely attest to that!  But sometimes you know that it'll just taste better, like browning the butter a little bit or giving an extra pinch of salt.  I also used dark brown sugar, which was suggest, to make the cookies a little extra chewy.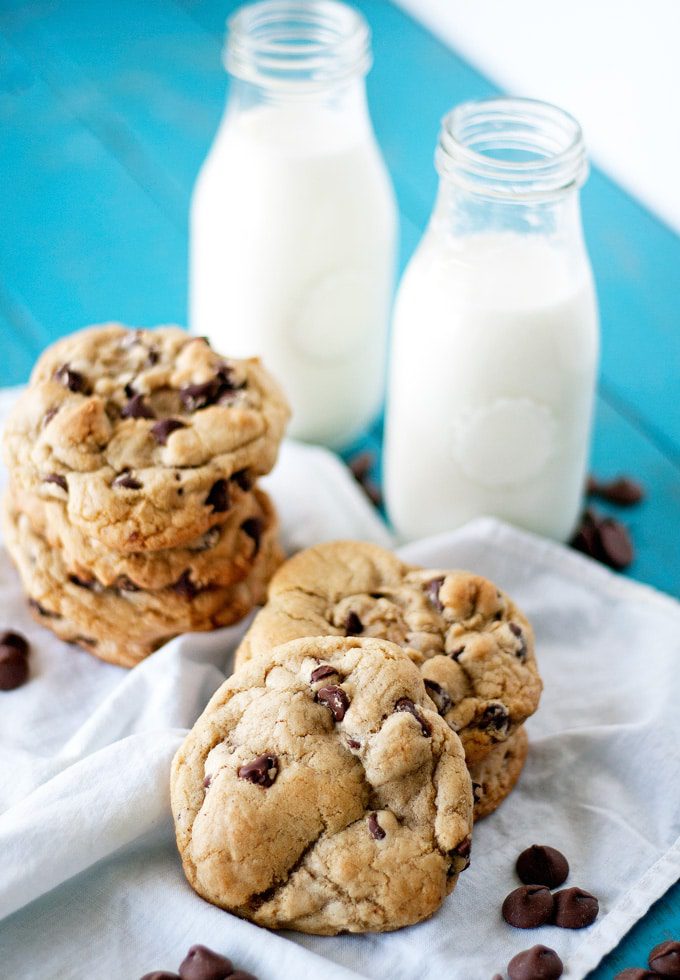 Oh, plus I gave a good heavy handed pour of vanilla.  When isn't that necessary?
So how did these stack up?  They were definitely chewy and delicious, but I think I'm still holding strong to my Cook's Illustrated Perfect Chocolate Chip Cookies.  I think it's the bread flour in the past two recipes that left this one at the top of the heat.  Bread flour makes the cook a little drier and denser, at least to me, and the Cook's Illustrated cookie just has a chewier and more indulgent flavor.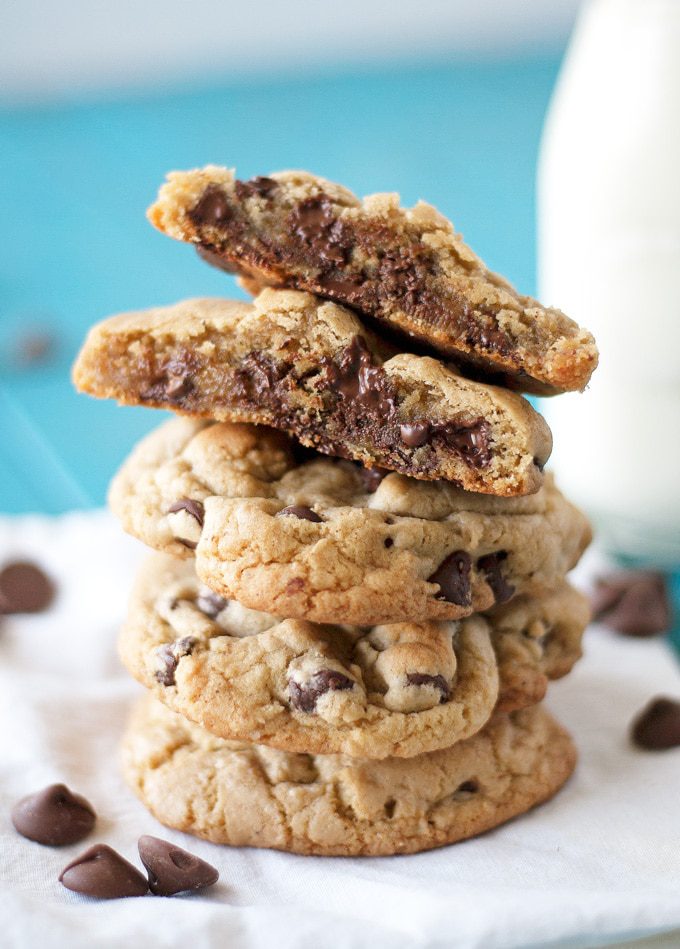 Were these cookies delicious? Yes!  Did my fiance and I put the whole batch down in record time? Yes!  Would I make these again?  In a heartbeat!
I really think my issue is that I love all chocolate chip cookies, some just have an edge above the rest.
ingredients
1 cup (2 sticks) unsalted butter
2¼ cups bread flour
2 teaspoons kosher salt
1 teaspoon baking soda
¼ cup granulated sugar
1¼ cup dark brown sugar
1 large egg
1 egg yolk
2 tablespoons while milk
1 tablespoon pure vanilla extract
12 ounces semi-sweet chocolate chips
"the chewy" chocolate chip cookies
Instructions
Preheat oven to 375 degrees F and line a baking sheet with parchment paper.
In a medium saucepan, melt the butter. Continuing cooking until it starts to brown and has a nutty aroma. Set aside and let cool.
In a medium bowl, sift together flour, salt and baking soda. Set aside.
In the bowl of a stand mixer, combine the cooled melted butter and both sugars. Beat together on medium speed for 2 minutes.
Meanwhile, in a small bowl, whisk together the egg, egg yolk, milk and vanilla extract.
Reduce the mixer speed to low and slowly add the egg mixture. Mix until thoroughly combined, about 30 seconds.
Gradually add the dry ingredients, scraping down the sides of the bowl as needed. Once the flour mixture is incorporated, add the chocolate chips and mix just to distribute.
Refrigerate dough for 30 minutes before baking.
Scoop the dough, in heaping tablespoons, onto the prepared sheets.
Bake the cookies for 15-18 minutes or until cookies are golden brown on the outside.
Continue with rest of dough.
Transfer the cookies to a wire rack and let rest 5 minutes before serving (if you can!).
Cookies can be store in an airtight container at room temperature.