The name of this cookie alone is a mouthful.  But it's a wonderful cookie to be able to put in your mouth.  I love just about everything I've tried from Tartine, and the flavor combination in these cookies do not fail to deliver (chocolate!  oats!  walnuts!  All of it so good together).  BUT baking up my own from the Tartine cookbook didn't turn out as nicely.  Tartine's chocolate chip cookies are on the thin side–which is okay to me.  Mine, however, turned out really really thin.  I like a little substance to my cookies, something rewarding I can sink my teeth into.  I don't know if it was me or the recipe, but even after freezing the cookie dough, they flattened out considerably.  Taste was still great, but texture could be improved upon.  I'll have to make this again–because I'm convinced that Tartine would not include a bad recipe in their cookbook.  The recipe suggests using an ice cream scoop or making logs of cookie dough–I'll include instructions on making the logs, which was how I made them.
Verdict: Jury is still out, I must have done something wrong.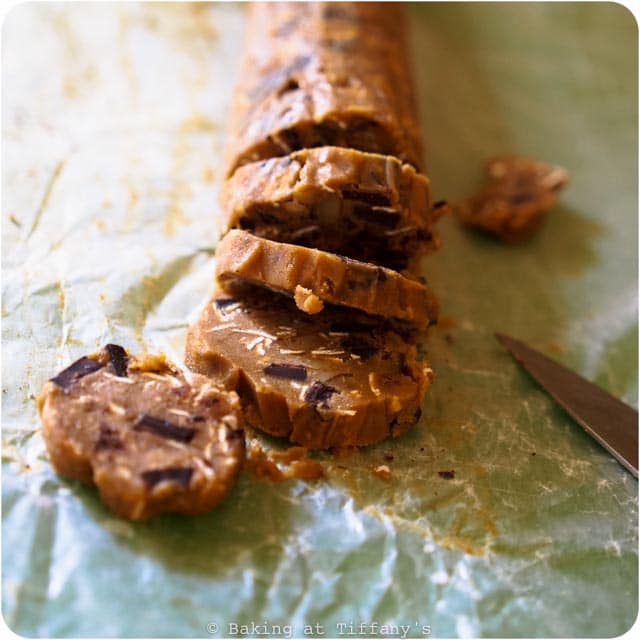 Tartine's Chocolate-Oatmeal-Walnut Cookies
(Makes about 24 3″ cookies, according to the cookbook.  I wanted to make smaller cookies (about 1-1/2″ or 2″) so the yield is more like 50)
12 oz. bittersweet chocolate (I used dark chocolate chunks)
2 cups or 10 oz. all purpose flour
1 t. baking powder
1 t. baking soda
2 cups rolled oats (not instant)
1 cup (or 2 sticks) unsalted butter, at room temperature
1-3/4 cups sugar
4 t. molasses
2 large eggs, at room temperature
2 T. whole milk
1 T. vanilla extract
1 t. salt
1 cup chopped walnuts
1.  Mix together flour, baking soda, baking powder and oats in a bowl.
2.  Cream butter using a stand mixer with a paddle attachment on medium until the color turns light.  Add the sugar slowly, continuing to mix on medium.  Scrape down the sides of the bowl.
3.  Add molasses and mix until combined.  Then mix in eggs one at a time, beating well after each egg.
4.  Continue to mix in milk, vanilla, and salt.  Scrape down sides of the bowl.
5.  On low speed, add flour mixture and beat until incorporated.
6.  Fold in walnuts and chocolate chunks by hand.
7.  Turn the dough out on to wax paper or plastic wrap and shape it into a log (or a few logs) about 1-1/2″ in diameter.  (I am not very good at this, my logs came out in slightly different sizes, oh well).  Place in freezer for about 4 hours.
8.  When ready to bake, preheat oven to 350F degrees and line a baking sheet with parchment paper.  Cut slices of cookie dough about 1/4″ thick and arrange on the cookie sheet about 1″ apart.  Bake for about 6 to 10 minutes, then transfer to a wire rack to cool completely.
Now that I've written the recipe out for this post, I realized what I did wrong.  I used 4 TABLESPOONS of molasses instead of TEASPOONS!
(Adapted from Tartine by Elisabeth M. Pruitt and Chad Robertson)